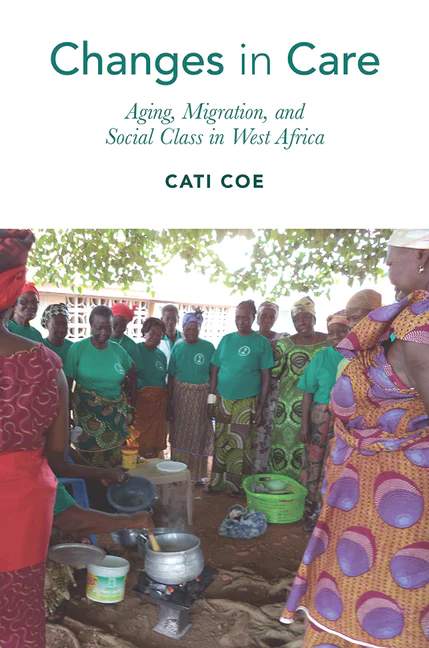 Book Review: Changes in Care: Aging, Migration, and Social Class in West Africa
References
Coe, Cati. 2013. The Scattered Family: Parenting, African Migrants, and Global Inequality. Chicago: University of Chicago Press.
Coe, Cati. 2019a. The New American Servitude: Political Belonging among African Immigrant Home Care Workers. New York: New York University Press.
-----. 2019b. Making Happiness: Older People Organize Themselves, Bethel Presbyterian Church, New Tafo, Ghana, July 2019. Rutgers University. https://doi.org/10.7282/t3-thke-hp15.
Coe, Cati and Erdmute Alber. 2018. "Age-Inscriptions and Social Change: Introduction." Anthropology and Aging Quarterly 39 (1): 1–17.
Hochschild, Arlie Russell. 2001. "Global Care Chains and Emotional Surplus Value." In On the Edge: Living with Global Capitalism. Edited by Will Hutton and Anthony Giddens, 130–46. London: Vintage.
Levitt, Peggy. 1998. "Social Remittances: Migration Driven Local-Level Forms of Cultural Diffusion." International Migration Review 32 (4): 926–48.
DOI:
https://doi.org/10.5195/aa.2022.388
Refbacks
There are currently no refbacks.
Copyright (c) 2022 Svetlana Torno

This work is licensed under a
Creative Commons Attribution 4.0 International License
.
Save
Save
Save
Save