Respect, Gratitude, and Closure: A Trip of Honor and Remembrance
Keywords:
Veterans, Memorials, Pilgrimage, Mental Health
Abstract
Each year, more than 200 World War II, Korea, and Vietnam Veterans participate in the VetsRoll program, a four day bus trip from southern Wisconsin to Washington, D.C. VetsRoll is one of several organizations that bring Veterans to war memorials in Washington, D.C. to assist them in dealing with the socioemotional consequences of their time in service and return home. These programs specifically focus on older Veterans who are at a high risk for developing and/or managing mental health problems as they age. Some of these Veterans have never had the respect, gratitude, and closure necessary to help them cope with their time in service. Data was collected through participant observation and semi-structured interviews on the VetsRoll trip in 2019 and after the trip. Data was analyzed through thematic analysis. Drawing upon the metaphor of a pilgrimage, this paper shifts the lens of analysis away from a myopic focus on memorials or peer support to how the journey itself affects Veterans, the meaning it produces for them, and the lasting impact it has after the trip.
References
Avendano, Nadia. 2018. "The Road to Healing: Pilgrimage and the Vietnam War in Let Their Spirits Dance." Confluencia 34 (1): 104-114.
Barber, Bernard. 1949. "Place, Symbol, and Utilitarian Function in War Memorials." Social Forces 28 (1): 64-68.
Beckstead, Zachary, Gabriel Twose, Emily Levesque-Gottlieb, and Julia Rizzo. 2011. "Collective Remembering Through the Materiality and Organization of War Memorials." Journal of Material Culture 16 (2): 193-213. https://doi.org/10.1177/1359183511401494.
Boscarino, Joseph A., Richard E. Adams, Thomas G. Urosevich, Stuart N. Hoffman, H. Lester Kirchner, Joseph J. Boscarino, Carrie A. Withey, Ryan J. Dugan, and Charles R. Figley. 2018. "Mental Health Impact of Homecoming Experience Among 1730 Formerly Deployed Veterans from Vietnam War to Current Conflicts: Results from Veterans' Health Study." The Journal of Nervous and Mental Disease 206 (10): 757-764. https://dx.doi.org/10.1097%2FNMD.0000000000000879
Caddick, Nick, Cassandra Phoenix, and Brett Smith. 2015. "Collective Stories and Well-being: Using a Dialogical Narrative Approach to Understand Peer Relationships Among Combat Veterans Experiencing Post-traumatic Stress Disorder." Journal of Health Psychology 20 (3): 268-299. https://doi.org/10.1177%2F1359105314566612.
Hinojosa, Ramon and Hinojosa, Melanie S. 2011. "Using Military Friendships to Optimize Postdeployment Reintegration for Male Operation Iraqi Freedom/ Operation Enduring Freedom Veterans." Journal of Rehabilitation Research & Development 48 (10): 1145-1158. https://doi.org/10.1682/JRRD.2010.08.0151.
Hunt, Nigel, and I. Robbins. 2001. "The Long-term Consequences of War: The Experience of World War II." Aging and Mental Health 5 (2): 183-190. https://doi.org/10.1080/13607860120038393.
Hyde, Kenneth F., and Serhat Harman. 2011. "Motives for a Secular Pilgrimage to the Gallipoli Battlefields." Tourism Management 32 (6): 1343-1351. https://doi.org/10.1016/j.tourman.2011.01.008.
Inhorn, Marcia C. 1994. Quest for Conception: Gender, Infertility and Egyptian Medical Traditions. University of Pennsylvania Press.
Johnson, David Read, Hadar Lubin, Robert Rosenheck, Alan Fontana, Steven Sonthwick, and Dennis Charney. 1997. "The Impact of the Homecoming Reception on the Development of Posttraumatic Stress Disorder: The West Haven Homecoming Stress Scale (WHHSS)." Journal of Traumatic Stress 10 (2): 259-277.
Kavedžija, Iza. 2020. "An Attitude of Gratitude: Older Japanese in the Hopeful Present." Anthropology & Aging 41 (2): 59-71. DOI 10.5195/aa2020.244.
Keane, Terence M., Rose T. Zimering, and Juesta M. Caddell. 1985. "A Behavioral Formulation of Posttraumatic Stress Disorder in Vietnam Veterans." The Behavior Therapist 8 (1): 9-12.
Marini, Christina M., Katherine L. Fiori, Janet M. Wilmoth, Anica Pless Kaiser, and Lynn M. Martire. 2020. "Psychological Adjustment of Aging Vietnam Veterans: The Role of Social Network Ties in Reengaging with Wartime Memories." Gerontology 66: 138-148. https://doi.org/10.1159/000502340.
Michalowski, Raymond and Jill Dubisch. 2001. Run for the Wall: Remembering Vietnam on a Motorcycle Pilgrimage. Rutgers University Press.
Montgomery, Austin. 2020. "VetsRoll Stronger Than Ever A Decade Later As Organizers Eagerly Await 2021 Season." Beloit Daily News. Accessed on December 21, 2021. https://www.beloitdailynews.com/news/local-news/vetsroll-stronger-than-ever-a-decade-later-as-organizers-eagerly-await-2021-season/article_e5bec5ec-9b09-593d-90c0-a42658bb850e.html.
O'Malley, Kelly, Latrice Vinson, Anica Pless Kaiser, Zachary Sager, and Kate Hinrichs. 2020. "Mental Health and Aging Veterans: How the Veterans Health Administration Meets the Needs of Aging Veterans." Public Policy & Aging Report 30 (1): 19-23.
Pfister, Anne E. 2018. "Predicament and Pilgrimage: Hearing Families of Deaf Children in Mexico City." Medical Anthropology 1-13. https://doi.org/10.1080/01459740.2018.1540617.
Riggs, David S., Christina A. Byrne, Frank W. Weathers, and Brett T. Litz. 1998. "The Quality of the Intimate Relationships of Male Vietnam Veterans: Problems Associated with Posttraumatic Stress Disorder." Journal of Traumatic Stress 11 (1): 87-101. https://doi.org/10.1023/A:1024409200155.
Ryan, Gery W., and H. Russell Bernard. 2003. "Techniques to Identify Themes." Field Methods 15 (1): 85-109. https://doi.org/10.1177/1525822X02239569.
Sorensen, Birgitte Refslund. "Veterans' Homecomings: Secrecy and Postdeployment Social Becoming." Current Anthropology 56, no. 12 (2015): S231-S240. https://doi.org: 10.1086/683298.
Turner, Victor. 1995 [1969]. The Ritual Process: Structure and Anti-Structure. New York: Transaction Publishers/Aldine de Gruyter.
VetsRoll.org. 2019. Accessed January 10, 2019. https://www.VetsRoll.org
Washington.org 2021. 2021. Accessed April 20, 2021. https://washington.org/DC-guide-to/vietnam-veterans-memorial.
Watkins, Nicholas, Frances Cole, and Sue Weidemann. 2010. "The War Memorial as Healing Environment: The Psychological Effect of the Vietnam Veterans Memorial on Vietnam War Combat Veterans' Posttraumatic Stress Disorder Symptoms." Environment and Behavior 42 (3): 351-375. https://doi.org/10.1177%2F0013916510361873.
Williamson, Victoria, Sharon A.M. Stevelink, Karla Greenberg, and Neil Greenberg. 2018. "Prevalence of Mental Health Disorders in Elderly U.S. Military Veterans: A Meta-analysis and Systematic Review." The American Journal of Geriatric Psychiatry 26 (5): 534-545. https://doi.org/10.1016/j.jagp.2017.11.001.
Winter, Caroline. 2019. "Pilgrims and Votives at War Memorials: A Vow to Remember." Annuals of Tourism Research 76: 117-128. https://doi.org/10.1016/j.annals.2019.03.010.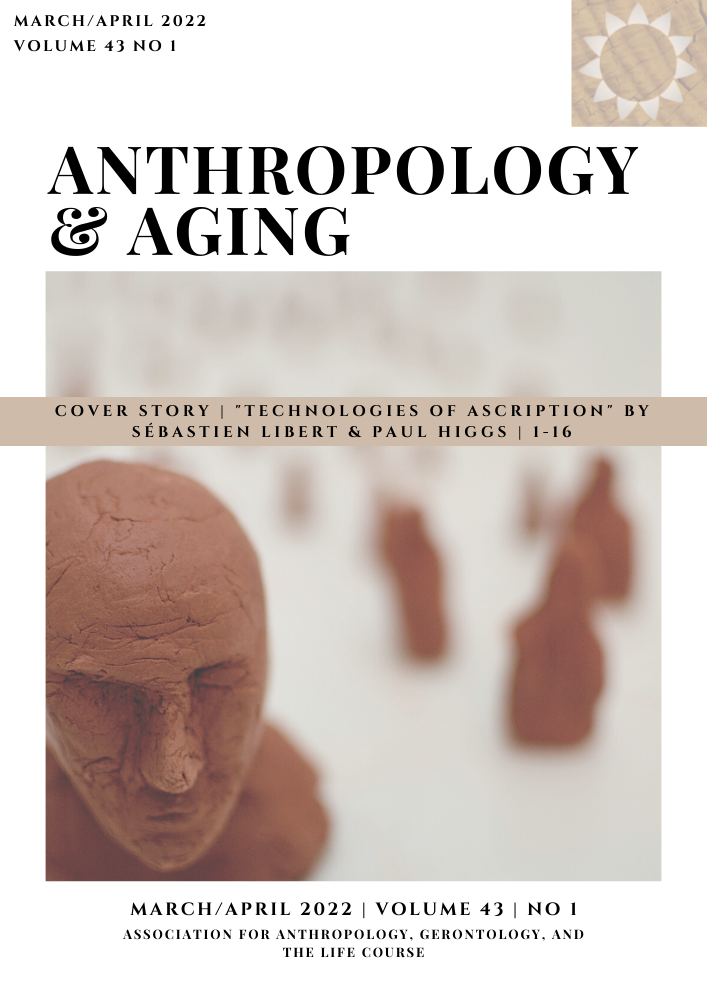 Downloads
License
Authors who publish with this journal agree to the following terms:
The Author retains copyright in the Work, where the term "Work" shall include all digital objects that may result in subsequent electronic publication or distribution.
Upon acceptance of the Work, the author shall grant to the Publisher the right of first publication of the Work.
The Author shall grant to the Publisher and its agents the nonexclusive perpetual right and license to publish, archive, and make accessible the Work in whole or in part in all forms of media now or hereafter known under a Creative Commons Attribution 4.0 International License or its equivalent, which, for the avoidance of doubt, allows others to copy, distribute, and transmit the Work under the following conditions:

Attribution—other users must attribute the Work in the manner specified by the author as indicated on the journal Web site;

with the understanding that the above condition can be waived with permission from the Author and that where the Work or any of its elements is in the public domain under applicable law, that status is in no way affected by the license.
The Author is able to enter into separate, additional contractual arrangements for the nonexclusive distribution of the journal's published version of the Work (e.g., post it to an institutional repository or publish it in a book), as long as there is provided in the document an acknowledgement of its initial publication in this journal.
Authors are permitted and encouraged to post online a prepublication manuscript (but not the Publisher's final formatted PDF version of the Work) in institutional repositories or on their Websites prior to and during the submission process, as it can lead to productive exchanges, as well as earlier and greater citation of published work. Any such posting made before acceptance and publication of the Work shall be updated upon publication to include a reference to the Publisher-assigned DOI (Digital Object Identifier) and a link to the online abstract for the final published Work in the Journal.
Upon Publisher's request, the Author agrees to furnish promptly to Publisher, at the Author's own expense, written evidence of the permissions, licenses, and consents for use of third-party material included within the Work, except as determined by Publisher to be covered by the principles of Fair Use.
The Author represents and warrants that:

the Work is the Author's original work;
the Author has not transferred, and will not transfer, exclusive rights in the Work to any third party;
the Work is not pending review or under consideration by another publisher;
the Work has not previously been published;
the Work contains no misrepresentation or infringement of the Work or property of other authors or third parties; and
the Work contains no libel, invasion of privacy, or other unlawful matter.

The Author agrees to indemnify and hold Publisher harmless from Author's breach of the representations and warranties contained in Paragraph 6 above, as well as any claim or proceeding relating to Publisher's use and publication of any content contained in the Work, including third-party content.
Revised 7/16/2018. Revision Description: Removed outdated link.