Introduction. Contending with the Hourglass: Time, Reproduction, and the Problematization of Ageing
Keywords:
Temporality, Reproduction, Masculinities, Intergenerational, Egg Freezing, Menopause
References
Amir, Merav. 2006. "Bio-Temporality and Social Regulation: The Emergence of the Biological Clock." Polygraph 18, 47-72.
Bear, Laura. 2014. "Doubt, Conflict, Mediation: The Anthropology of Modern Time." Journal of the Royal Anthropological Institute 20, 3-30.
Bear, Laura. 2016. "Time as Technique." Annual Review of Anthropology 45, 487-502.
Becker, Gay. 1994. "Metaphors in Disrupted Lives: Infertility and Cultural Constructions of Continuity." Medical Anthropology Quarterly 8 (4): 383-410.
Bewley, Susan, Melanie Davies, and Peter Braude. 2005. "Which Career First? The Most Secure Age for Childbearing remains 20-35." BMJ 331 (7517): 588-589.
Bledsoe, Caroline. 2002. Contingent Lives: Fertility, Time, and Aging in West Africa. Chicago, Il.: University of Chicago Press.
Borneman, John. 1996. "Until Death do us Part: Marriage/Death in Anthropological Discourse." American Ethnologist 23 (2): 215-235.
Cohen, Lawrence. 1998. No Aging in India: Alzheimer's, the Bad Family, and Other Modern Things. University of California Press.
Crampton, Alexandra. 2013. "Population Aging as the Social Body in Representation and Real Life." Anthropology & Aging 34 (3): 100-112.
Daly, Irenee, and Susan Bewley. 2013. "Reproductive Ageing and Conflicting Clocks: King Midas' Touch." Reproductive Biomedicine Online 27 (6): 722-732.
Das, Veena, and Clara Han, eds. 2015. Living and Dying in the Contemporary World: A Compendium. Berkeley, CA: University of California Press.
Franklin, Sarah. 2002. Embodied Progress: A Cultural Account of Assisted Conception. London and New York: Routledge.
Franklin, Sarah. 2013. Biological Relatives: IVF, Stem Cells and the Future of Kinship. Durham, NC: Duke University Press.
Friese, Carrie, Gay Becker, and Robert D. Nachtigall. 2006. "Rethinking the Biological Clock: Eleventh-Hour Moms, Miracle Moms and Meanings of Age-related Infertility." Social Science and Medicine 63 (6): 1550-1560.
Ginsburg, Faye, and Rayna Rapp, eds. 1995. Conceiving the New World Order: The Global Politics of Reproduction. Berkeley, CA: University of California Press.
Gullette, Margaret Morganroth. 2004. Aged by Culture. Chicago, IL: University of Chicago Press.
Gupta, Jyotsna Agnihotri. 2000. New Reproductive Technologies, Women's Health and Autonomy: Freedom or Dependency. New Delhi: Sage Publications Pvt. Ltd.
Hazan, Haim. 1984. "Continuity and Transformation Among the Aged: A Study in the Anthropology of Time [and Comments]." Current Anthropology 25 (5): 567-578.
Inhorn, Marcia C. 1994. Quest for Conception: Gender, Infertility and Egyptian Medical Traditions. Philadelphia, Penn: University of Pennsylvania Press.
Inhorn, Marcia C., and Pasquale Patrizio. 2015. "Infertility Around the Globe: New Thinking on Gender, Reproductive Technologies and Global Movements in the 21st Century." Human Reproduction Update 21 (4): 411-426.
Inhorn, Marcia C., and Daphna Birenbaum-Carmeli. 2010. "Male Infertility, Chronicity, and the Plight of Palestinian Men in Israel and Lebanon." In Chronic Conditions, Fluid States: Chronicity and the Anthropology of Illness. Edited by Lenore Manderson and Carolyn Smith-Morris, 77-95. New Brunswick: Rutgers University Press.
Kaufman, Sharon R., and Lynn M. Morgan. 2005. The Anthropology of the Beginnings and Ends of Life. Annual Review of Anthropology 34, 317-341.
Kaufman, Sharon R. 2015. Ordinary Medicine: Extraordinary Treatments, Longer Lives, and Where to Draw the Line. Duke University Press.
Krause, Elizabeth L., and Milena Marchesi. 2007. "Fertility Politics as 'Social Viagra': Reproducing Boundaries, Social Cohesion, and Modernity in Italy." American Anthropologist 109 (2): 350-362.
Lamb, Sarah. 2000. White Saris and Sweet Mangoes: Aging, Gender, and Body in North India. University of California Press.
Lamb, Sarah. 2014. "Permanent Personhood or Meaningful Decline? Toward a Critical Anthropology of Successful Aging." Journal of Aging Studies 29, 41-52.
Lamb, Sarah. 2018. On Being (not) Old: Agency, Self‐care, and Life‐course Aspirations in the United States. Medical Anthropology Quarterly 33 (2): 263-281.
Lentjes, Rebecca, Amy E. Alterman and Whitney Arey. 2020. "'The Ripping Apart of Silence': Sonic Patriarchy and Anti-Abortion Harassment." Resonance 1 (4): 422-442.
Lock, Margaret. 1994. Encounters with Aging: Mythologies of Menopause in Japan and North America. Berkeley, CA: University of California Press.
Lock, Margaret. 2007. "The Final Disruption? Biopolitics of Post-reproductive Life." In Reproductive Disruptions: Gender, Technology and Biopolitics in the New Millennium. Edited by Marcia C. Inhorn, 200-224.
Lock, Margaret, and Patricia Alice Kaufert, eds. 1998. Pragmatic Women and Body Politics. Cambridge: Cambridge University Press.
Martin, Emily. 2001. The Woman in the Body: A Cultural Analysis of Reproduction. Beacon Press.
Martin, Lauren Jade. 2010. "Anticipating Infertility: Egg Freezing, Genetic Preservation, and Risk." Gender & Society 24 (4): 526-545.
McCourt, Christine, ed. 2009. Childbirth, Midwifery and Concepts of Time. Berghahn Books.
Murphy, Michelle. 2012. Seizing the Means of Reproduction: Entanglements of feminism, health, and technoscience. Durham, NC: Duke University Press.
Nandy, Amrita. 2017. Motherhood and Choice: Uncommon Mothers, Childfree Women. New Delhi: Zubaan.
Pathak, Gauri. 2014. 'Presentable': The Body and Neoliberal Subjecthood in Contemporary India. Social Identities 20 (4-5): 314-329.
Pathak, Gauri. 2019. 'They Think of a Family Only in Their Thirties': Gendered Subfertility and Emergent Intimate Modernities in India." Journal of the Royal Anthropological Institute 25 (4): 778-792.
Pathak, Gauri, and Mark Nichter. 2015. "Polycystic Ovary Syndrome in Globalizing India: An Ecosocial Perspective on an Emerging Lifestyle Disease." Social Science & Medicine 146, 21-28.
Pooley, Siân, and Kaveri Qureshi, eds. 2016. Parenthood Between Generations: Transforming Reproductive Cultures. Berghahn Books.
Rao, Mohan. 2004. From Population Control to Reproductive Health: Malthusian Arithmetic. New Delhi: Sage.
Rapp, Rayna. 2001. "Gender, Body, Biomedicine: How Some Feminist Concerns Dragged Reproduction to the Center of Social Theory." Medical Anthropology Quarterly 15 (4): 466-477.
Riessman, Catherine Kohler. 2000. "Stigma and Everyday Resistance Practices: Childless Women in South India." Gender & Society 14 (1): 111-135.
Samanta, Tannistha. 2018. The "Good Life": Third Age, Brand Modi and the Cultural Demise of Old Age in Urban India. Anthropology & Aging 39 (1): 94-104.
Sievert, Lynette Leidy. 2006. Menopause: A Biocultural Perspective. Rutgers University Press.
Solomon, Harris. 2016. Metabolic Living: Food, Fat, and the Absorption of Illness in India. Duke University Press.
Teman, Elly. 2010. Birthing a Mother: The Surrogate Body and the Pregnant Self. University of California Press.
Wentzell, Emily. 2013. Maturing Masculinities: Aging, Chronic Illness, and Viagra in Mexico. Durham, NC: Duke University Press.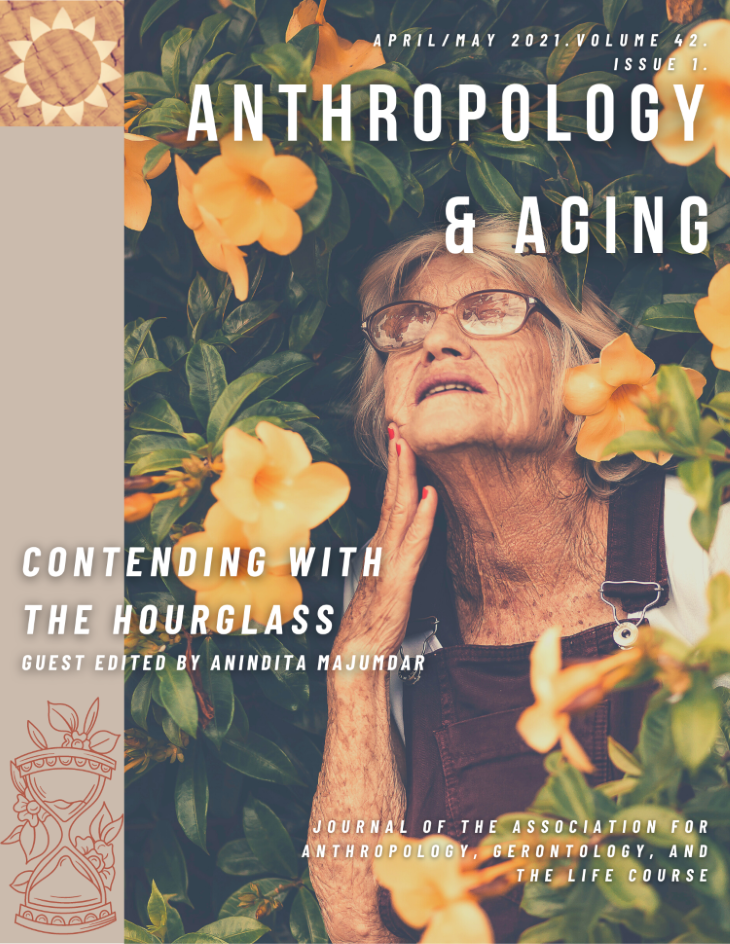 Downloads
Section
Special Issue Articles
License
Authors who publish with this journal agree to the following terms:
The Author retains copyright in the Work, where the term "Work" shall include all digital objects that may result in subsequent electronic publication or distribution.
Upon acceptance of the Work, the author shall grant to the Publisher the right of first publication of the Work.
The Author shall grant to the Publisher and its agents the nonexclusive perpetual right and license to publish, archive, and make accessible the Work in whole or in part in all forms of media now or hereafter known under a Creative Commons Attribution 4.0 International License or its equivalent, which, for the avoidance of doubt, allows others to copy, distribute, and transmit the Work under the following conditions:

Attribution—other users must attribute the Work in the manner specified by the author as indicated on the journal Web site;

with the understanding that the above condition can be waived with permission from the Author and that where the Work or any of its elements is in the public domain under applicable law, that status is in no way affected by the license.
The Author is able to enter into separate, additional contractual arrangements for the nonexclusive distribution of the journal's published version of the Work (e.g., post it to an institutional repository or publish it in a book), as long as there is provided in the document an acknowledgement of its initial publication in this journal.
Authors are permitted and encouraged to post online a prepublication manuscript (but not the Publisher's final formatted PDF version of the Work) in institutional repositories or on their Websites prior to and during the submission process, as it can lead to productive exchanges, as well as earlier and greater citation of published work. Any such posting made before acceptance and publication of the Work shall be updated upon publication to include a reference to the Publisher-assigned DOI (Digital Object Identifier) and a link to the online abstract for the final published Work in the Journal.
Upon Publisher's request, the Author agrees to furnish promptly to Publisher, at the Author's own expense, written evidence of the permissions, licenses, and consents for use of third-party material included within the Work, except as determined by Publisher to be covered by the principles of Fair Use.
The Author represents and warrants that:

the Work is the Author's original work;
the Author has not transferred, and will not transfer, exclusive rights in the Work to any third party;
the Work is not pending review or under consideration by another publisher;
the Work has not previously been published;
the Work contains no misrepresentation or infringement of the Work or property of other authors or third parties; and
the Work contains no libel, invasion of privacy, or other unlawful matter.

The Author agrees to indemnify and hold Publisher harmless from Author's breach of the representations and warranties contained in Paragraph 6 above, as well as any claim or proceeding relating to Publisher's use and publication of any content contained in the Work, including third-party content.
Revised 7/16/2018. Revision Description: Removed outdated link.