Recognizing Older Individuals: An Essay on Critical Gerontology, Robin Hood, and the COVID-19 Crisis
References
Agamben, Giorgio. 1998. Homo Sacer, Sovereign Power and Bare Life. California: Stanford University Press.
Bergeron, Patrice. 2020. "CSN Pushes Back on Comments by Quebec's Minister for the Elderly." Montreal Gazette. Accessed May 7, 2020. https://montrealgazette.com/news/local-news/csn-says-pushes-back-on-comments-by-quebecs-minister-for-the-elderly.
Breithaupt, Fritz. 2017. Die Dunklen Seiten der Empathie. Berlin: Suhrkamp.
Chouinard, Tommy. 2020. La Protectrice des Citoyens Accuse Québec de Laxisme. La Presse Online. https://www.lapresse.ca/covid-19/2020-09-24/chsld/la-protectrice-du-citoyen-accuse-quebec-de-laxisme.php.
Cole, Thomas R. 1992. The Journey of Life: A Cultural History of Aging in America. Cambridge: Cambridge University Press.
Collier, Andrew. 2003. In Defence of Objectivity and Other Essays, On Realism, Existentialism and Politics. New York: Routledge.
De Medeiros, Kate and Anne Basting. 2014. "'Shall I compare thee to a dose of Donepezil?': Cultural arts interventions in dementia care research." The Gerontologist 54(3): 344–353.
Fassin, Didier. 2012. Humanitarian Reason, A Moral History of the Present. Berkeley, CA: University of California Press.
Foth, Thomas. 2020. Rethinking dementia as a queer 'way of life': Implications for practices of care. Unpublished manuscript.
Freeman, Alan. 2020. "Time to Re-think Seniors' Housing and Long-term Care in Canada." IPolitics. Accessed April 3, 2020. https://ipolitics.ca/2020/04/03/time-to-re-think-seniors-housing-and-long-term-care-in-canada/.
Jiwani, Yasmin. 2013. "'Bare Life:' Disposable Bodies, Race, and Femicide in the Trial Coverage of Vancouver's Murdered 'Missing' Women." Synaesthesia, Communication Across Cultures 1(4): 87-127.
Kitwood, Tom. 1997. Dementia Reconsidered: The Person Comes First. London: Open University Press.
Leibing, Annette. 2018. "On Heroes, Alzheimer's, and Fallacies of Care: Stories of Utopia and Commitment." In: Kulturen der Sorge, Wie unsere Gesellschaft ein Leben mit Demenz ermöglichen kann, 177-194, edited by Harm-Peer Zimmermann, Campus.
----.2019. "Geriatrics and Humanism: Dementia and Fallacies of Care; Special issue "Fallacies of Care." A. Leibing and N. Lemos Dekker (org.) Journal Aging Studies 51: 100796 (online issue).
----.2020. "Heroic Stories of Dementia Care: Grandchildren as Caregivers and Fallacies of Care." In The Cultural Context of Aging: Worldwide Perspectives, edited by Jay Sokolovsky. 4th edition, Chapter 52, Praeger Ed./ABC-CLIO.
Leibing, Annette, Nancy Guberman, and Janine Wiles. 2016. Liminal Homes: Older People, Loss of Capacities, and the Present Future of Living Spaces. Journal of Aging Studies 37(1): 10-19.
Lemay, Éric Yvan. 2020. "Structure du Réseau de la Santé: «C'est Trop Gros, C'est pas Gérable»." Journal de Montréal. Accessed 21 April, 2020. https://www.journaldemontreal.com/2020/04/21/cest-trop-gros-cest-pas-gerable.
Lemke, Thomas. 2011. "Critique and Experience in Foucault." Theory, Culture & Society 28(4): 26-48.
Malek, Jan. 2020. "Military Report on Long-term Care Homes Reveals Long-Known Truths." The Council of Canadians. https://canadians.org/analysis/military-report-long-term-care-homes-reveals-long-known-truths.
Mattingly, Cheryl. 2019. "Defrosting Concepts, Destabilizing Doxa: Critical Phenomenology and the Perplexing Particular." Anthropological Theory 19(4): 415-439.
Mbembé, Achille. and Libby Meintjes. 2003. "Necropolitics." Public Culture 15(1): 11-40.
Olson, Isaac. 2020. "'It Was so Inhumane': Conditions in Dorval Seniors' Residence Prompts Investigation." CBC News online. Accessed April 10, 2020. https://www.cbc.ca/news/canada/montreal/west-island-staff-covid-19-1.5528956.
Paré, Isabelle. 2020. « Après 100 Jours de Lutte Contre la COVID-19, où se situe le Québec? » Le Devoir online. Accessed June 20, 2020. https://www.ledevoir.com/societe/sante/581212/100-jours-de-crise-sanitaire-ou-se-situe-le-quebec-dans-la-lutte-contre-la-covid.
Paris, Mario. 2016. "What is the Next Stage in Critical Gerontology? The Struggle for Recognition." International Network for Critical Gerontology. Accessed December 16, 2016. https://criticalgerontology.com/next-stage-critical-gerontology-struggle-recognition-mario-paris/.
Patenaude, Alain. 2020. "Assistons-nous à un génocide gériatrique? Vigile Québec." Accessed April 14, 2020. https://vigile.quebec/articles/assistons-nous-a-un-genocide-geriatrique.
Rabinow, Paul. 2012. Designing Human Practices, An Experiment with Synthetic Biology. Chicago: The University of Chicago Press.
Rabinow, Paul, and Nicholas Rose 2003. "Introduction: Foucault Today." In The Essential Foucault Reader edited by Paul Rabinow and Nicholas Rose. vii-xxxv. New York: The New Press.
Ridge, Michael. 2015. Impassioned Belief. Oxford: Routledge.
Ticktin, Miriam I. 2011. Casualties of Care, Immigration and the Politics of Humanitarianism in France. Berkeley: University of California Press.
Vailles, Francis 2020a. "Maintien à domicile des aînés: l'aide fiscale incite plutôt à déménager! » La Presse Accessed May 29, 2020. https://www.lapresse.ca/affaires/economie/2020-05-29/maintien-a-domicile-des-aines-l-aide-fiscale-incite-plutot-a-demenager.
---- 2020b. « Le risque de mourir. » La Presse , Accessed June 13, 2020. https://www.lapresse.ca/covid-19/2020-06-13/le-risque-de-mourir.
Warren, Bernie, and Peter Spitzer. 2011. "Laughing to longevity – the work of elder clowns." The Lancet 378(3791): 562-563.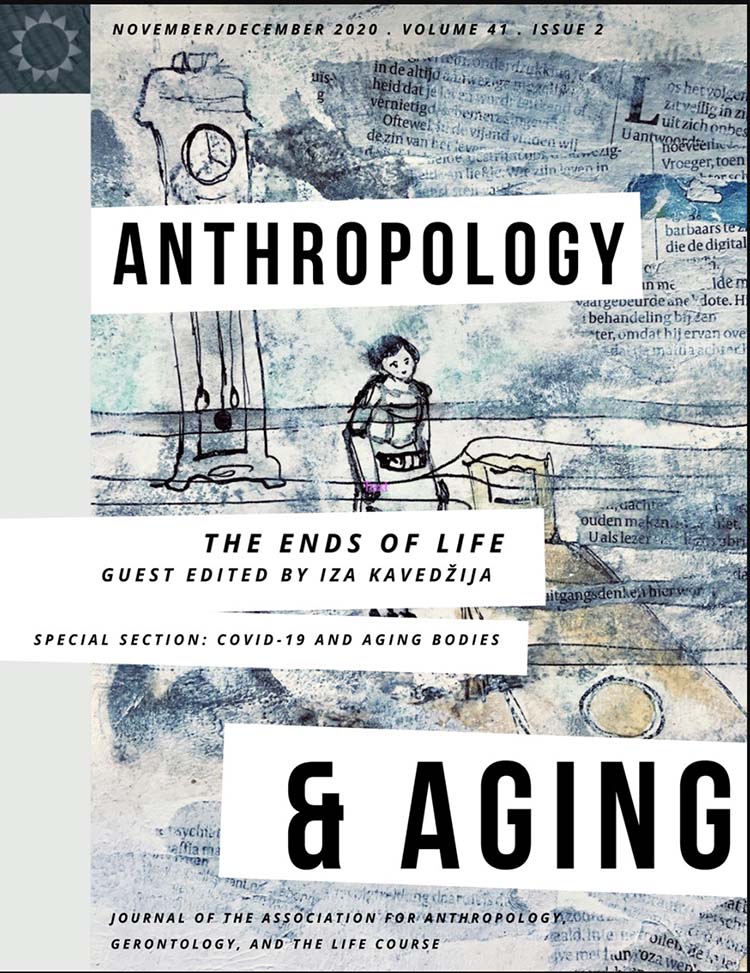 Downloads
Section
COVID-19 and Aging Bodies
License
Authors who publish with this journal agree to the following terms:
The Author retains copyright in the Work, where the term "Work" shall include all digital objects that may result in subsequent electronic publication or distribution.
Upon acceptance of the Work, the author shall grant to the Publisher the right of first publication of the Work.
The Author shall grant to the Publisher and its agents the nonexclusive perpetual right and license to publish, archive, and make accessible the Work in whole or in part in all forms of media now or hereafter known under a Creative Commons Attribution 4.0 International License or its equivalent, which, for the avoidance of doubt, allows others to copy, distribute, and transmit the Work under the following conditions:

Attribution—other users must attribute the Work in the manner specified by the author as indicated on the journal Web site;

with the understanding that the above condition can be waived with permission from the Author and that where the Work or any of its elements is in the public domain under applicable law, that status is in no way affected by the license.
The Author is able to enter into separate, additional contractual arrangements for the nonexclusive distribution of the journal's published version of the Work (e.g., post it to an institutional repository or publish it in a book), as long as there is provided in the document an acknowledgement of its initial publication in this journal.
Authors are permitted and encouraged to post online a prepublication manuscript (but not the Publisher's final formatted PDF version of the Work) in institutional repositories or on their Websites prior to and during the submission process, as it can lead to productive exchanges, as well as earlier and greater citation of published work. Any such posting made before acceptance and publication of the Work shall be updated upon publication to include a reference to the Publisher-assigned DOI (Digital Object Identifier) and a link to the online abstract for the final published Work in the Journal.
Upon Publisher's request, the Author agrees to furnish promptly to Publisher, at the Author's own expense, written evidence of the permissions, licenses, and consents for use of third-party material included within the Work, except as determined by Publisher to be covered by the principles of Fair Use.
The Author represents and warrants that:

the Work is the Author's original work;
the Author has not transferred, and will not transfer, exclusive rights in the Work to any third party;
the Work is not pending review or under consideration by another publisher;
the Work has not previously been published;
the Work contains no misrepresentation or infringement of the Work or property of other authors or third parties; and
the Work contains no libel, invasion of privacy, or other unlawful matter.

The Author agrees to indemnify and hold Publisher harmless from Author's breach of the representations and warranties contained in Paragraph 6 above, as well as any claim or proceeding relating to Publisher's use and publication of any content contained in the Work, including third-party content.
Revised 7/16/2018. Revision Description: Removed outdated link.