When Does Fertility End? The Timing of Tubal Ligations and Hysterectomies, and the Meaning of Menopause
Keywords:
menopause, hysterectomy, tubal ligation, sterilization, fertility
Abstract
We applied a biocultural lens to examine the temporal order of biological, behavioral, and medical events related to fertility across the female reproductive lifespan in three sites, two in Mexico and one in the United States.  Using a mixed-method design, we expanded our thinking about the end of fertility in order to examine the timing of hysterectomies and tubal ligations.  We discovered that menopause is not the end of fertility for a surprisingly high number of women.  Across the three sites, between 43% and 50% of women underwent tubal ligations at mean ages of 32 years (in Campeche, Mexico) and 33 years (Puebla, Mexico).  In Puebla, 23% had a history of hysterectomy at a mean age of 42 years, similar to Hilo, Hawaii, where 20% had undergone a hysterectomy at a mean age of 40 years.  We hypothesized that women who underwent tubal ligations would less frequently describe menopause as the end of fertility.  This was true in Hilo, Hawaii, where women with a history of tubal ligation were almost half as likely to choose "loss of fertility" to describe menopause.  However, in urban and rural Campeche, Mexico, there was no indication – from either quantitative or qualitative responses – that individuals with a history of tubal ligation or hysterectomy were less likely to describe menopause as the end of fertility. 
References
Banh D, DL Havemann, and JY Phelps, "Reproduction beyond menopause: how old is too old for assisted reproductive technology?" Journal of Assisted Reproduction and Genetics 27, no. 7 (2010):365-370.
Brown DE, LL Sievert, LA Morrison, N Rahberg, and A Reza, "Relationship between hot flashes and ambulatory blood pressure: The Hilo Women's Health Study," Psychosomatic Medicine 73, no. 2 (2011):166-72.
Caldwell JC and P Caldwell, "The role of marital sexual abstinence in determining fertility: A study of the Yoruba in Nigeria," Population Studies 31 (1977):193-213.
Cutas D and A. Smajdor, "Postmenopausal Motherhood Reloaded: Advanced Age and In Vitro Derived Gametes," Hypatia 30, no. 2 (2015):386-402.
Date SV, J Rokade, V Mule, and S Dandapannavar, "Female sterilization failure: review over a decade and its clinicopathological correlation," International Journal of Applied Basic Medical Research 4, no. 2 (2014):81-85.
Depmann M, MJC Eijkemans, SL Broer, GJ Scheffer, I a J van Rooij, JSE Laven, et al, "Does anti-Müllerian hormone predict menopause in the general population? Results of a prospective ongoing cohort study," Human Reproduction, 31, no. 7 (2016):1579–87.
De Salis I, A Owen-Smith, JL Donovan, DA Lawlor, "Experiencing menopause in the UK: the interrelated narratives of normality, distress, and transformation," Journal of Women & Aging 2017. DOI: 10.1080/08952841.2018.1396783.
Dillaway HE, "Menopause is the "Good Old": Women's Thoughts about Reproductive Aging," Gender and Society 19, n. 3 (2005):398-417.
Harlow SD, M Gass, JE Hall, R Lobo, P Maki, RW Rebar, S Sherman, PM Sluss, TJ de Villiers, STRAW +10 Collaborative Group, "Executive summary of the Stages of Reproductive Aging Workshop +10: addressing the unfinished agenda of staging reproductive aging," Menopause 19 no. 4 (2012): 387-395.
Huicochea Gómez L, LL Sievert, C Cahuich Campos, DE Brown, "An investigation of life circumstances associated with the experience of hot flashes in Campeche, Mexico." Menopause 24 no. 1 (2017):52-63.
Hvas L, "Menopausal women's positive experience of growing older." Maturitas 54 (2006):245-251.
Instituto Nacional de Estadística y Geografía. Panorama sociodemográfico de Campeche, 2015. Encuesta Intercensal 2015. México. http://internet.contenidos.inegi.org.mx/contenidos/
productos//prod_serv/contenidos/espanol/bvinegi/productos/nueva_estruc/inter_censal/panorama
/702825082116.pdf
Kelsey TW, P Wright, SM Nelson, RA Anderson, and WHB Wallace, "A Validated Model of Serum Anti-Müllerian Hormone from Conception to Menopause," PLoS One 6 no. 7 (2011):e22024.
Khademi S and MS Cooke, "Comparing the attitudes of urban and rural Iranian women toward menopause," Maturitas 46 no. 2 (2003):113–121.
Kim C, JC Slaughter, ET Wang, D Appiah, P Schreiner, B Leader, et al, "Anti-Müllerian hormone, follicle stimulating hormone, antral follicle count, and risk of menopause within 5 years," Maturitas 102 (2017):18–25.
Leidy LE, "The practice of terminal abstinence in Nigeria and Cameroon" American Journal of Human Biology 5 (1993):565-573.
Lindh-Åstrand L, J Brynhildsen, M Hoffmann, S Liffner, and M Hammar, "Attitudes towards the menopause and hormone therapy over the turn of the century," Maturitas 56 (2007):12–20.
Majumdar A, "Assisted reproductive technologies and the conceptualization of ageing in north and south India," Anthropology and Aging (2020): this issue.
Martin E, The woman in the body: A cultural analysis of reproduction Milton Keynes, UK: Open University Press, 1993.
Morrison LA, DE Brown, LL Sievert, A Reza, N Rahberg, P Mills, and A Goodloe, "Voices from the Hilo Women's Health Study: talking story about menopause," Health Care for Women International 35 (2014):529-548.
Morrison L, LL Sievert, N Rahberg, A Reza, and DE Brown, "Relationships between menstrual and menopausal attitudes and associated demographic and health characteristics: The Hilo Women's Health Study," Women and Health 50 no.5 (2010):397-413.
Peterson HB, Z Xia, JM Hughes, LS Wilcox, LR Tylor, and J Trussell, "The risk of pregnancy after tubal sterilization: findings from the U.S. Collaborative Review of Sterilization," American Journal of Obstetrics and Gynecology 174 no. 4 (1996):1161-1168.
Rudzik A, SH Leonard, and LL Sievert. Determinants of tubal ligation in Puebla, Mexico. Women and Health 51 no.4 (2011):365-82.
Shirai C, "Conflicting clocks in Japan: conceptualizing biology within the social demands of assisted reproduction," Anthropology and Aging (2020): this issue.
Shreffler KM, J McQuillan, AL Greil, and DR Johnson, "Surgical sterilization, regret, and race: contemporary patterns," Social Science Research 50 (2015):31-45.
Sievert LL, Menopause: A Biocultural Perspective. New Jersey: Rutgers University Press, 2006.
Sievert LL and G Espinosa-Hernandez, "Attitudes toward menopause in relation to symptom experience in Puebla, Mexico," Women and Health 38 no. 2 (2003):93-106.
Sievert LL and SI Hautaniemi, "Age at menopause in Puebla, Mexico," Human Biology 75 no. 2 (2003):205-226.
Sievert LL, L Huicochea-Gómez, D Cahuich-Campos, and DE Brown, "Hot flashes associated with menopause in the state of Campeche, Mexico: self-reported experience and biometric measurement," Current Anthropology, 60 no. 3 (2019):436-443.
Sievert LL, L Huicochea-Gómez, D Cahuich-Campos, D-L Koomoa, and DE Brown, "Stress and the menopausal transition in Campeche, Mexico," Women's Midlife Health 4 (2018a):9 https://doi.org/10.1186/s40695-018-0038-x
Sievert LL, N Jaff, and NF Woods, "Stress and midlife women's health," Women's Midlife Health 4 (2018b):4 https://doi.org/10.1186/s40695-018-0034-1
Sievert LL, LA Morrison, AM Reza, DE Brown, E Kalua, and HAT Tefft, "Age-related differences in health complaints: The Hilo Women's Health Study," Women and Health 45 no. 3 (2007):31-51.
Sievert LL, L Murphy, LA Morrison, AM Reza, and DE Brown, "Age at menopause and determinants of hysterectomy and menopause in a multi-ethnic community: The Hilo Women's Health Study," Maturitas 76 no.4 (2013):334-341.
U.S. News and World Report, 2018, https://www.usnews.com/news/best-states/rankings/health-care/healthcare-quality
Utz RL, "Like mother, (not) like daughter: the social construction of menopause and aging," Journal of Aging Studies 25 (2011):143-154.
Wood JW, Dynamics of Human Reproduction: Biology, Biometry, Demography, New York: Aldine de Gruyter, 1994.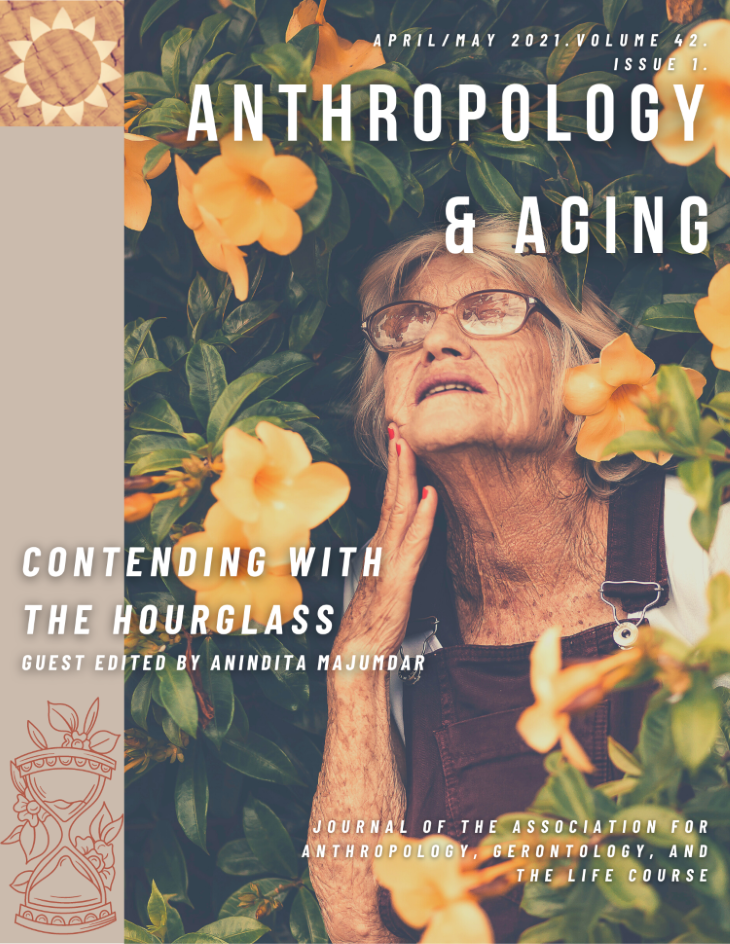 Downloads
Section
Special Issue Articles
License
Authors who publish with this journal agree to the following terms:
The Author retains copyright in the Work, where the term "Work" shall include all digital objects that may result in subsequent electronic publication or distribution.
Upon acceptance of the Work, the author shall grant to the Publisher the right of first publication of the Work.
The Author shall grant to the Publisher and its agents the nonexclusive perpetual right and license to publish, archive, and make accessible the Work in whole or in part in all forms of media now or hereafter known under a Creative Commons Attribution 4.0 International License or its equivalent, which, for the avoidance of doubt, allows others to copy, distribute, and transmit the Work under the following conditions:

Attribution—other users must attribute the Work in the manner specified by the author as indicated on the journal Web site;

with the understanding that the above condition can be waived with permission from the Author and that where the Work or any of its elements is in the public domain under applicable law, that status is in no way affected by the license.
The Author is able to enter into separate, additional contractual arrangements for the nonexclusive distribution of the journal's published version of the Work (e.g., post it to an institutional repository or publish it in a book), as long as there is provided in the document an acknowledgement of its initial publication in this journal.
Authors are permitted and encouraged to post online a prepublication manuscript (but not the Publisher's final formatted PDF version of the Work) in institutional repositories or on their Websites prior to and during the submission process, as it can lead to productive exchanges, as well as earlier and greater citation of published work. Any such posting made before acceptance and publication of the Work shall be updated upon publication to include a reference to the Publisher-assigned DOI (Digital Object Identifier) and a link to the online abstract for the final published Work in the Journal.
Upon Publisher's request, the Author agrees to furnish promptly to Publisher, at the Author's own expense, written evidence of the permissions, licenses, and consents for use of third-party material included within the Work, except as determined by Publisher to be covered by the principles of Fair Use.
The Author represents and warrants that:

the Work is the Author's original work;
the Author has not transferred, and will not transfer, exclusive rights in the Work to any third party;
the Work is not pending review or under consideration by another publisher;
the Work has not previously been published;
the Work contains no misrepresentation or infringement of the Work or property of other authors or third parties; and
the Work contains no libel, invasion of privacy, or other unlawful matter.

The Author agrees to indemnify and hold Publisher harmless from Author's breach of the representations and warranties contained in Paragraph 6 above, as well as any claim or proceeding relating to Publisher's use and publication of any content contained in the Work, including third-party content.
Revised 7/16/2018. Revision Description: Removed outdated link.