Disability, Participation and Apparel throughout the Life Course
Keywords:
Disability, aging, apparel, participation
Abstract
There are a growing number of people living with disabilities (PLWD) throughout the life course and across the disability spectrum. While much attention has been paid to environmental barriers to social participation for PLWD, apparel-related barriers have been largely overlooked. We conducted an online survey of 110 PLWD to identify challenges to finding appropriate clothing and related concerns regarding social participation for members of different adult age categories. Survey results included (1) difficulties finding or purchasing appropriate clothing and some apparel-related barriers to participation were more frequently reported by respondents in older age groups and (2) the increase in complications were not simply directly associated with aging. 
References
Banks, Karen. "Adaptive Clothing – Preserves Independence and Assists the Caregiver." Lippincott's Case Management 6, no. 6 (2001): 243-245.
Battles, Heather. "Toward Engagement: Exploring the Prospects for an Integrated Anthropology of Disability."
Explorations in Anthropology 11, no. 1 (2011): 107-124. http://vav.library.utoronto.ca/index.php/vav/article/view/14724
Becker, Gay. "Metaphors in Disrupted Lives: Infertility and Cultural Constructions of Continuity." Medical Anthropology Quarterly 8, no. 4 (1994): 383–410. doi:10.1525/maq.1994.8.4.02a00040.
Brault, Matthew W. "Americans with Disabilities: 2010." Current Population Reports. Washington, D.C.: U.S. Census Bureau (2012). http://www.census.gov/prod/2012pubs/p70-131.pdf
Buse, Christina, and Julia Twigg. "Clothing, Embodied Identity and Dementia: Maintaining the Self through Dress." Age Culture Humanities 2 (2015):71-96.
Carroll, Katherine, and Kevin Gross. "An Examination of Clothing Issues and Physical Limitations in the Product Development Process." Family and Consumer Sciences Research Journal 39, no. 1 (2010): 2-17. doi:10.1111/j.1552-3934.2010.02041.x.
Carroll, Kate E., and Doris H. Kincade. "Inclusive Design in Apparel Product Development for Working Women with Physical Disabilities." Family and Consumer Sciences Research Journal 35, no. 4 (2007): 289-315. doi: 10.1177/1077727X07299675.
Freeman, Carla M., Susan B. Kaiser, and Stacy B. Wingate. "Perceptions of Functional Clothing by Persons with Physical Disabilities: A Social-Cognitive Framework." Clothing and Textiles Research Journal 4, no. 1 (1985): 46-52. doi: 10.1177/0887302X8500400107.
Garner, Myrna B., and Vickie L. Douglas. "Apparel Needs of Aging and/or Disabled Women." Journal of Women and Aging 3, no. 4 (1991): 23-35. doi:10.1300/J074v03n04_03.
Ginsburg, Faye, and Rayna Rapp. "Disability Worlds." Annual Review of Anthropology 42 (2013): 53-68. doi: 10.1146/annurev-anthro-092412-155502.
Hammel, Joy, Susan Magasi, Allen Heinemann, Gale Whiteneck, Jennifer Bogner, and Evelyn Rodriguez. "What Does Participation Mean? An Insider Perspective from People with Disabilities." Disability and Rehabilitation 30, no. 19 (2008): 1445–1460. doi:10.1080/09638280701625534.
Hansen, Karen Tranberg. "The World in Dress: Anthropological Perspectives on Clothing, Fashion and Culture." Annual Review of Anthropology 33 (2004): 369-392. doi: 10.1146/annurev.anthro.33.070203.143805
Jaeger, Gunilla, AnnCatrin Röjvik, and Britta Berglund. "Participation in Society for People with a Rare Diagnosis." Disability and Health Journal 8, no. 1 (2015): 44–50. doi:10.1016/j.dhjo.2014.07.004.
Johnson, Kurt L., Pat A. Brown, and Elizabeth S. Knaster. "Aging with Disability in the Workplace." Physical Medicine and Rehabilitation Clinics of North America 21, no. 2 (2010): 267–279. doi:10.1016/j.pmr.2009.12.004.
Kubina, Lucy-Ann, Claire-Jehanne Dubouloz, Christopher G. Davis, Dorothy Kessler, and Mary Y. Egan. "The Process of Re-Engagement in Personally Valued Activities During the Two Years Following Stroke." Disability and Rehabilitation 35, no. 3 (2013): 236–243. doi:10.3109/09638288.2012.691936.
Lamb, Sarah. "Permanent personhood or meaningful decline? Toward a critical anthropology of successful aging." Journal of Aging Studies 29 (2014): 41-52. http://dx.doi.org/10.1016/j.jaging.2013.12.006
Mikula, Pavol, Iveta Nagyova, Martina Krokavcova, Marianna Vitkova, Jaroslav Rosenberger, Jarmila Szilasiova, Zuzana Gdovinova, Johan W. Groothoff, and Jitse P. van Dijk. "Social Participation and Health-Related Quality of Life in People with Multiple Sclerosis." Disability and Health Journal 8, no. 1 (2015): 29–34. doi:10.1016/j.dhjo.2014.07.002.
Nessley, Eleanor, and Rosalie R. King. "Textile Fabric and Clothing Needs of Paraplegic and Quadriplegic Persons Confined to Wheelchairs." Journal of Rehabilitation 46, no. 2 (1980): 63-67.
Ortman, Jennifer M., Victoria A. Velkoff, and Howard Hogan. An Aging Nation: The Older Population in the United States. Washington, D.C.: U.S. Census Bureau, 2014, https://www.census.gov/prod/2014pubs/p25-1140.pdf
Perkinson, Margaret A., and Samantha L. Solimeo. "Aging in Cultural Context and as Narrative Process: Conceptual Foundations of the Anthropology of Aging as Reflected in the Works of Margaret Clark and Sharon Kaufman." The Gerontologist 54, no. 1 (2014): 101-107. doi:10.1093/geront/gnt128
Reid-Cunningham, Allison Ruby. "Anthropological Theories of Disability." Journal of Human Behavior in the Social Environment 19 (2009): 99-111. doi: 10.1080/10911350802631644
Sofaer, Joanna R. The Body as Material Culture: A Theoretical Osteoarchaeology. Cambridge: Cambridge University Press, 2006.
Stalp, Marybeth, Rachel Williams, Annette Lynch, and M. Elise Radina. "Conspicuously Consuming: The Red Hat Society and Midlife Women's Identity." Journal of Contemporary Ethnography 38, no. 2 (2009): 225-253. doi: 10.1177/0891241608316997
Topo, Päivi, and Sonja Iltanen-Tähkävuori. "Scripting Patienthood with Patient Clothing." Social Science & Medicine 70, no. 11 (2010): 1682–1689. doi:10.1016/j.socscimed.2010.01.050.
Turner, T. "The Social Skin." In Reading the Social Body, edited by C.B Burroughs and J. Ehrenreich, 15-39. Iowa City: University of Iowa Press, 1993[1980].
Twigg, Julia. "Dress and the narration of life: Women's reflections on clothing and age." In Auto/Biography Yearbook 2009, BSA Auto/Biography Study Group, edited by A.C. Sparkes, 1-18. Nottingham: Russell Press, 2009.
Twigg, Julia. Fashion and Age: Dress, the Body and Later Life. Bloomsbury: London, 2013.
Wang, Yunyi, Daiwei Wu, Mengmeng Zhao, and Jun Li. "Evaluation on an Ergonomic Design of Functional Clothing for Wheelchair Users." Applied Ergonomics 45, no. 3 (2014): 550-555. doi:10.1016/j.apergo.2013.07.010
White, Louise Wendt, and Merry Jo Dallas. "Clothing Adaptations: The Occupational Therapist and the Clothing Designer Collaborate." The American Journal of Occupational Therapy 31, no. 2 (1977): 90-94.
Wingate, Stacy B., Susan B. Kaiser, and Carla M. Freeman. "Salience of Disability Cues in Functional Clothing: A Multidimensional Approach." Clothing and Textiles Research Journal 4, no. 2 (1986): 37-47. doi: 10.1177/0887302X8600400206.
World Health Organization. Towards a Common Language for Functioning, Disability and Health: ICF, The International Classification of Functioning, Disability and Health, 2002, http://www.who.int/classifications/icf/en/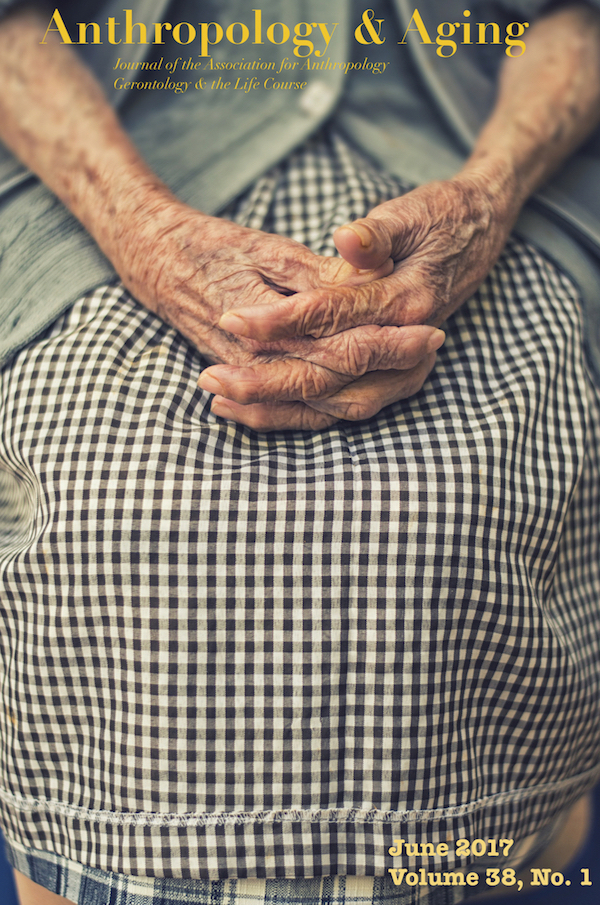 Downloads
Published
2017-06-06 — Updated on 2023-04-05
License
Copyright (c) 2018 Jessica Dimka, Allison Kabel, Kerri McBee-Black
This work is licensed under a Creative Commons Attribution 4.0 International License.
Authors who publish with this journal agree to the following terms:
The Author retains copyright in the Work, where the term "Work" shall include all digital objects that may result in subsequent electronic publication or distribution.
Upon acceptance of the Work, the author shall grant to the Publisher the right of first publication of the Work.
The Author shall grant to the Publisher and its agents the nonexclusive perpetual right and license to publish, archive, and make accessible the Work in whole or in part in all forms of media now or hereafter known under a Creative Commons Attribution 4.0 International License or its equivalent, which, for the avoidance of doubt, allows others to copy, distribute, and transmit the Work under the following conditions:

Attribution—other users must attribute the Work in the manner specified by the author as indicated on the journal Web site;

with the understanding that the above condition can be waived with permission from the Author and that where the Work or any of its elements is in the public domain under applicable law, that status is in no way affected by the license.
The Author is able to enter into separate, additional contractual arrangements for the nonexclusive distribution of the journal's published version of the Work (e.g., post it to an institutional repository or publish it in a book), as long as there is provided in the document an acknowledgement of its initial publication in this journal.
Authors are permitted and encouraged to post online a prepublication manuscript (but not the Publisher's final formatted PDF version of the Work) in institutional repositories or on their Websites prior to and during the submission process, as it can lead to productive exchanges, as well as earlier and greater citation of published work. Any such posting made before acceptance and publication of the Work shall be updated upon publication to include a reference to the Publisher-assigned DOI (Digital Object Identifier) and a link to the online abstract for the final published Work in the Journal.
Upon Publisher's request, the Author agrees to furnish promptly to Publisher, at the Author's own expense, written evidence of the permissions, licenses, and consents for use of third-party material included within the Work, except as determined by Publisher to be covered by the principles of Fair Use.
The Author represents and warrants that:

the Work is the Author's original work;
the Author has not transferred, and will not transfer, exclusive rights in the Work to any third party;
the Work is not pending review or under consideration by another publisher;
the Work has not previously been published;
the Work contains no misrepresentation or infringement of the Work or property of other authors or third parties; and
the Work contains no libel, invasion of privacy, or other unlawful matter.

The Author agrees to indemnify and hold Publisher harmless from Author's breach of the representations and warranties contained in Paragraph 6 above, as well as any claim or proceeding relating to Publisher's use and publication of any content contained in the Work, including third-party content.
Revised 7/16/2018. Revision Description: Removed outdated link.