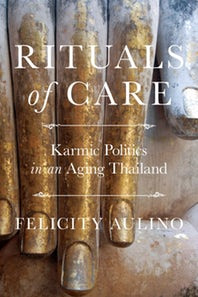 Book Review: Rituals of Care: Karmic Politics in an Aging Thailand
References
Bell, Catherine. 2008. Ritual Theory, Ritual Practice. Oxford: Oxford University Press.
Mol, Annemarie. 2008. The Logic of Care: Health and the Problem of Patient Choice. London: Routledge.
Seligman, Adam B., Robert P. Weller, Michael J. Puett, and Simon Bennett. 2008. Ritual and Its Consequences: An Essay on the Limits of Sincerity. Oxford: Oxford University Press.
DOI:
https://doi.org/10.5195/aa.2021.369
Refbacks
There are currently no refbacks.
Copyright (c) 2021 Katrina Vincent-Forbes

This work is licensed under a
Creative Commons Attribution 4.0 International License
.
Save
Save
Save
Save