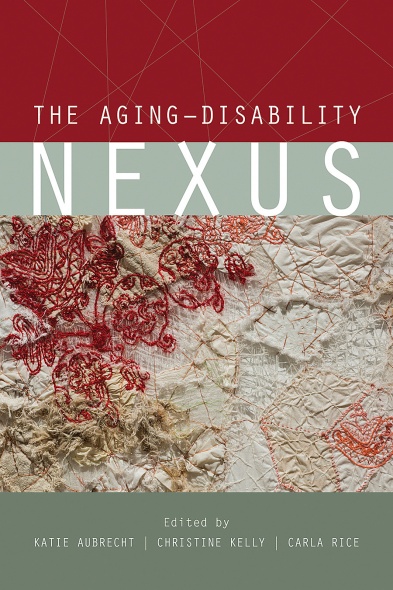 Book Review: The Aging-Disability Nexus
References
Armstrong, Pat, and Hugh Armstrong, eds. 2020. The Privatization of Care: The Case of Nursing Homes. New York: Routledge.
Banerjee, Sube, and Carole Estabrooks. 2021. "Long-term Care Outbreaks, Deaths, Reveal how Badly we Undervalue Seniors and People With Dementia." CBC News Opinion, February 2. Accessed September 9, 2021 from https://www.cbc.ca/news/opinion/opinion-dementia-long-term-care-homes-1.5871981.
Canadian Institute for Health Information. 2021. The Impact of COVID-19 on Long-Term Care in Canada: Focus on the First 6 Months. Ottawa, ON: CIHI.
Gibbons, Hailee M. 2016. "Compulsory Youthfulness: Intersections of Ableism and Ageism in 'Successful Aging' Discourses." Review of Disability Studies 12 (2-3): 70-88.
Livingston, Julie. 2005. Debility and the Moral Imagination in Botswana. Bloomington: Indiana University Press.
Minkler, Meredith, and Pamela Fadem. 2002. "Successful Aging: A Disability Perspective." Journal of Disability Policy Studies 12 (4): 229-235.
Silva, Olivia, Ariel M. Cascio, and Eric Racine. 2020. "Person-Oriented Research Ethics and Dementia: The Lack of Consensus." Anthropology & Aging 41 (1): 31-51.
Solimeo, Samantha. 2009. With Shaking Hands: Aging with Parkinson's Disease in America's Heartland. London: Rutgers University Press.
DOI:
https://doi.org/10.5195/aa.2021.367
Refbacks
There are currently no refbacks.
Copyright (c) 2021 Yvonne Wallace

This work is licensed under a
Creative Commons Attribution 4.0 International License
.
Save
Save
Save
Save