Modest Swimwear, Religiosity and Aging: Apparel and Physical Activity for Women Throughout the Life Course
Keywords:
Swimwear, Modesty, Aging, Religion, Morality, Social Media
Abstract
Swim-related activity is one of the most recommended forms of physical activity for older adults, increasing the importance of access to swimming and water sports throughout the life course. This study examined eight online forums addressing topics related to religious-based modesty and moral judgements about different types of swimwear, such as the bikini or the burqini. Online discussion forums dedicated to modest dress for women with religious or faith-based modesty preferences are often called "modesty blogs." These blogs have grown in popularity and influence on social media, and one of the most controversial topics discussed is the notion of a woman's choice in swimwear as a moral indicator. This article analyzes the ways in which these blogs serve as informal sites of knowledge production and sites of religious interpretation. These forums reveal insights about physical activity and the sense of belonging regarding modesty within a moralized domain. The review of these modesty blogs resulted in examples of (1) modest swimwear as empowering for religious women throughout the life course, (2) conflicting modesty narratives, and (3) modesty as a way to avoid shame and uphold middle-class values. Apparel-related barriers to physical activity, including swimwear and water sport, have the potential to negatively impact the health and well-being of religious women and their families throughout the life course. 
References
Abdelaziz, Rowaida. 2020. "When Swimming As a Muslim Woman Becomes A Political Act." HuffPost, 45:11 400AD. https://www.huffpost.com/entry/muslim-women-are-fighting-to-swim-in-america_n_5d5594d1e4b056fafd08aa70.
Akou, Heather Marie. 2013. "A Brief History of the Burqini." Dress 39 (1): 25–35. https://doi.org/10.1179/0361211213Z.0000000009.
Alkatan, Mohammed, Jeffrey R. Baker, Daniel R. Machin, Wonil Park, Amanda S. Akkari, Evan P. Pasha, and Hirofumi Tanaka. 2016. "Improved Function and Reduced Pain after Swimming and Cycling Training in Patients with Osteoarthritis." The Journal of Rheumatology 43 (3): 666–72. https://doi.org/10.3899/jrheum.151110.
Balogun, Oluwakemi M. 2019. "Beauty and the Bikini: Embodied Respectability in Nigerian Beauty Pageants." African Studies Review 62 (2): 80–102. https://muse.jhu.edu/article/726750.
Bartky, Sandra Lee. 2015. Femininity and Domination: Studies in the Phenomenology of Oppression. New York: Routledge, 2015. https://doi.org/10.4324/9780203825259.
Blessed Is She. 2019. "Beautiful + Modest Swimsuits for Every Body Type." https://blessedisshe.net/blog/beautiful-modest-swimsuits-every-body-type/.
Blog Aquamodesta. 2019. Aquamodesta. Accessed January 27, 2022. https://aquamodesta.com/blog/.
Bond, Carol S., Osman Hassan Ahmed, Martin Hind, Bronwen Thomas, and Jaqui Hewitt-Taylor. 2013. "The Conceptual and Practical Ethical Dilemmas of Using Health Discussion Board Posts as Research Data." Journal of Medical Internet Research 15 (6): e2435. https://doi.org/10.2196/jmir.2435.
Booth, Douglas. 2001. "From Bikinis to Boardshorts: 'Wahines' and the Paradoxes of Surfing Culture." Journal of Sport History 28 (1): 3–22. https://www.jstor.org/stable/43609829.
Cassaniti, Julia L, and Jacob R Hickman. 2014. "New Directions in the Anthropology of Morality." Anthropological Theory 14 (3): 251–62. https://doi.org/10.1177/1463499614534371.
Charleston, Beth Duncuff. 2004. "The Bikini | Essay | The Metropolitan Museum of Art | Heilbrunn Timeline of Art History." The Met's Heilbrunn Timeline of Art History. Accessed June 29, 2021. https://www.metmuseum.org/toah/hd/biki/hd_biki.htm.
Charmaz, Kathy. 2014. "Grounded Theory in Global Perspective: Reviews by International Researchers." Qualitative Inquiry 20 (9): 1074–84. https://doi.org/10.1177/1077800414545235.
Christian Science Monitor. 2016. "Sweden Stirs Debate with Women-Only Swimming, in Nod to Muslims." https://www.csmonitor.com/World/Europe/2016/0530/Sweden-stirs-debate-with-women-only-swimming-in-nod-to-Muslims.
Cleo Madison. "What Is Modest Swimwear?" May 13, 2020. https://www.cleomadison.com/what-is-modest-swimwear/.
Cortis, Natasha. 2009. "Social Inclusion and Sport: Culturally Diverse Women's Perspectives." Australian Journal of Social Issues 44 (1): 91–106. https://doi.org/10.1002/j.1839-4655.2009.tb00132.x.
Csordas, Thomas J. 2013. "Morality as a Cultural System?" Current Anthropology 54 (5): 523–46. https://doi.org/10.1086/672210.
Eberhardt, Nancy. 2014. "Piaget and Durkheim: Competing Paradigms in the Anthropology of Morality." Anthropological Theory 14 (3): 301–16. https://doi.org/10.1177/1463499614534552.
Edwards, Lydia. "The Erotic Theatre of the Pool Edge: A Short History of Female Swimwear." The Conversation. Accessed June 22, 2021. http://theconversation.com/the-erotic-theatre-of-the-pool-edge-a-short-history-of-female-swimwear-127902.
Elsawy, Bassem, and Kim E. Higgins. 2010. "Physical Activity Guidelines for Older Adults." American Family Physician 81 (1): 55–59. https://www.aafp.org/afp/2010/0101/p55.html.
Emily Wilson Ministries. 2015. "The Great Swimwear Debate." Accessed January 27, 2022. https://emwilsonmusic.com/blog/2015/3/17/the-great-swimwear-debate.
Gambichler, Thilo, Sebastian Rotterdam, Peter Altmeyer, and Klaus Hoffmann. 2001. "Protection against Ultraviolet Radiation by Commercial Summer Clothing: Need for Standardised Testing and Labelling." BMC Dermatology 1: 6. https://doi.org/10.1186/1471-5945-1-6.
Gies, H. P., C. R. Roy, G. Elliott, and W. Zongli. 1994. "Ultraviolet Radiation Protection Factors for Clothing." Health Physics 67 (2): 131–39. https://doi.org/10.1097/00004032-199408000-00003.
Girl Defined. 2021. "The Bikini Is Destroying the Christian Girl's View of Modesty." GirlDefined (blog). Accessed July 27, 2021. https://www.girldefined.com/bikini-destroying-christian-girls-view-modesty.
Heffernan, Teresa. 2018. The Burqa and the Bikini: Veiling and Unveiling at the Turn of the Twenty-First Century. Veiled Figures. University of Toronto Press. https://www.degruyter.com/document/doi/10.3138/9781442624917-009/html.
Homeschooling Teen. 2009. "Modesty: Part 5 of 5" http://homeschoolingteen.com/2009/07/modesty-part-4-of-5/.
Hunt-Hurst, Patricia, and Amy Scarborough. 2013. "Exaggerated Modesty: The Evolution and Acceptance of Showing the Navel in Swimwear and Other Clothing." Trending Now: New Developments in Fashion Studies: 45–57. https://doi.org/10.1163/9781848882119_006.
Kuchinskaya, Olga, and Lisa S. Parker. 2018."'Recurrent Losers Unite': Online Forums, Evidence-Based Activism, and Pregnancy Loss." Social Science & Medicine 216: 74–80. https://doi.org/10.1016/j.socscimed.2018.09.014.
Lenneis, Verena, Adam B. Evans, and Sine Agergaard. 2021. "Swimming as Self-Care – A Foucauldian Analysis of Swimming for Danish Muslim Women." International Review for the Sociology of Sport. 10126902211016844. https://doi.org/10.1177/10126902211016843.
Lewis, Reina. 2013. Modest Fashion: Styling Bodies, Mediating Faith. Bloomsbury Publishing.
Lewis, Reina. 2015. "Fashion, Shame and Pride: Constructing the Modest Fashion Industry in Three Faiths." In The Changing World Religion Map: Sacred Places, Identities, Practices and Politics. Edited by Stanley D. Brunn, 2597–2609. Dordrecht: Springer Netherlands. https://doi.org/10.1007/978-94-017-9376-6_136.
Marinescu, Luiza G., Denise Sharify, James Krieger, Brian E. Saelens, Jeniffer Calleja, and Ayaan Aden. 2013. "Be Active Together: Supporting Physical Activity in Public Housing Communities Through Women-Only Programs." Progress in Community Health Partnerships: Research, Education, and Action 7, no. 1: 57–66. https://doi.org/10.1353/cpr.2013.0003.
Mattingly, Cheryl, and Jason Throop. 2018. "The Anthropology of Ethics and Morality." Annual Review of Anthropology 47 (1): 475–92. https://doi.org/10.1146/annurev-anthro-102317-050129.
Moradi, Bonnie, and Yu-Ping Huang. 2008. "Objectification Theory and Psychology of Women: A Decade of Advances and Future Directions." Psychology of Women Quarterly 32 (4): 377–98. https://doi.org/10.1111/j.1471-6402.2008.00452.x.
Nielson, Samuel P. 2020. "Beaches and Muslim Belonging in France: Liberty, Equality, but Not the Burkini!" Cultural Geographies 27 (4): 631–46. https://doi.org/10.1177/1474474020918907.
Nualnim, Nantinee, Kristin Parkhurst, Mandeep Dhindsa, Takashi Tarumi, Jackie Vavrek, and Hirofumi Tanaka. 2012. "Effects of Swimming Training on Blood Pressure and Vascular Function in Adults >50 Years of Age." The American Journal of Cardiology 109 (7): 1005–10. https://doi.org/10.1016/j.amjcard.2011.11.029.
Pandit, Pintu, Kunal Singha, and Subhankar Maity. 2021."9 - Green Chemistry in Textile and Fashion." In Chemical Management in Textiles and Fashion. Edited by Subramanian Senthilkannan Muthu, 177–203. The Textile Institute Book Series. Woodhead Publishing. https://doi.org/10.1016/B978-0-12-820494-8.00009-5.
Pardy, Maree. 2011. "Eat, Swim, Pray." M/C Journal 14 (4). https://doi.org/10.5204/mcj.406.
Rosenberg, Eli. 2016. "Gender-Segregated Swimming Cut Back at 2 Public Pools Near Brooklyn Hasidic Areas." The New York Times. New York. https://www.nytimes.com/2016/07/07/nyregion/gender-segregated-swimming-cut-back-at-2-public-pools-near-brooklyn-hasidic-areas.html.
Serhan, Yasmeen. 2016. "A Brief History of the Burqini." The Atlantic. https://www.theatlantic.com/culture/archive/2016/08/burqini-history/495524/.
Shweder, Richard A, and Usha Menon. 2014. "Old Questions for the New Anthropology of Morality: A Commentary." Anthropological Theory 14 (3): 356–70. https://doi.org/10.1177/1463499614534555.
Sommier, Mélodine. 2019. "Insights into the Construction of Cultural Realities: Foreign Newspaper Discourses about the Burkini Ban in France." Ethnicities 19 (2): 251–70. https://doi.org/10.1177/1468796817739328.
Spoonflower Blog. 2019. "How Sewing a Modest Swimsuit Changed the Way I Look at Swimwear | Spoonflower Blog," July 9, 2019. https://blog.spoonflower.com/2019/07/how-sewing-a-modest-swimsuit-changed-the-way-i-look-at-swimwear/.
Tanaka, Hirofumi. 2009. "Swimming Exercise." Sports Medicine 39 (5): 377–87. https://doi.org/10.2165/00007256-200939050-00004.
Tarlo, Emma. 2010. Visibly Muslim: Fashion, Politics, Faith. Oxford: Berg. http://www.bloomsbury.com/uk/visibly-muslim-9781845204327/.
"The Evolution of the Swimsuit - REY SWIMWEAR." Accessed April 12, 2021. https://www.jessicarey.com/blogs/news/the-evolution-of-the-swimsuit?_pos=1&_sid=c365ea162&_ss=r.
The Little Pomegranate. 2019. "| Rumana. "The Little Pomegranate | Rumana." Accessed January 30, 2022. https://thelittlepomegranate.co.uk/.
Twigg, Julia. 2013. Fashion and Age: Dress, the Body and Later Life. New York: A&C Black.
With Love Leena. 2019. "Modest Swimwear That Is ACTUALLY CUTE!" Accessed July 9, 2021. https://www.youtube.com/watch?v=4sgx7FkzXuY.
White, Phillip, Kevin Young and James Gillett. 1995. "Bodywork as a Moral Imperative: Some Critical Notes on Health and Fitness." Loisir et Société / Society and Leisure 18 (1): 159-181, DOI: 10.1080/07053436.1995.10715495
Zigon, Jarrett. 2008. Morality: An Anthropological Perspective. Oxford: Berg Publishers.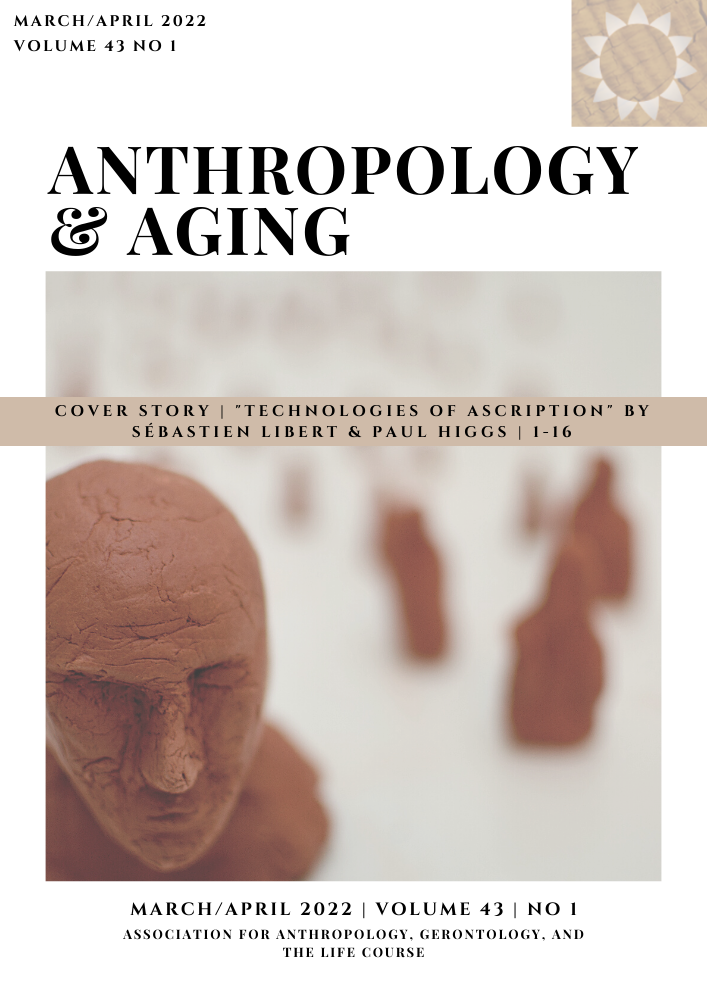 Downloads
License
Authors who publish with this journal agree to the following terms:
The Author retains copyright in the Work, where the term "Work" shall include all digital objects that may result in subsequent electronic publication or distribution.
Upon acceptance of the Work, the author shall grant to the Publisher the right of first publication of the Work.
The Author shall grant to the Publisher and its agents the nonexclusive perpetual right and license to publish, archive, and make accessible the Work in whole or in part in all forms of media now or hereafter known under a Creative Commons Attribution 4.0 International License or its equivalent, which, for the avoidance of doubt, allows others to copy, distribute, and transmit the Work under the following conditions:

Attribution—other users must attribute the Work in the manner specified by the author as indicated on the journal Web site;

with the understanding that the above condition can be waived with permission from the Author and that where the Work or any of its elements is in the public domain under applicable law, that status is in no way affected by the license.
The Author is able to enter into separate, additional contractual arrangements for the nonexclusive distribution of the journal's published version of the Work (e.g., post it to an institutional repository or publish it in a book), as long as there is provided in the document an acknowledgement of its initial publication in this journal.
Authors are permitted and encouraged to post online a prepublication manuscript (but not the Publisher's final formatted PDF version of the Work) in institutional repositories or on their Websites prior to and during the submission process, as it can lead to productive exchanges, as well as earlier and greater citation of published work. Any such posting made before acceptance and publication of the Work shall be updated upon publication to include a reference to the Publisher-assigned DOI (Digital Object Identifier) and a link to the online abstract for the final published Work in the Journal.
Upon Publisher's request, the Author agrees to furnish promptly to Publisher, at the Author's own expense, written evidence of the permissions, licenses, and consents for use of third-party material included within the Work, except as determined by Publisher to be covered by the principles of Fair Use.
The Author represents and warrants that:

the Work is the Author's original work;
the Author has not transferred, and will not transfer, exclusive rights in the Work to any third party;
the Work is not pending review or under consideration by another publisher;
the Work has not previously been published;
the Work contains no misrepresentation or infringement of the Work or property of other authors or third parties; and
the Work contains no libel, invasion of privacy, or other unlawful matter.

The Author agrees to indemnify and hold Publisher harmless from Author's breach of the representations and warranties contained in Paragraph 6 above, as well as any claim or proceeding relating to Publisher's use and publication of any content contained in the Work, including third-party content.
Revised 7/16/2018. Revision Description: Removed outdated link.