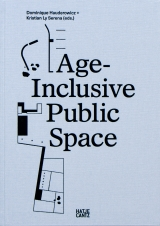 Book Review: Age-Inclusive Public Space
References
Augé, Marc. 1995. Non-places: Introduction to an Anthropology of Supermodernity. London, New York: Verso.
Devlieger, Patrick, Frank Renders, Hubert Froyen, and Kristel Wildiers, eds. 2006. Blindness and the Multi-Sensorial City. Antwerp: Garant.
Dokumaci, Arseli. 2019. "People as Affordances: Building Disability Worlds Through Care Intimacy." Current Anthropology 61 (S21). https://doi.org/10.1086/705783.
Dujardin, Marc. 2000. "Bhutanese Architecture and the Dynamics of Tradition: An Architectural Study of Identity and Change in Traditional Dwelling Culture and Built Environment." Leuven, PhD. KU Leuven.
Dujardin, Marc. 2021. ELG1 Universal Design Course, KU Leuven, Faculty of Architecture, Campus Sint Lucas, Ghent, PPT – lecture Week one.
Ingold, Tim. 2013. Making: Anthropology, Archaeology, Art, and Architecture. London: Routledge.
DOI:
https://doi.org/10.5195/aa.2021.347
Refbacks
There are currently no refbacks.
Copyright (c) 2021 Patrick Devlieger, Marc Dujardin

This work is licensed under a
Creative Commons Attribution 4.0 International License
.
Save
Save
Save
Save