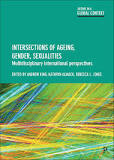 Book Review: Intersections of Ageing, Gender and Sexualities: Multidisciplinary International Perspectives.
References
Burawoy, M. 2005. "Presidential Address: For Public Sociology." American Sociological Review 70: 4-28.
Gilleard, Chris and Paul Higgs. 2013. Ageing, corporeality and embodiment. London: Anthem Press.
Halberstam, J. 2005. In a Queer Time and Place. New York: New York University Press.
Putney, N M, D E Alley, and V L Bengtson. 2005. "Social gerontology as public sociology in action." The American Sociologist 88-104.
Kafer, A. 2013. Feminist, Queer, Crip. Bloomington, IN: Indiana University Press.
Sandberg, L J, and B L Marshall. 2017. "Queering Aging Futures." Societies 7 (3):
Sandberg, L. 2015. "Sex, sexuality and later life." In Routledge Handbook of Cultural Gerontology, edited by Julia Twigg and Wendy Martin, 218-225. New York: Routledge.
Twigg, Julia, and Wendy Martin. 2015. "The challenge of cultural gerontology." The Gerontologist 55 (3): 353-359.
Van Dyk, Silke. 2014. "The appraisal of difference: Critical gerontology and the active-ageing-paradigm." Journal of Aging Studies 31: 93-103.
DOI:
https://doi.org/10.5195/aa.2020.267
Refbacks
There are currently no refbacks.
Copyright (c) 2020 Tannistha Samantha

This work is licensed under a
Creative Commons Attribution 4.0 International License
.
Save
Save
Save
Save