Agencements of Reanimation: Facilitating an Active Old Age through Danish Co-Creation Initiatives
Keywords:
energy, co-creation, cycling without age, COPD, active aging
Abstract
Contemporary healthy and active aging policies coincide with new forms of governance in European welfare states promoting active citizenship, which in Denmark has been termed "co-creation." As active aging and co-creation policies go hand in hand, new forms of health promotion programs and public-private collaborations emerge. This article centers on two initiatives that target older people in two Danish municipalities: a local COPD-choir in Vordingborg and the local department in Ishøj of the (inter)national Cycling without Age association. The municipalities take on the assignment of reanimating old age through such initiatives, by challenging the institutional barriers of the municipality. The article describes how co-creation is a redistribution of agency in the European welfare states and how older volunteers are called upon to participate in the organization of municipal initiatives, while at the same time these initiatives come with pre-fixed definitions of "good" old age. The article explores the co-creation initiatives as indicative of the agencements (Çalışkan and Callon 2010) of reanimation that endeavor to revive old age and subjectivise older people as active citizens. While such agencement involves health promotion, this article argues that the aim of initiatives is instead to engage older citizens, and hence to facilitate an active old age.
References
Aspinal, Fiona, Jon Glasby, Tine Rostgaard, Hanne Tuntland, and Rudi GJ Westendorp. 2016. "New horizons: Reablement-supporting older people towards independence." Age and ageing 45 (5): 574-578.
Brandsen, Taco, Willem Trommel, and Bram Verschuere. 2014. Manufactured civil society: Practices, principles and effects. London: Palgrave.
Çalışkan, Koray, and Michel Callon. 2010. "Economization, part 2: a research programme for the study of markets." Economy and Society 39 (1): 1-32.
Center for Frivilligt Socialt Arbejde. 2017. Frivilligrapporten 2016-2018. Odense: Center for Frvilligt Socialt Arbejde.
Coelho, Ricardo Lopes. 2009. "On the concept of energy: History and philosophy for science teaching." Procedia-Social and Behavioral Sciences 1 (1): 2648-2652.
Europe, Age Platform. 2011. "How to promote active ageing in Europe-EU support to local and regional actors." Brussels: Committee of the Regions.
Hodgson, Lesley. 2004. "Manufactured civil society: counting the cost." Critical social policy 24 (2): 139-164.
Kalache, A, and A Gatti. 2003. "Active ageing: a policy framework." Advances in gerontology= Uspekhi gerontologii 11: 7-18.
Karlsen, Mads Peter, and Kaspar Villadsen. 2016. "Health promotion, governmentality and the challenges of theorizing pleasure and desire." Body & Society 22 (3): 3-30.
Katz, Stephen. 2000. "Busy bodies: Activity, aging, and the management of everyday life." Journal of aging studies 14 (2): 135-152.
---. 2013. "Active and successful aging. Lifestyle as a gerontological idea." Recherches sociologiques et anthropologiques 44 (44-1): 33-49.
la Cour, Anders. 2012. "The love affair between the policy and the voluntary organizations." In Hybrid Forms of Governance, 46-63. Springer.
Lamb, Sarah. 2014. "Permanent personhood or meaningful decline? Toward a critical anthropology of successful aging." Journal of aging studies 29: 41-52.
Larsen, Jonas. 2017. "The making of a pro-cycling city: Social practices and bicycle mobilities." Environment and planning A 49 (4): 876-892.
Lassen, Aske Juul. 2017. "Shaping old age: Innovation partnerships, senior centres and billiards tables as active ageing technologies." In Framing Age: Contested Knowledge in Science and Politics, 222-236. Routledge.
Lassen, Aske Juul, and Astrid Pernille Jespersen. 2017. "Getting Old and Keeping Going: The Motivation Technologies of Active Aging in Denmark." In Successful Aging? Global Perspectives on a Contemporary Obsession, 141-153. Rutgers University Press.
Lassen, Aske Juul, and Tiago Moreira. 2014. "Unmaking old age: Political and cognitive formats of active ageing." Journal of Aging Studies 30: 33-46.
McGinn, Colin. 2011. Basic structures of reality: essays in meta-physics. OUP USA.
Moreira, Tiago. 2016. Science, technology and the ageing society. Routledge.
Nielsen, Annegrete Juul, and Lone Grøn. 2012. "Standardising the lay: logics of change in programs of disease self-management." Culture Unbound: Journal of Current Cultural Research 4 (3): 425-442.
Osborne, Stephen P. 2010. The new public governance: Emerging perspectives on the theory and practice of public governance. Routledge.
Otto, Lene. 2013. "Negotiating a healthy body in old age: preventive home visits and biopolitics." International Journal of Ageing and Later Life 8 (1): 111-135.
Partridge, Linda, Joris Deelen, and P Eline Slagboom. 2018. "Facing up to the global challenges of ageing." Nature 561 (7721): 45.
Pestoff, Victor. 2009. "Towards a paradigm of democratic participation: Citizen participation and co‐production of personal social services in Sweden." Annals of Public and Cooperative economics 80 (2): 197-224.
Rowles, Graham D. 1983. "Place and personal identity in old age: Observations from Appalachia." Journal of Environmental Psychology 3 (4): 299-313.
Rudman, Debbie Laliberte. 2015. "Embodying positive aging and neoliberal rationality: Talking about the aging body within narratives of retirement." Journal of Aging Studies 34: 10-20.
Rupp, Stephanie. 2013. "Considering energy: E= mc2=(magic· culture) 2." Cultures of energy: Power, practices, technologies: 79-95.
Scheele, Christian Elling, Karsten Vrangbæk, and Margit Kriegbaum. 2019. "Volunteer association perceptions of municipal policy strategies to promote co-production of healthy ageing services." Ageing & Society 39 (6): 1152-1171.
Schwennesen, Nete. 2017. "When self-tracking enters physical rehabilitation: From 'pushed'self-tracking to ongoing affective encounters in arrangements of care." Digital health 3: 2055207617725231.
Torfing, Jacob. 2015. "Hvad hæmmer og fremmer spredning af offentlig innovation?".
Townsend, Peter. 1981. "The structured dependency of the elderly: a creation of social policy in the twentieth century." Ageing & Society 1 (1): 5-28.
Van Dyk, Silke, Stephan Lessenich, Tina Denninger, and Anna Richter. 2013. "The many meanings of "active ageing". Confronting public discourse with older people's stories." Recherches sociologiques et anthropologiques 44 (44-1): 97-115.
van Hees, Susan, Klasien Horstman, Maria Jansen, and Dirk Ruwaard. 2015. "Conflicting notions of citizenship in old age: An analysis of an activation practice." Journal of aging studies 35: 178-189.
Voorberg, William H, Viktor JJM Bekkers, and Lars G Tummers. 2015. "A systematic review of co-creation and co-production: Embarking on the social innovation journey." Public Management Review 17 (9): 1333-1357.
Walker, Alan. 1980. "The social creation of poverty and dependency in old age." Journal of social policy 9 (1): 49-75.
---. 2008. "Commentary: The emergence and application of active aging in Europe." Journal of Aging & Social Policy 21 (1): 75-93.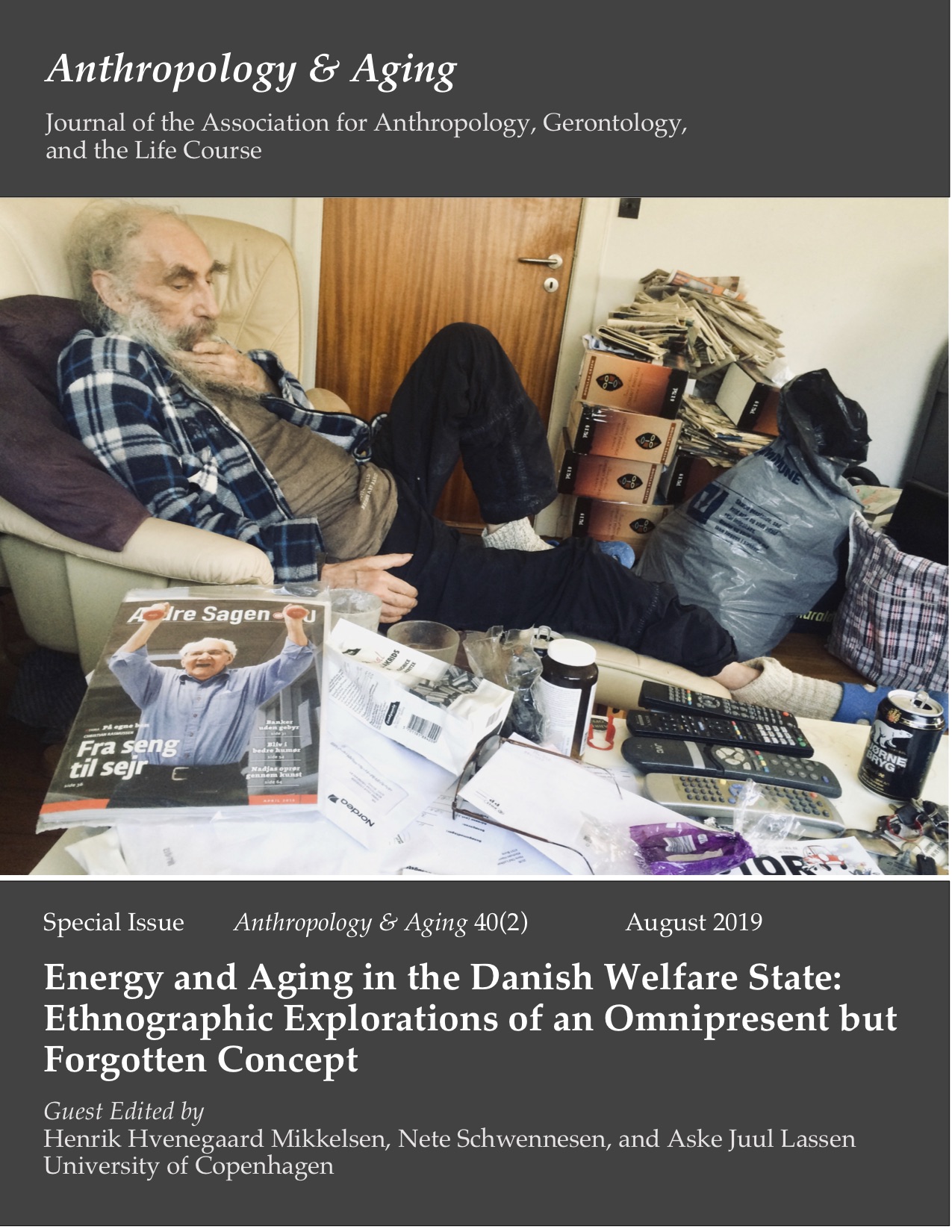 Downloads
Additional Files
License
Authors who publish with this journal agree to the following terms:
The Author retains copyright in the Work, where the term "Work" shall include all digital objects that may result in subsequent electronic publication or distribution.
Upon acceptance of the Work, the author shall grant to the Publisher the right of first publication of the Work.
The Author shall grant to the Publisher and its agents the nonexclusive perpetual right and license to publish, archive, and make accessible the Work in whole or in part in all forms of media now or hereafter known under a Creative Commons Attribution 4.0 International License or its equivalent, which, for the avoidance of doubt, allows others to copy, distribute, and transmit the Work under the following conditions:

Attribution—other users must attribute the Work in the manner specified by the author as indicated on the journal Web site;

with the understanding that the above condition can be waived with permission from the Author and that where the Work or any of its elements is in the public domain under applicable law, that status is in no way affected by the license.
The Author is able to enter into separate, additional contractual arrangements for the nonexclusive distribution of the journal's published version of the Work (e.g., post it to an institutional repository or publish it in a book), as long as there is provided in the document an acknowledgement of its initial publication in this journal.
Authors are permitted and encouraged to post online a prepublication manuscript (but not the Publisher's final formatted PDF version of the Work) in institutional repositories or on their Websites prior to and during the submission process, as it can lead to productive exchanges, as well as earlier and greater citation of published work. Any such posting made before acceptance and publication of the Work shall be updated upon publication to include a reference to the Publisher-assigned DOI (Digital Object Identifier) and a link to the online abstract for the final published Work in the Journal.
Upon Publisher's request, the Author agrees to furnish promptly to Publisher, at the Author's own expense, written evidence of the permissions, licenses, and consents for use of third-party material included within the Work, except as determined by Publisher to be covered by the principles of Fair Use.
The Author represents and warrants that:

the Work is the Author's original work;
the Author has not transferred, and will not transfer, exclusive rights in the Work to any third party;
the Work is not pending review or under consideration by another publisher;
the Work has not previously been published;
the Work contains no misrepresentation or infringement of the Work or property of other authors or third parties; and
the Work contains no libel, invasion of privacy, or other unlawful matter.

The Author agrees to indemnify and hold Publisher harmless from Author's breach of the representations and warranties contained in Paragraph 6 above, as well as any claim or proceeding relating to Publisher's use and publication of any content contained in the Work, including third-party content.
Revised 7/16/2018. Revision Description: Removed outdated link.