Social Contract on Elderly Caregiving in Contemporary Chile
Keywords:
Social contract, elderly caregiving, informal caregiving, Chile, Latin America
Abstract
This paper explores the definitions of social contract on elderly caregiving among a group of seven Chilean aging experts. The data show that for Chileans, family remains a strong institution that should provide care of its members, with daughters or daughters-in-law being the preferred person to provide care. Also, age segregation, along with the gradual privatization of services such as health care and the pension system, promotes individuality: this can become a problem for future generations because they are no longer concerned with helping others.
References
Abellán García, Antonio and Cecilia Esparza Catalán 2009 Solidaridad Familiar y Dependencia Entre Las Personas Mayores. Informes Portal Mayores 99: 1-19.
Aedo, Cristian 2000 Las Reformas En La Salud En Chile. In La Transformación Económica De Chile, edited by Felipe Larraín and Rodrigo Vergara, 605-640. Santiago: Centro de Estudios Públicos.
Aldunate B., Adolfo and Eugenio Gutiérrez 1985 Tercera Edad En Chile: Enfoque, Situación y Perspectiva. Chile: FLACSO-Chile.
Bengtson, Vern L. and W. A. Achenbaum 1993 The Changing Contract Across Generations. New York: A. de Gruyter.
Arellano, José Pablo 1985 Políticas Sociales y Desarrollo: Chile, 1924-1984. Santiago: CIEPLAN.
Arnold-Cathalifaud, M., D. Thumala, A. Urquiza, and A. Ojeda 2008 Young People's Images of Old Age in Chile: Exploratory Research. Educational Gerontology 34 (2): 105-123.
Arteaga, Oscar 2008 Desde El Diseño a La Implementación De Políticas Públicas: El Caso De La Reforma De Salud En Chile. In Transformaciones Sociales y Sistemas De Salud En América Latina, edited by Betty Espinosa and William Waters, 121-142. Quito: FLASCO.
Bengoa, José 2004 La Memoria Olvidada: Historia De Los Pueblos Indígenas De Chile. Santiago: Cuadernos Bicentenario, Presidencia de la República.
Bengtson, Vern L., Ariela Lowenstein, Norella M. Putney, and Daphna Gans 2003 Global Aging and the Challenge to Families. In Global Aging and Challenges to Families, edited by Vern L. Bengtson and Ariela Lowenstein, 1-24. Hawthorne: Aldine de Gruyter.
Beyene, Yewoubdar, Gay Becker, and Nury Mayen 2002 Perception of Aging and Sense of Well-being among Latino Elderly. Journal of Cross-Cultural Gerontology 17 (2): 155-172.
Bitar, Sergio 1990 Chile, the Legacy of Dictatorship and the Construction of Democracy. Milwaukee, WI: University of Wisconsin-Milwaukee, Center for Latin America.
Cámara de Diputados 2016 Proyecto De Ley Regula La despenalización de la interrupción voluntaria del Embarazo en tres causales."
Cámara de Diputados de Chile, accessed March 30, 2016, https://www.camara.cl/pley/pley_detalle.aspx?prmID=10315&prmBoletin=9895-11.
CELADE 2008 El Envejecimiento y Las Personas De Edad. Indicadores Para América Latina y El Caribe: CELADE.
Anuario Estadístico De América Latina y El Caribe 2015, accessed April 24,2016, http://interwp.cepal.org/anuario_estadistico/anuario_2015/es/index.asp.
CERC and ICHEH 1992 Seminario La Familia En Chile: Aspiraciones, Realidades y Desafíos. Santiago: CERC.
Cohen, Elias S 2001 The Complex Nature of Ageism: What is it? Who does it? Who Perceives it? Gerontologist 41 (5): 576-577.
Cohen, Lawrence 1999 No Aging in India: Alzheimer's, the Bad Family, and Other Modern Things. Berkeley: University of California Press.
Cotlear, Daniel 2011 Population aging: Is Latin America ready? Washington, DC: World Bank.
Danus, Luis, Maximo Silva, and Sergio De la Cuadra 1982 Las medidas económicas. Santiago: División de Comunicación Social.
Dirección del Trabajo 2015 "Centro De Consultas Laborales", accessed May 17, 2015, http://www.dt.gob.cl/consultas/1613/w3-article-60141.html.
Donoso, Enrique 2007 Descenso De La Natalidad En Chile: Un Problema País.Revista Chilena De Obstetricia y Ginecología 72 (2): 73-75.
Fajnzylber, Eduardo and Guillermo Parade 2014 Chile. In Beyond Contributory Pensions Fourteen Experiences with Coverage Expansion in Latin America, edited by Rafael Rofman, Ignacio Apella and Evelyn Vezza, 127-160. Washington, DC: World Bank Group.
FONDAP 2014 "Áreas prioritarias de investigación", accesed 08/7, 2014, http://www.conicyt.cl/fondap/
Gee, Ellen Margaret Thomas and Gloria M. Gutman 2000 The Overselling of Population Aging: Apocalyptic Demography, Intergenerational Challenges, and Social Policy. New York: Oxford University Press.
Gitlin, Laura and Patricio Fuentes 2012 The Republic of Chile: An Upper Middle-Income Country at the Crossroads of Economic Development and Aging." The Gerontologist 52 (3): 297-305.
Glantz, Namino 2009 Using Formative Research to Explore and Address Elder Health and Care in Chiapas, Mexico. In Anthropology and Public Health. Bridging Differences in Culture and Society, edited by Robert A. Hahn and Marcia C. Inhorn, 266-297. New York: Oxford.
Gobierno de Chile 2016. "Proyecto De Ley Que Regula La Despenalización De La Interrupción Voluntaria Del Embarazo En Tres Causales", accessed March 30, 2016, http://3causales.gob.cl/
Hareven, Tamara 2000 Families, History, and Social Change: Life Course and Cross-Cultural Perspectives. Boulder: Westview Press.
Harper, Sarah 2006. Ageing Societies: Myths, Challenges and Opportunities. New York: Oxford University Press.
Hashimoto, Akiko 1996 The Gift of Generations: Japanese and American Perspectives on Aging and the Social Contract. Cambridge: Cambridge University Press.
HelpAge 2013 "Global AgeWatch Index 2013 Insight Report", accessed December 9, 2013, http://www.helpage.org/global-agewatch/.
Herrera, María Soledad and Rosita Kornfield 2008 Relaciones Familiares y Bienestar De Los Adultos Mayores En Chile." Expansiva 130: 1-15.
Herrera, María Soledad and María Beatriz Fernández 2013 ¿Está Disminuyendo La Solidaridad Intergeneracional En América Latina? Un Estudio De Las Relaciones Intergeneracionales De Los Hijos Con Los Adultos Mayores." In Envejecimiento en América Latina y El Caribe, edited by Verónica Montes de Oca, 271-300. Ciudad de México: Universidad Autónoma de México.
Huenchuán, Sandra 2010 Ageing, Human Rights and Public Policies. Santiago, Chile: ECLAC
Ageing, Solidarity and Social Protection in Latin America and the Caribbean 2013: Time for Progress Towards Equality. Santiago: ECLAC
INDH 2011 Informe De La Comisión Presidencial Asesora Para La Calificación De Detenidos Desaparecidos, Ejecutados Políticos y Victimas De Presión Política y Tortura. Santiago: INDH.
INE 2010 "Estadísticas Del Bicentenario: La Familia Chilena En El Tiempo." http://www.ine.cl/filenews/files/2010/noviembre/pdf/enfoquefamilia_11_11_10.pdf, accessed April 24, 2016.
"Fecundidad En Chile." 2013, accessed December 7, 2013, http://www.ine.cl/canales/chile_estadistico/demografia_y_vitales/demografia/pdf/fecundidad.pdf.
Actualización De Proyecciones De Población (2002-2020) 2014, accessed April 24, 2016, http://www.ine.cl/canales/sala_prensa/revistaseconomicas/presentaciones/pdf/proyecciones_poblacion_2014.pdf.
Mujeres En Chile y Mercado Del Trabajo 2015: Participación Laboral Femenina y Brechas Salariales. Santiago: Instituto Nacional de Estadísticas.
IPS 2015 "Sistema de pensiones solidarias", accessed May 15, 2015, http://anterior.ips.gob.cl/sistema-pensiones-solidarias-y-beneficios-previsionales/1092-pension-basica-solidaria-de-vejez-pbsv
Jofré, Viviane and Olivia Sanhueza 2010 Evaluación De La Sobrecarga De cuidadoras/es Informales. Ciencia y Enfermería 16 (3): 111-120.
Jofré, Viviane and Sara Mendoza 2005 Toma De Decisiones En Salud En Mujeres Cuidadoras Informales. Ciencia y Enfermería 11 (1): 37-49.
Jorquera, Pamela 2010 Vejez y Envejecimiento: Imaginarios Sociales Presentes En Los Textos Escolares Oficiales Del Ministerio De Educación Chileno. Mad 22: 132-165.
Kane, Rosalie and Joan D. Penrod 1995 Family Caregiving in an Aging Society: Policy Perspectives. Thousand Oaks: Sage Publications.
Kornblit, Ana Lía 2007 Metodologías cualitativas en Ciencias Sociales, modelos y procedimientos de análisis. Buenos Aires: Editorial Biblos.
Lamb, Sarah 2014 Permanent Personhood Or Meaningful Decline? Toward a Critical Anthropology of Successful Aging. Journal of Aging Studies 29: 41-52.
Larraín, Jorge 2001 Identidad Chilena. Santiago, Chile: LOM Ediciones.
Larrañaga, Osvaldo, Mariana Huepe, and María Eugenia Rodríguez 2014 Las Pensiones Solidarias: Análisis De Una Reforma Exitosa. Santiago: Programa de las Naciones Unidas para el Desarrollo - Chile.
Leeson, George 2013 "The Demographics of Population Ageing in Latin America, the Caribbean and the Iberian Peninsula, 1950-2050." In Envejecimiento En América Latina y El Caribe, edited by Verónica Montes de Oca, 52-71. Ciudad de México: Instituto de Investigaciones Sociales, UNAM.
Mayol, Alberto, Carla Azócar, and Carlos Azócar 2013 El Chile Profundo. Modelos Culturales De La Desigualdad y Sus Resistencias. Santiago de Chile: Liberalia Ediciones.
MIDEPLAN 2001 Transformaciones En Las Estructuras Familiares En Chile. Santiago: MIDEPLAN.
Ministerio de Desarrollo Social 2015 Casen 2013. Síntesis De Resultados: Adultos Mayores. Santiago: Ministerio de Desarrollo Social.
Ministerio Secretaría General de Gobierno 2015 Crea El Acuerdo De Unión Civil, Public Law 20.830.
MINSAL 2011 Objetivos Sanitarios De La Década 2000-2010, Evaluación Final Del Periodo. Santiago: Ministerio de Salud.
Montecino, Sonia 1991 Madres y Huachos: Alegorías Del Mestizaje Chileno. Providencia, Santiago: Editorial Cuarto Propio-CEDEM.
Presentación colección género, cultura y sociedad catedra género de la UNESCO 2004. In Nacer, educar, sanar, edited by Michelle Sadler, Alexandra Acuña and María Elena Obach. Santiago: Catalonia
Montes de Oca, Verónica 2001 Desigualdad estructural entre la población anciana en México. Estudios Demográficos y Urbanos 16 (3): 585-613.
Mosquera, Isabel, Itziar Vergara, Isabel Larrañaga, Mónica Machón, María del Río, and Carlos Calderón 2016 Measuring the Impact of Informal Elderly Caregiving: A Systematic Review of Tools. Quality of Life Research 25 (5): 1059-1092.
OECD 1998 The Chilean Pension System: OECD.
------ 2009 Territorial Reviews: Chile 2009: OECD.
----- Chile's accession to the OECD 2010, accessed December 6, 2012, http://www.oecd.org/chile/chilesaccessiontotheoecd.htm
Olavarría, José 2001 Y Todos Querían Ser (Buenos) Padres. Varones De Santiago De Chile En Conflicto. Santiago: FLACSO-Chile.
Popenoe, David 1988 Disturbing the Nest: Family Change and Decline in Modern Societies. New York: A. de Gruyter.
PUC 2010 Segunda Encuesta Nacional de Calidad de Vida, Chile y sus mayores, accessed November 15, 2014, http://www.senama.cl/filesapp/ChileYsusMayores_EncuestaCalidaddeVida.pdf
----- Tercera Encuesta Nacional de Calidad de Vida 2013, Chile y sus mayores, accessed November 15,2014, http://www.senama.cl/filesapp/Chile%20y%20sus%20mayores%202013,%20Encuesta%20de%20Calidad%20de%20Vida.pdf
Quintanilla, Ximena 2011 Did Chileans Maximize Pensions when Choosing between PAYG and DC?. Santiago: Superintendencia de fondos de pensiones.
Restrepo, Helena E. and Manuel Rozental 1994 The Social Impact of Aging Populations: Some Major Issues. Social Science & Medicine 39 (9): 1323-1338.
Robertson, Ann 1997 Beyond Apocalyptic Demography: Towards a Moral Economy of interdependence. Ageing and Society 17: 425-446.
Roughan, P. A., F. E. Kaiser, and J. E. Morley 1993 Sexuality and the Older Woman." Clinics in Geriatric Medicine 9 (1): 87.
Salinas, Viviana 2011. Socioeconomic Differences According to Family Arrangements in Chile. Population Research and Policy Review 30 (5): 677-699.
SENAMA 2014 Nuestros inicios, accessed April 22, 2014, http://www.senama.cl/NuestrosInicios.html
---- 2015a Catastro Establecimientos De Larga Estadía (ELEAM), accessed August 13, 2015, http://catastroeleam.senama.cl/.
---- 2015b Envejecimiento activo, accessed August 14, 2015, http://www.senama.cl/EnvejecimientoActivo.html
SENAMA and FACSO 2015 Inclusión y Exclusión Social De Las Personas Mayores En Chile. Santiago: SENAMA.
Sokolovsky, Jay 2009 The Cultural Context of Aging: Worldwide Perspectives. Westport: Praeger.
Sulbrandt, José, Paulina Pino, and Manuel Oyarzún 2012 Envejecimiento Activo y Saludable: Investigación y Políticas Para El Envejecimiento Poblacional. Revista Chilena De Enfermedades Respiratorias 28 (4): 269-271.
Superintendencia de Pensiones 2014 ¿Cuál Es La Diferencia Entre El Sistema De Capitalización Individual y El Sistema De Reparto?, accessed September 12, 2014, http://www.spensiones.cl/portal/orientacion/580/w3-article-2818.html.
Superintendencia de Pensiones 2016a Centro de Estadísticas, accessed January 25, 2016, http://www.spensiones.cl/safpstats/stats/pageCCEE.php?menu=sps&item=nbmpm
----- 2016b Número y monto promedio, en UF de las pensiones pagadas en el mes por modalidad., accessed January 25, 2016, http://www.spensiones.cl/safpstats/stats/.si.php?id=inf_estadistica/afipen/mensual/2015/12/m00.html
Superintendencia de Salud 2015 ¿Cómo se clasifican los beneficiarios de Fonasa según su tramo?, accessed July 15, 2015, http://www.supersalud.gob.cl/consultas/570/w3-article-6304.html
Tessler, Richard C. and Gail Gamache 2000 Family Experiences with Mental Illness. Westport: Auburn House.
Tetelboin, Carolina 2003 La Transformación Neoliberal Del Sistema De Salud, Chile: 1973-1990: Reformas De Primera Generación. México, D.F: Universidad Autónoma Metropolitana.
UN 2002 World Population Ageing, 1950-2050, accessed September 22, 2015, http://www.un.org/esa/population/publications/worldageing19502050/
Urzúa, Alfonso, Miguel Bravo, Mario Ogalde, and Carolina Vargas 2001 Factores Vinculados a La Calidad De Vida En La Adultez Mayor. Revista Médica De Chile 139: 1006-1014.
Van Durme, T., J. Macq, C. Jeanmart, and M. Gobert 2012 Tools for Measuring the Impact of Informal Caregiving of the Elderly: A Literature Review." International Journal of Nursing Studies 49 (4): 490-504.
Vaquiro, Sandra and Jasna Stiepovich 2010 Cuidado Informal, Un Reto Asumido Por La Mujer. Ciencia y Enfermería - Revista Iberoamericana De Investigación 16 (2).
Walker, Alexis J., Clara Pratt, and Linda Eddy 1995 Informal Caregiving to Aging Family Members: A Critical Review. Family Relations 44 (4, Helping Contemporary Families): 402-411
Weiss, Robert 1994 Learning from Strangers: The Art and Method of Qualitative Interview Studies. New York: Free Press
Wood, James W. 1994 Dynamics of Human Reproduction: Biology, Biometry, Demography. New York: Aldine de Gruyer.
World Bank 2014 Chile, World Development Indicators, accessed December 18, 2014, http://data.worldbank.org/country/chile
Zhang, Yuanting and Franklin W. Goza 2006 Who Will Care for the Elderly in China? A Review of the Problems Caused by China's One-Child Policy and their Potential Solutions. Journal of Aging Studies 20 (2): 151-164.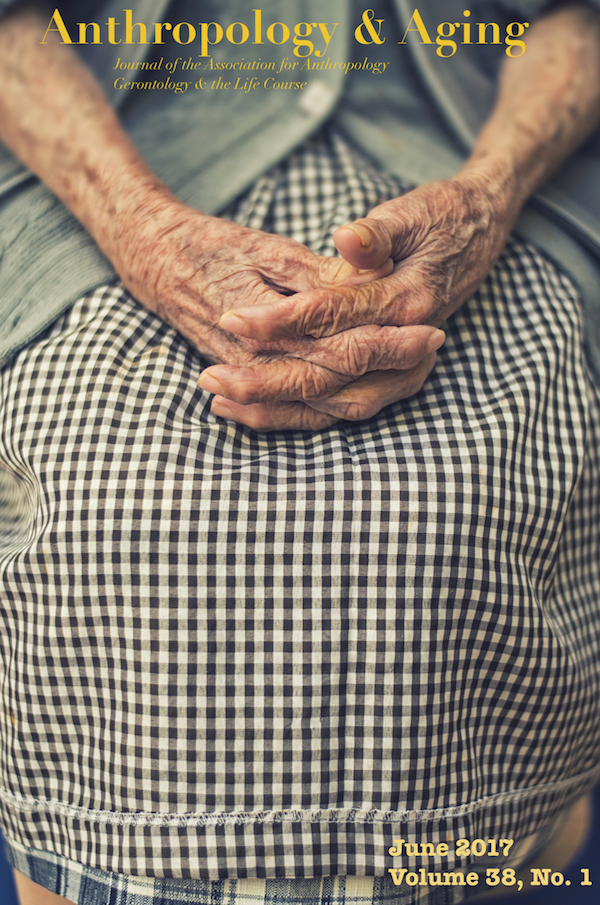 Downloads
License
Authors who publish with this journal agree to the following terms:
The Author retains copyright in the Work, where the term "Work" shall include all digital objects that may result in subsequent electronic publication or distribution.
Upon acceptance of the Work, the author shall grant to the Publisher the right of first publication of the Work.
The Author shall grant to the Publisher and its agents the nonexclusive perpetual right and license to publish, archive, and make accessible the Work in whole or in part in all forms of media now or hereafter known under a Creative Commons Attribution 4.0 International License or its equivalent, which, for the avoidance of doubt, allows others to copy, distribute, and transmit the Work under the following conditions:

Attribution—other users must attribute the Work in the manner specified by the author as indicated on the journal Web site;

with the understanding that the above condition can be waived with permission from the Author and that where the Work or any of its elements is in the public domain under applicable law, that status is in no way affected by the license.
The Author is able to enter into separate, additional contractual arrangements for the nonexclusive distribution of the journal's published version of the Work (e.g., post it to an institutional repository or publish it in a book), as long as there is provided in the document an acknowledgement of its initial publication in this journal.
Authors are permitted and encouraged to post online a prepublication manuscript (but not the Publisher's final formatted PDF version of the Work) in institutional repositories or on their Websites prior to and during the submission process, as it can lead to productive exchanges, as well as earlier and greater citation of published work. Any such posting made before acceptance and publication of the Work shall be updated upon publication to include a reference to the Publisher-assigned DOI (Digital Object Identifier) and a link to the online abstract for the final published Work in the Journal.
Upon Publisher's request, the Author agrees to furnish promptly to Publisher, at the Author's own expense, written evidence of the permissions, licenses, and consents for use of third-party material included within the Work, except as determined by Publisher to be covered by the principles of Fair Use.
The Author represents and warrants that:

the Work is the Author's original work;
the Author has not transferred, and will not transfer, exclusive rights in the Work to any third party;
the Work is not pending review or under consideration by another publisher;
the Work has not previously been published;
the Work contains no misrepresentation or infringement of the Work or property of other authors or third parties; and
the Work contains no libel, invasion of privacy, or other unlawful matter.

The Author agrees to indemnify and hold Publisher harmless from Author's breach of the representations and warranties contained in Paragraph 6 above, as well as any claim or proceeding relating to Publisher's use and publication of any content contained in the Work, including third-party content.
Revised 7/16/2018. Revision Description: Removed outdated link.