"What Doraemon, the Earless Blue Robot Cat from the 22nd Century, Can Teach Us About How Japan's Elderly and Their Human Caregivers Might Live with Emotional Care Robots."
Keywords:
Japan, robots, eldercare, Doraemon, structural analysis, anime
Abstract
While immense literatures examine aging and robots in Japan separately, reality has not yet reached the point where robotic care for the elderly can be examined comprehensively.  Disciplining imagination with method, structural analysis of the popular Japanese children's animation series Doraemon, in which a slightly defective blue robot cat sent from the 22nd century becomes the helper and companion to a similarly slightly defective ten-year-old boy, lets us peer into one possible future of this nexus. If Japan's robotics engineers would consider Doraemon as a plausible model for a socially assistive robot (SAR), their result might replace today's fraught, infantilizing relationships with youthful, elder-focused care relationships.
References
Sources Cited
Asada, Minoru.
"Towards Artificial Empathy: How Can Artificial Empathy Follow the Developmental Pathway of Natural Empathy?" International Journal of Social Robotics 7:19–33.
Bachnik, Jane and C Quinn, eds.
Situated Meaning: Inside and Outside in Japanese Self, Society and Language. Princeton University Press: Princeton
BBC News: Technology.
"Softbank Unveils 'Human-like' Robot Pepper." http://www.bbc.com/news/technology-27709828.
Bemelmans, Roger, Gert Jan Belderblom, Pieter Jonker, Luc de Witte et al.
"Socially Assistive Robots in Elderly Care: A Systematic Review into Effects and Effectiveness." Journal of the American Medical Directors Association 13:114-120.
Condry, Ian.
The Soul of Anime: Collaborative Creativity and Japan's Media Success. Duke University Press: Durham, NC
Clements, Jonathan and Helen McCarthy.
"Doraemon." In The Anime Encyclopedia, p.158. The Stone Bridge Press: Berkeley
Danely, Jason.
Aging and Loss: Mourning and Maturity in Contemporary Japan. New Brunswick, NJ: Rutgers University Press.
DeWit, Andrew.
"Komatsu, Smart Construction, Creative Destruction, and Japan's Robot Revolution." The Asia-Pacific Journal, Vol. 13, Issue 5, No. 2, February 2.
Doi Takeo.
Anatomy of Dependence. Kodansha: Tokyo.
Doraemon Television Collection.
Doraemon Television Collection, Part 1, Vol. 1 – 3. Wondershow Co: Tokyo.
England, Paula.
"Emerging Theories of Care Work." Annual Review of Sociology 31: 381–99.
Hashimoto R.
"Japan's Aging Challenge." Presentation to the Morning Plenary Session of CSIS Policy Summit on the Graying of the Industrial World. January 25-26, pp. 1-6.
Horst, H and D. Miller.
"Normativity and the Principle of Materiality: a View from Digital Anthropology." Media International Australia Incorporating Culture and Policy 145: 103-111.
Ikegami Naoki.
"The Launch of Long-Term Care Insurance." Japan Echo, June, pp. 30-35.
Iwao Sumiko.
Japanese Women. Harvard University Press: Cambridge, MA.
Jenike, Brenda.
n.d. "From 'Warm Contact' to Robotic Caregivers: Transitions in the Meanings of Late Life, Disability, and Elder Care in Japan." Presented at the 2013 American Anthropological Association Annual Meetings, Chicago, Nov. 21.
Johnson, Frank.
Dependency and Japanese Socialization: Psychoanalytic and Anthropological Investigations into Amae. New York University Press: New York.
Kiefer, Christie.
"Care of the Aged in Japan." In Health, Illness, and Medical Care in Japan: Cultural and Social Dimensions, edited by Edward Norbeck and Margaret Lock, 89-109. University of Hawaii Press: Honolulu.
Kinoshita Yasuhito and Christie Kiefer.
Refuge of the Honored: Social Organization in a Japanese Retirement Community. University of California Press: Berkeley, CA.
Kondo, Dorinne.
Crafting Selves: Power, Gender and Discourses of Identity in a Japanese Workplace. U of Chicago Press: Chicago.
Lebra, Takie.
"The Dilemma and Strategies of Aging among Contemporary Japanese Women." Ethnology 18:337-355
Lebra, Takie.
Japanese Patterns of Behavior. University of Hawaii Press: Honolulu.
Levi-Strauss, Claude.
"The Structural Study of Myth." In Myth: a Symposium, edited by Thomas A Sebeok, 81-106. Indiana University Press: Bloomington.
Lock, Margaret.
"Ideology, Female Midlife, and the Greying of Japan." Journal of Japan Studies 19 (1):43-78.
Long, Susan Orpett.
"Introduction." In Caring for the Elderly in Japan and the US, edited by S. O. Long, 1-15. Routledge: London.
Lopez, S. H.
"Emotional Labor and Organized Emotional Care: Conceptualizing Nursing Home Care Work." Work and Occupations 33 (2): 133-160.
Marshall, Robert C.
"Does Certification and Self-governance Professionalize Cooperative Home-care Workers? The Attractions of Autonomy in Kōreikyō's Co-operative Model of Home Care." Journal of Cooperative Studies 47(3): 24-35.
Nakane Junko.
"Elder Care in Japan." Perspectives (Gerontological Nursing Association (Canada)) 28: 17-24.
Nakano Tamiya, Yamaoka Kazue and Yamo, Eiji.
"Use of Health Services Covered by New Public Long Term Care Insurance in Japan: Impact of the Presence and Kinship of Family Caregivers." International Journal for Quality in Health Care 14(4): 295-303.
Odell, Colin. and Michelle Le Blanc.
Anime. Kamera Books: Harpenden, Herts.
Ogawa Naohiro.
"Population Aging and Medical Demand: the Case of Japan." In Economic and Socia Implications of Population Aging: Proceedings of the International Symposium on Population Structure and Development, Tokyo. United Nations, Department of International Economic and Social Affairs, New York, pp. 254-75.
Ōkuma Yukiko.
"Netakiri Rojin" no Iru Kuni, Inai Kuni (Countries With and Without "Bedridden Elderly"). Tokyo: Budōsha.
Orbaugh, Sharalyn.
"Doraemon." In Encyclopedia of Contemporary Japanese Culture, edited by S. Buckley. London and New York: Routledge.
Ouwehand, C.
Namazu-e and Their Themes: an Interpretive Approach to Some Aspects of Japanese Folk Religion. E. J. Brill, Leiden.
Peak, Lois.
Learning to Go to School in Japan: The Transition from Home to Preschool Life. Berkeley: University of California Press.
Pfadenhauer, M and C Dukat.
"Robot Caregiver or Robot-Supported Caregiving? The Performative Deployment of the Social Robot PARO in Dementia Care." International Journal of Social Robotics 7:393-406.
Sabelli, Alessandra.
n.d. "Elderly and Robots in Japan: Search for Intimacy and Comfort in the Performance of Daily Actions." Paper presented at the 2011 Am Anth Assn Meetings, Montreal, Canada. Nov. 19, 2011.
Sakuma Kiyoshi
Netakiri ni Shinai – Naranai Q & A (Don't be Bedridden, Don't Become Bedridden Q & A). Tokyo: Minerva Shoten.
Shilling, Mark.
"Doraemon." In The Encyclopedia of Japanese Pop Culture, edited by Mark Shilling. New York and London: Routledge.
Sharkey, Amanda and Noel Sharkey.
"Granny and the Robots: Ethical Issues in Robot Care for the Elderly." Ethics and Information Technology 14:27–40
Shiraishi Saya.
"Japan's Soft Power: Doraemon Goes Overseas." In Network Power: Japan and Asia, edited by P J Katzenstein and Shiraishi T., 234-72. Ithaca, NY: Cornell University Press.
Shiraishi, Saya.
"Doraemon Goes Abroad." In Japan Pop! : Inside the World of Japanese Popular Culture, edited by T. Craig. New York: Sharpe.
Sparrow, Robert and Linda Sparrow.
"In the Hands of Machines? The Future of Aged Care." Mind and Machine 16:141–161.
Sugiura Keiko, Ito Mikiko, Kutsumi Masami, and Mikami Hiroshi.
"Gender Differences in Spousal Caregiving in Japan." Journal of Gerontology: Social Sciences, 64B(1): 147–156.
Traphagan, John.
Taming Oblivion: Aging Bodies and the Fear of Senility in Japan. Albany, NY: State University of New York Press.
Traphagan, John.
The Practice of Concern: Ritual, Well-being and Aging in Rural Japan. Durham, NC: Carolina Academic Press.
Tsutsui Takako. and Muramatsu Naoko.
"Care-needs Certification in the Long-Term Care Insurance System of Japan." Journal of American Geriatric Society 53(3): 222-227.
Turkle, Sherry.
Alone Together: Why We Expect More from Technology and Less From Each Other. New York: Basic Books.
Wu Ya-Huei, Christine Fassert and Anne-Sophie Rigaud.
"Designing Robots for the Elderly: Appearance Issue and Beyond." Archives of Gerontological Geriatrics 54:121–126.
Woss, Fleur.
"Pokkuri Temples and Aging: Ritual for Approaching Death." In Religion and Society in Modern Japan, edited by M R Mullins, Susumu S, and P L Swanson, 191-202. Berkeley: Asian Humanities Press.
Yamada Miho, Hagiwara Akihito, and Nobutomo Koichi.
"Family Caregivers and Care Manager Support Under Long-Term Care Insurance in Rural Japan." Psychology, Health and Medicine 14(1): 73-85.
Yamashita Junko and Soma Naoko.
"Double Responsibilities of Care: Emerging New Social Risks of Women Providing both Elderly Care and Childcare in Japan." Paper presented at the Third International Conference on Evidence-based Policy in Long-term Care. London, 31 August - 3rd September.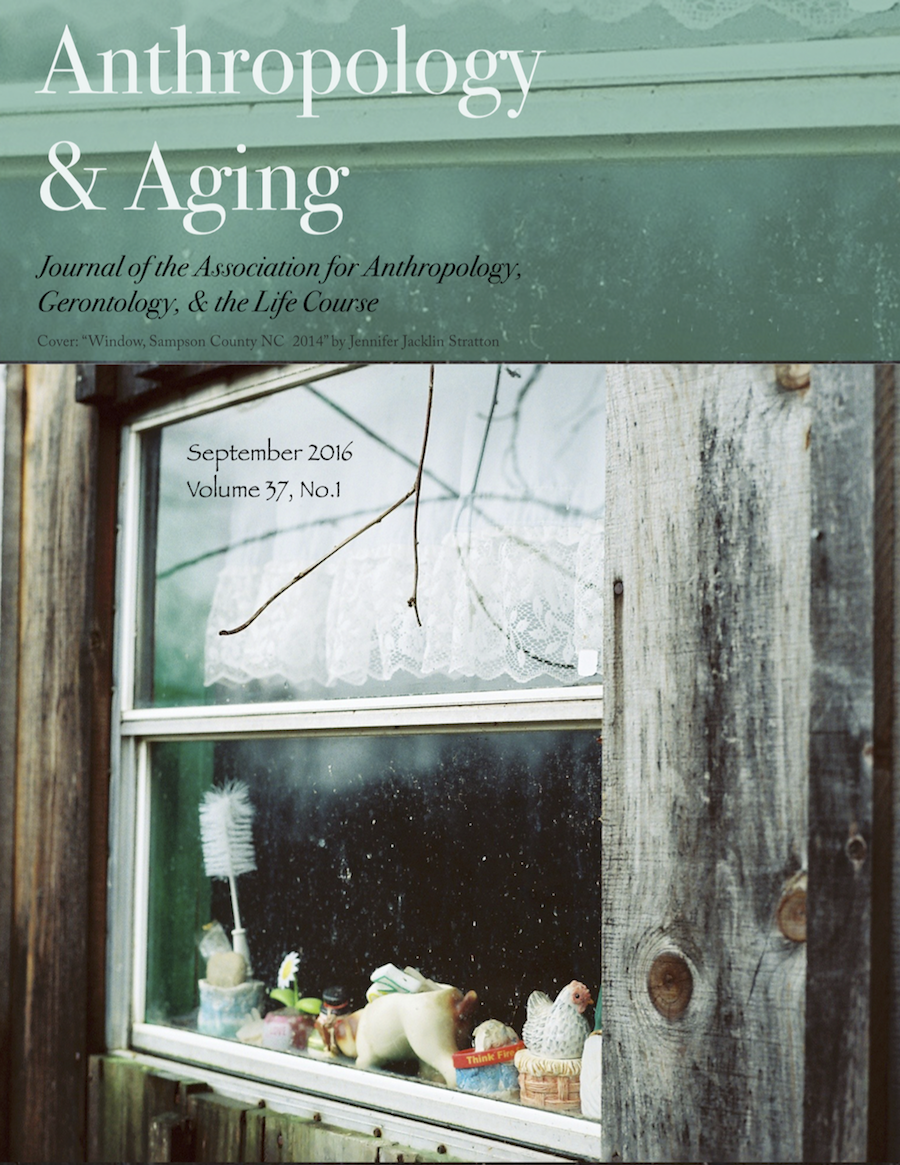 Downloads
License
Authors who publish with this journal agree to the following terms:
The Author retains copyright in the Work, where the term "Work" shall include all digital objects that may result in subsequent electronic publication or distribution.
Upon acceptance of the Work, the author shall grant to the Publisher the right of first publication of the Work.
The Author shall grant to the Publisher and its agents the nonexclusive perpetual right and license to publish, archive, and make accessible the Work in whole or in part in all forms of media now or hereafter known under a Creative Commons Attribution 4.0 International License or its equivalent, which, for the avoidance of doubt, allows others to copy, distribute, and transmit the Work under the following conditions:

Attribution—other users must attribute the Work in the manner specified by the author as indicated on the journal Web site;

with the understanding that the above condition can be waived with permission from the Author and that where the Work or any of its elements is in the public domain under applicable law, that status is in no way affected by the license.
The Author is able to enter into separate, additional contractual arrangements for the nonexclusive distribution of the journal's published version of the Work (e.g., post it to an institutional repository or publish it in a book), as long as there is provided in the document an acknowledgement of its initial publication in this journal.
Authors are permitted and encouraged to post online a prepublication manuscript (but not the Publisher's final formatted PDF version of the Work) in institutional repositories or on their Websites prior to and during the submission process, as it can lead to productive exchanges, as well as earlier and greater citation of published work. Any such posting made before acceptance and publication of the Work shall be updated upon publication to include a reference to the Publisher-assigned DOI (Digital Object Identifier) and a link to the online abstract for the final published Work in the Journal.
Upon Publisher's request, the Author agrees to furnish promptly to Publisher, at the Author's own expense, written evidence of the permissions, licenses, and consents for use of third-party material included within the Work, except as determined by Publisher to be covered by the principles of Fair Use.
The Author represents and warrants that:

the Work is the Author's original work;
the Author has not transferred, and will not transfer, exclusive rights in the Work to any third party;
the Work is not pending review or under consideration by another publisher;
the Work has not previously been published;
the Work contains no misrepresentation or infringement of the Work or property of other authors or third parties; and
the Work contains no libel, invasion of privacy, or other unlawful matter.

The Author agrees to indemnify and hold Publisher harmless from Author's breach of the representations and warranties contained in Paragraph 6 above, as well as any claim or proceeding relating to Publisher's use and publication of any content contained in the Work, including third-party content.
Revised 7/16/2018. Revision Description: Removed outdated link.