Reconstructing Social Networks and Connections in Indigenous Tribes: An Analysis of Countermeasures to COVID-19 among Rural Tribes in Taiwan
Keywords:
COVID-19 Pandemic, Indigenous Tribes, Social Networks, Taiwan
Abstract
Since the first outbreak of COVID-19 in December 2019, numerous countries have experienced waves of outbreaks that have had severe social, economic, and political effects. Many medical and anthropological studies have suggested that tribes and elders in rural and indigenous villages became isolated from the outside world due to a lack of resources and because of cultural constraints. On January 22, 2020, the first confirmed case of COVID-19 in Taiwan was discovered. As of October 23, 2022, 7,476,478 confirmed cases have been reported; of these, only 64,298 were in Taitung County, making it the region with the fewest cases in Taiwan. In this ethnographic study, I visited indigenous tribes in Taiwan that were less affected during the pandemic, conducted in-depth interviews with tribal-care providers, and collected secondary data from reports and social media regarding pandemic prevention on tribes in Taitung County. I also explored the difficulties created by the suspension of tribal-care services due to pandemic-related social distancing and isolation measures, and how care providers overcame these challenges. COVID-19 is not the first and nor will it be the last virus to threaten humans. Thus, it is important to gain insight into how care networks and connections were rebuilt through innovative measures that enabled tribal elders to receive culturally sensitive care and maintain their health during the pandemic.
References
Centers for Disease Control and Prevention (CDC). 2021. "COVID-19 Recommendations for Older Adults." April 2, 2022, https://www.cdc.gov/aging/covid19-guidance.html.
Council of Indigenous Peoples. 2020. "Forward-looking Infrastructure Development Program: Urban and Rural Projects to Balance Regional Development." June 2, 2022, https://www.cip.gov.tw/en/news/data-list/786B0901BD9D6A01/2D9680BFECBE80B684CC03E676539754-info.html.
Council of Indigenous Peoples. 2021. "Four-Year Plan for Phase III Indigenous Social Security Development, Council of Indigenous Peoples." June 5, 2022, https://www.cip.gov.tw/en/news/data-list/55CBC3111C5604C8/2D9680BFECBE80B6C546EBC13E281EED-info.html.
Council of Indigenous Peoples. 2022a. "indigenous population statistics Data." June 5, 2022, https://www.cip.gov.tw/zh-tw/news/data-list/812FFAB0BCD92D1A/9BDB1F0C78B4E7C3AFD284435EEE1136-info.html.
Council of Indigenous Peoples. 2022b. "My Home My County-County-Taitung County." June 5, 2022, https://www.cip.gov.tw/en/village/info.html?VID=D199EC951076FA3B&cumid=CA8286A69511C172.
Da Silva, Marina Goulart, Pablo Michel Barcelos Pereira, Williams Ferreira Portela, Guilherme Cabreira Daros, Caio Roberto de Almeida Barbosa, Bruna Muraro Vanassi, Gabriel Oscar Cremona Parma, Rafael Mariano de Bitencourt, and Betine Pinto Moehlecke Iser. 2021. "Epidemiology of COVID-19 Among Indigenous Populations in Brazil." Journal of Racial and Ethnic Health Disparities: 1-7. https://doi.org/10.1007/s40615-021-01035-2.
De León-Martínez, Lorena Díaz, Luz de la Sierra-de la Vega, Andrés Palacios-Ramírez, Maribel Rodriguez-Aguilar, and Rogelio Flores-Ramírez. 2020. "Critical Review of Social, Environmental and Health Risk Factors in the Mexican Indigenous Population and Their Capacity to Respond to the COVID-19." Science of The Total Environment 733: 139357. https://doi.org/10.1016/j.scitotenv.2020.139357.
Fang, Yu-Zhen, & Liao, Shu-Chuan. 2021. "Cultural Health Stations and Aging in Place of Aboriginals: A Case Study of Bunun Tribes in Xinyi Township, Nantou County." The Journal of Taiwan Health Care Association 24: 16-44.
Han, Yu-Shan. 2019. "A Study of the Cultural Appearance of the Aging Care Service in the Aboriginal Area: Using the Tribal Cultural Health Station as an Example". Master Thesis, Taitung University, Taichung, Taiwan.
Huang, Ying-hao. 2020. "Tribal Responses to the COVID-19 Pandemic Experience in the Culture and Health Stations of Taiwanese Indigenous Peoples". Journal of Indigenous Social Development 9(3): 224-232.
Kaplan, Hillard S., Benjamin C Trumble, Jonathan Stieglitz, Roberta Mendez Mamany, Maguin Gutierrez Cayuba, Leonardina Maito Moye, Sarah Alami, Thomas Kraft, Raul Quispe Gutierrez, Juan Copajira Adrian, Randall C Thompson, Gregory S Thomas, David E Michalik, Daniel Eid Rodriguez, and Michael D Gurven. 2020. "Voluntary Collective Isolation as a Best Response to COVID-19 for Indigenous Populations? A Case Study and Protocol from the Bolivian Amazon." The Lancet 395 (10238): 1727-34. https://doi.org/10.1016/S0140-6736(20)31104-1.
Lee, Chih-Hung, Huang, Chu-Chen, Huang, Jui-Ting, Wang, Chih-Chi, Fan, Sheng, Wang, Pi-sheng, & Lan, Kuo-Chung. 2021. Live-Interactive Teledermatology Program in Taiwan: One-Year Experience serving a District Hospital in Rural Taitung County. Journal of the Formosan Medical Association, 120(1, Part 2), 422-428. https://doi.org/10.1016/j.jfma.2020.06.007
Liu, Li-Chuan. 2021. Is "Culture" Needed in Aboriginal Elder Care Station? An Study from the Perspective of Service Providers. Innovation in Aging, 5(Suppl 1), 1018-1019. https://doi.org/10.1093/geroni/igab046.3615
Liu, Li-Chuan, Hsien-Wen Kuo, and Chiu-Chu Lin. 2018. "Current Status and Policy Planning for Promoting Age-Friendly Cities in Taitung County: Dialogue Between Older Adults and Service Providers." International Journal of Environmental Research and Public Health 15 (10): 2314-40. https://doi.org/10.3390/ijerph15102314.
Manderson, Lenore, and Susan Levine. 2020. "Aging, Care, and Isolation in the Time of COVID-19." Anthropology & Aging 41 (2): 132-40. https://doi.org/10.5195/aa.2020.314.
Suzuki, Nanami. 2020. Weaving Flexible Aging-friendly Communities Across Generations While Living with COVID-19. Anthropology & Aging 41(2): 155. doi:10.5195/aa.2020.311.
Suratana, Soontaree, Ratipark Tamornpark, Tawatchai Apidechku, Peeradone Srichan, Thanatchaporn Mulikaburt, Pilasinee Wongnuch, Siwarak Kitchanapaibu, Fartima Yeemard, Anusorn Udplong. 2021. "Impacts of and Survival Adaptations to the COVID-19 Pandemic Among the Hill Tribe Population of Northern Thailand: A Qualitative Study." PloS One 16 (6): e0252326. https://doi.org/10.1371/journal.pone.0252326.
Taitung County Government. 2022. "Explore Taitung". June 2, 2022, https://www.taitung.gov.tw/en/cp.aspx?n=15117.
Verbruggen, Christine. 2020. "Introduction: COVID19 and Aging Bodies–What Do We Mean When We Say That Older Adults Are Most 'Affected' By COVID-19?". Anthropology & Aging 41 (2): 126-31. https://doi.org/10.5195/aa.2020.325.
Verbruggen, Britteny M. Howell, and Kaylee Simmon. 2020. "How We Talk About Aging During a Global Pandemic Matters: On Ageist Othering and Aging 'Others' Talking Back." Anthropology & Aging 41 (2): 230. https://doi.org/10.5195/aa.2020.277.
Wildevuur, Sabine, Dick Van Dijk, Thomas Hammer-Jakobsen, Mie Bjerre, Anne Äyväri, and Jesper Lund. 2013. Connect: Design for an Empathic Society. Amsterdam: BIS Publishers.
Williams, Ishan C., and Meghan K. Mattos. 2021. "We're Still Here: Addressing the Diverse Healthcare Needs of Older Adults in Rural Areas." Public Policy & Aging Report 31 (4): 126-8. https://doi.org/10.1093/ppar/prab017.
Wu, Ya-Ke, Chu, Nain-Feng, Huang, Ya-Hsien, Syu, Jhu-Ting, & Chang, Jin-Biou. 2016. "BMI, Body Fat Mass and Plasma Leptin Level in Relation to Cardiovascular Diseases Risk Factors Among Adolescents in Taitung." Obesity Research & Clinical Practice, 10(4), 432-441. https://doi.org/10.1016/j.orcp.2015.08.009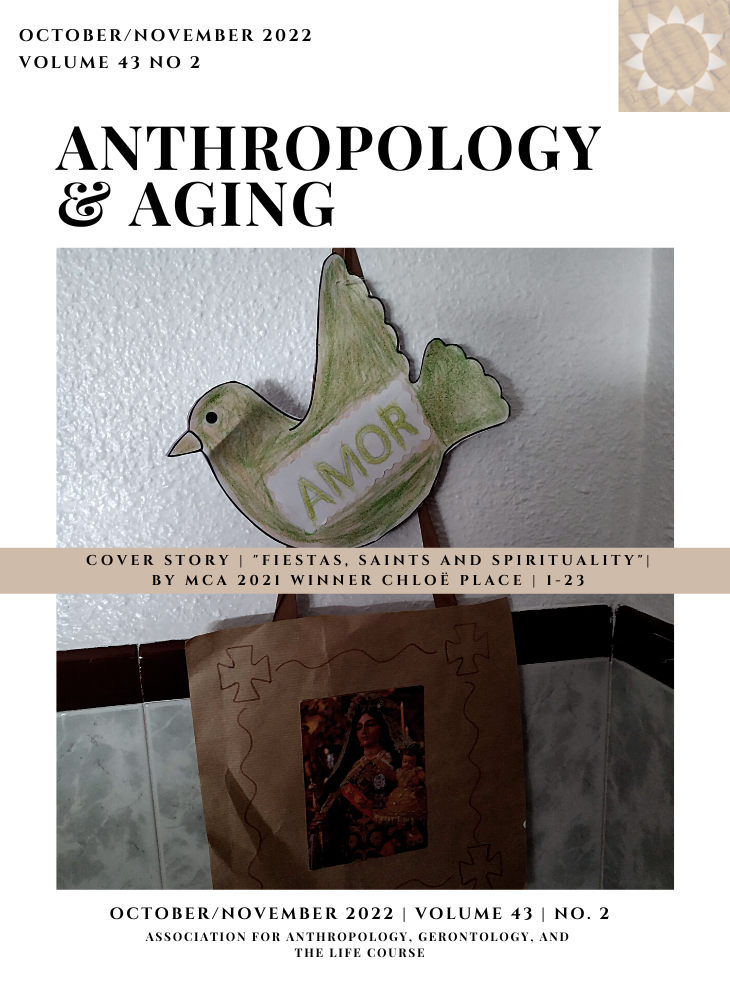 Downloads
License
Authors who publish with this journal agree to the following terms:
The Author retains copyright in the Work, where the term "Work" shall include all digital objects that may result in subsequent electronic publication or distribution.
Upon acceptance of the Work, the author shall grant to the Publisher the right of first publication of the Work.
The Author shall grant to the Publisher and its agents the nonexclusive perpetual right and license to publish, archive, and make accessible the Work in whole or in part in all forms of media now or hereafter known under a Creative Commons Attribution 4.0 International License or its equivalent, which, for the avoidance of doubt, allows others to copy, distribute, and transmit the Work under the following conditions:

Attribution—other users must attribute the Work in the manner specified by the author as indicated on the journal Web site;

with the understanding that the above condition can be waived with permission from the Author and that where the Work or any of its elements is in the public domain under applicable law, that status is in no way affected by the license.
The Author is able to enter into separate, additional contractual arrangements for the nonexclusive distribution of the journal's published version of the Work (e.g., post it to an institutional repository or publish it in a book), as long as there is provided in the document an acknowledgement of its initial publication in this journal.
Authors are permitted and encouraged to post online a prepublication manuscript (but not the Publisher's final formatted PDF version of the Work) in institutional repositories or on their Websites prior to and during the submission process, as it can lead to productive exchanges, as well as earlier and greater citation of published work. Any such posting made before acceptance and publication of the Work shall be updated upon publication to include a reference to the Publisher-assigned DOI (Digital Object Identifier) and a link to the online abstract for the final published Work in the Journal.
Upon Publisher's request, the Author agrees to furnish promptly to Publisher, at the Author's own expense, written evidence of the permissions, licenses, and consents for use of third-party material included within the Work, except as determined by Publisher to be covered by the principles of Fair Use.
The Author represents and warrants that:

the Work is the Author's original work;
the Author has not transferred, and will not transfer, exclusive rights in the Work to any third party;
the Work is not pending review or under consideration by another publisher;
the Work has not previously been published;
the Work contains no misrepresentation or infringement of the Work or property of other authors or third parties; and
the Work contains no libel, invasion of privacy, or other unlawful matter.

The Author agrees to indemnify and hold Publisher harmless from Author's breach of the representations and warranties contained in Paragraph 6 above, as well as any claim or proceeding relating to Publisher's use and publication of any content contained in the Work, including third-party content.
Revised 7/16/2018. Revision Description: Removed outdated link.