Ageing in Space: Remaking Community for Older Adults
Keywords:
Community, Older Adults, Ageing in Place, Space
Abstract
In this paper, we explore the needs of older adults for social interaction by investigating how local and everyday communities are produced by service organisations and experienced by their patrons. We approach the social needs of older adults through the lens of 'community,' both as a concept and as a lived experience. Our attention to communities of peers and arenas for everyday interaction is discussed in the context of the dominant policy discourse of 'ageing in place.' In this discourse, 'place' is predominantly interpreted as physical infrastructure, with little formal recognition of the importance of the arenas of social everyday interaction for older adults outside the home/family.
Our exploration draws on the empirical study of three organisations in Toronto, Canada and Bergen, Norway that, in various ways, represent places for everyday interaction. We discuss how belonging is understood from the perspective of different older groups and how it is facilitated by organisations and services, through the creation of shared, informal social spaces. Even though there is considerable difference in size, aesthetics, target population and geographical impact field, all three organisations offered their patrons a space for informal social interaction in which they were allowed to claim the space as their own. Our analysis indicates a pronounced need for a diversity of arenas for older adults to interact socially. Furthermore, we portray how these spaces for everyday interaction are created often in addition to, or even in divergence from, the official mission of these organisations, in a form of co-optation by patrons.
References
Ågotnes, Gudmund, and Frode F. Jacobsen. 2017. "A Norwegian View on Canadian Long-term Residential Care." Journal of Canadian Studies 50 (2): 491-498. https://doi.org/10.3138/jcs.50.2.491.
Ågotnes, Gudmund. 2017. The Institutional Practice: On Nursing Homes and Hospitalizations. Oslo: Cappelen Damm Akademisk. https://doi.org/10.17585/noasp.12.38.
Baines, Donna and Ian Cunningham. 2013. "Using Comparative Perspective Rapid Ethnography in International Case Studies: Strengths and Challenges." Qualitative Social Work 12 (1): 73-88. https://doi.org/10.1177/1473325011419053.
Blanchard, Janice. 2013. "Aging in Community: Communitarian Alternative to Aging in Place, Alone." Generations 37 (4): 6–13.
Blekesaune, Arild, and Marit S. Haugen. 2018. "Ageing in Norwegian Rural and Urban Communities." European Countryside, 10 (2): 232-246. doi: 10.2478/euco-2018-0014.
Blix, Bodil H., and Torunn Hamran. 2017. "When the Saints go Marching in": Constructions of Senior Volunteering in Norwegian Government White Papers, and in Norwegian Senior Volunteers' and Health-care Professionals' Stories." Ageing & Society 38 (7): 1399-1428. doi: 10.1017/S0144686X17000046.
Buffel, Tine, Dominique Verte, Lisbeth De Donder, Nico De Witte, Sarah Dury, Tom Vanwing, and Anouk Bolsenbroek. 2012. "Theorising the Relationship Between Older People and Their Immediate Social Living Environment." International Journal of Lifelong Education 31: 13–32. https://doi.org/10.1080/02601370.2012.636577.
Christensen, Karen, and Synnøve Fluge. 2016. "Brukermedvirkning i Norsk Eldreomsorgspolitikk – Om Utviklingen av Retorikken om Individuelt Ansvar." Tidsskrift for Velferdsforskning 19 (3): 261-77. doi: 10.18261/issn.2464-3076-2016-03-04.
Cresswell, Tim. 2015. Place: An Introduction. Oxford: Blackwell Publishing Ltd.
Dalmer, Nicole K. 2019. "A Logic of Choice: Problematizing the Documentary Reality of Canadian Aging in Place Policies." Journal of Aging Studies 48: 40-49. https://doi.org/10.1016/j.jaging.2019.01.002.
Dominelli, Lena. 1995. "Women in the Community: Feminist Principles and Organising in Community Work." Community Development Journal 30 (2): 133-143. http://www.jstor.org/stable/44252837.
Eggebø, Helga, Mai C. Munkejord, and Walter Schönfelder. 2020. "Land, History and People: Older People's Stories About Meaningful Activities and Social Relations in Later Life." Population Ageing 13: 465-483. https://doi.org/10.1007/s12062-019-09253-7.
Fincher, Ruth. 2021. "Interpretations of "Place" in Place-based Social Policy." Life Course Centre Working Paper Series 2021-05. Institute for Social Science Research, The University of Queensland.
Freedman, Amy, and Jennifer Nicolle. 2020. "Social Isolation and Loneliness: The new Geriatric Giants." Canadian Family Physician 66 (3): 176-182.
Gamba, Fiorenza, and Sandro Cattacin. 2021. "Urbans Rituals as Spaces of Memory and Belonging: A Geneva Case Study." City, Culture and Society 24: 1-10. https://doi.org/10.1016/j.ccs.2021.100385.
Gamme, Anne, and Anne B. Rafoss. 2020. Handbook for Age-Friendly Communities. The Norwegian Association of Local and Regional Authorities.
Gardner, Paula. 2011. "Natural Neighbourhood Networks: Important Social Networks for People Aging in Place." Journal of Aging Studies 25: 263–271. doi:10.1016/j.jaging.2011.03.007.
Greenfield, Emily A., Kathy Black, Tine Buffel, and Jarmin Yeh. 2019. "Community Gerontology: A Framework for Research, Policy, and Practice on Communities and Aging." The Gerontologist 59 (5): 803-810.
Grenade, Linda and Duncan Boldy. 2008. "Social Isolation and Loneliness Among Older People: Issues and Future Challenges in Community and Residential Settings." Australian Health Review 32 (3): 468-478. doi: 10.1071/ah080468.
Hillcoat-Nallétamby, Sara, and Jim Ogg. 2014. "Moving Beyond 'Ageing in Place': Older People's Dislikes About Their Home and Neighbourhood Environments as a Motive for Wishing to Move." Ageing & Society 34 (10): 1771-1796. doi:10.1017/S0144686X13000482.
Hoekstra-Pijpers, Roos. 2020. "Experiences of Older LGBT People Ageing in Place with Care and Support: A Window on Ordinary Ageing Environments, Home-making Practices and Meeting Activities."
Sexualities 0 (0): 1-20.https://doi.org/10.1177/1363460720936471.
Larsen, Anne. K., Vishanthie Sewpaul, and Grete O. Hole. 2014. "Introduction." In Participation in Community Work: International Perspectives, Edited by Anne K. Larsen, Vishanthie Sewpaul and Grete O. Hole, 11-14. New York: Routledge.
Ledwith, Margaret, and Jane Springer J. 2014. Participatory Practice, Community-based Action for Transformation Change. Bristol: Policy Press.
Luckmann, Benita. 1970. "The Small Life-world of Modern Man." Social Research 37 (4): 580-596.
Martens, Christine. T. 2018. "Aging in Which Place? Connecting Aging in Place with Individual Responsibility, Housing Markets, and the Welfare State." Journal of Housing for the Elderly 32 (1): 1-11. doi.org/10.1080/02763893.2017.1393483.
Massey, Doreen. 1994. Space, Place, and Gender. Cambridge: Polity Press.
Massey, Doreen. 2005. For Space. London: Sage.
McDermott, Shannon, Kathinka Linahan, and Barbara J. Squires. 2009. "Older People Living in Squalor: Ethical and Practical Dilemmas." Australian Social Work 62 (2): 245-257.doi-org.ezproxy.lib.rmit.edu.au/10.1080/03124070902789112.
Millen, David R. 2000. "Rapid Ethnography: Time Deepening Strategies for HCI Field Research." DIS '00: Proceedings of the 3rd Conference on Designing Interactive Systems: Processes, Practices, Methods, and Techniques: 280-286. https://doi.org/10.1145/347642.347763.
Ministry of Health and Care Services. 2015a. Omsorg 2020 - Regjeringens Plan for Omsorgsfeltet 2015-2020. Oslo, Norway. Retrived October 15, 2021, https://www.regjeringen.no/en/dokumenter/care-plan-20202/id2410456/.
----.2015b. Demensplan 2020. Et mer Demensvennlig Samfunn. Oslo, Norway. Retrived October 15, 2021, https://www.regjeringen.no/no/dokumenter/demensplan-2020/id2465117/.
Ministry of Health and Care Services. 2019. Public Health Report – Good Lives in a Safe Society. (Meld. St. 19 (2018-2019). Report to the Storting (white paper). Oslo. Retrieved October 15, 2021, from https://www.regjeringen.no/no/dokumenter/meld.-st.-19-20182019/id2639770/.
Otnes, Berit. 2015. "Utviklingen i Pleie‐ og Omsorgstjenestene 1994‐2013." Tidsskrift for Omsorgsforskning 1 (1): 48‐61. https://doi.org/10.18261/ISSN2387-5984-2015-01-10.
Pani-Harreman, Katinka. E., Gerrie J. J. W. Bours, Inés Zander, Gertrudis I. J. M. Kempen, and Joop M. A. van Duren. 2021. "Definitions, Key Themes and Aspects of 'Ageing in Place': A Scoping Review." Ageing & Society 41: 2026-2059. doi:10.1017/S0144686X20000094.
Pavolini, Emmanuele, and Constanzo Ranci, C. 2008. "Restructuring the Welfare State: Reforms in Long-term Care in Western European Countries." Journal of European Social Policy 18 (3): 246–259. https://doi.org/10.1177/0958928708091058.
Pruitt, Lisa. R. 2008a. "Place Matters: Domestic Violence and Rural Difference." Wisconsin Journal of Law, Gender & Society 23: 347.
Pruitt, Lisa. R. 2008b. "Gender, Geography and Rural Justice." Berkeley Journal of Gender, Law & Justice 23: 338–389.
Rubin, Herbert J., and Irene S. Rubin I. 2005. Qualitative Interviewing: The Art of Hearing Data. Thousand Oaks: Sage.
Savage, Mike, Gaynor Bagnall, and Brian J. Longhurst. 2005. Globalisation and Belonging. London: Sage Publications.
Sixsmith, Judith, Mei Lan Fang, Ryan Woolrych, Sarah L. Canham, Lupin Battersby, Tori Hui Ren, and Andrew Sixsmith. 2019. "Ageing-in-place for Low-income Seniors: Living at the Intersection of Multiple Identities, Positionalities, and Oppressions." In The Palgrave Handbook of Intersectionality in Public Policy, 641-664. Palgrave Macmillan.
Soja, Edward. W. 1999. "Thirdspace: Expanding the Scope of the Geographical Imagination." In Human Geography Today, Edited by Doreen Massey, John Allen and Philip Sarre, 260-278. Cambridge: Polity.
Spasova, Slavina, Rita Baeten, Stephanie Coster, Dalila Ghailani, Ramòn Peña-Casas, and Bart Vanhercke. 2018. Challenges in Long-term Care in Europe. A Study of National Policies. European Social Policy Network (ESPN), Brussels: European Commission.
Starr, Madeleine, and Marta Szebehely. 2017. "Working Longer, Caring Harder – the Impact of 'Ageing-in-place' Policies on Working Carers in the UK and Sweden." International Journal of Care and Caring 1 (1): 115-119. https://doi.org/10.1332/239788217X14866307026424.
Svensson, Christian. F., and Vibeke B. Nielsen. 2020. "Community Work as Opposition: Tensions and Potentials in a Formalistic Welfare Context." Journal of Comparative Social Work 15 (2): 33-55. https://doi.org/10.31265/jcsw.v15i2.304.
Szebehely, Marta. 2007. "Carework in Scandinavia. Organisational Trends and Everyday Realities." In: Annual Espanet Conference, Social Policy in Europe: Changing Paradigms in an Enlarging Europe? Vienna 20-22 Sept 2007.
Turunen, Päivi. 2009. "Nordic Community Work in Transition: A Change Towards Diversity and Reflexivity." In Community Work in the Nordic Countries: New Trends, Edited by Gunn S.Hutchinson, 38–63. Oslo: Universitetsforlaget.
van Hees, Susan, Klasien Horstman, Maria Jansen, and Dirk Ruwaard. 2017. "Photovoicing the Neighbourhood: Understanding the Situated Meaning of Intangible Places for Ageing-in-place." Health & Place 48: 11-19. https://doi.org/10.1016/j.healthplace.2017.08.007.
Van Regenmortel, Sofie, Liesbeth De Donder, Sarah Dury, An-Sofie Smetcoren, Nic De Witte, and Dominique Verté. 2016. "Social Exclusion in Later Life: A Systematic Review of the Literature." Population Ageing 9: 315–344. https://doi.org/10.1007/s12062-016-9145-3.
Vos, Willeke. H., Leonieke C. van Boekel, Meriam M. Janssen, Roger T. A. J. Leenders, and Katrien G. Luijkx. 2020. "Exploring the Impact of Social Network Change: Experiences of Older Adults Ageing in Place." Health & Social Care in the Community 28 (1): 116-126. https://doi.org/10.1111/hsc.12846.
Warnes, Anthony M., and Allan Williams. 2006. "Older Migrants in Europe: A New Focus for Migration Studies." Journal of Ethnic and Migration Studies 32 (8): 1257–1281. doi:10.1080/13691830600927617.
World Health Organization [WHO]. 2015. Measuring the Age-friendliness of Cities: A Guide to Using Core Indicators. Retrieved October 26, 2021, from https://extranet.who.int/agefriendlyworld/measuring-the-age-friendliness-of-cities-a-guide-to-using-core-indicators/.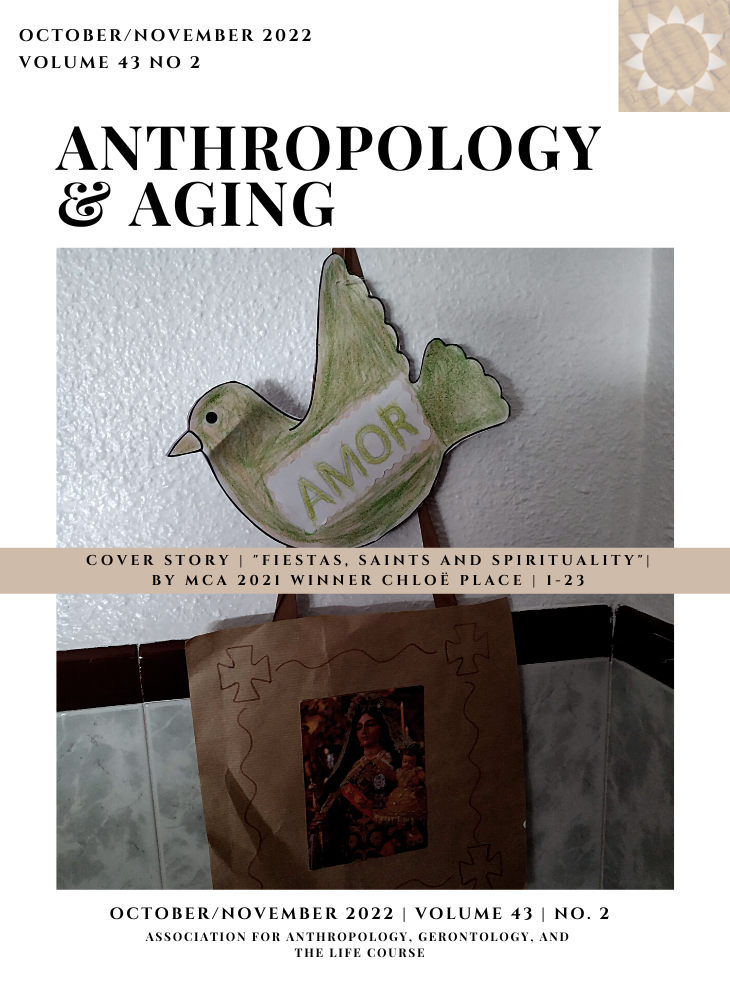 Downloads
Additional Files
License
Authors who publish with this journal agree to the following terms:
The Author retains copyright in the Work, where the term "Work" shall include all digital objects that may result in subsequent electronic publication or distribution.
Upon acceptance of the Work, the author shall grant to the Publisher the right of first publication of the Work.
The Author shall grant to the Publisher and its agents the nonexclusive perpetual right and license to publish, archive, and make accessible the Work in whole or in part in all forms of media now or hereafter known under a Creative Commons Attribution 4.0 International License or its equivalent, which, for the avoidance of doubt, allows others to copy, distribute, and transmit the Work under the following conditions:

Attribution—other users must attribute the Work in the manner specified by the author as indicated on the journal Web site;

with the understanding that the above condition can be waived with permission from the Author and that where the Work or any of its elements is in the public domain under applicable law, that status is in no way affected by the license.
The Author is able to enter into separate, additional contractual arrangements for the nonexclusive distribution of the journal's published version of the Work (e.g., post it to an institutional repository or publish it in a book), as long as there is provided in the document an acknowledgement of its initial publication in this journal.
Authors are permitted and encouraged to post online a prepublication manuscript (but not the Publisher's final formatted PDF version of the Work) in institutional repositories or on their Websites prior to and during the submission process, as it can lead to productive exchanges, as well as earlier and greater citation of published work. Any such posting made before acceptance and publication of the Work shall be updated upon publication to include a reference to the Publisher-assigned DOI (Digital Object Identifier) and a link to the online abstract for the final published Work in the Journal.
Upon Publisher's request, the Author agrees to furnish promptly to Publisher, at the Author's own expense, written evidence of the permissions, licenses, and consents for use of third-party material included within the Work, except as determined by Publisher to be covered by the principles of Fair Use.
The Author represents and warrants that:

the Work is the Author's original work;
the Author has not transferred, and will not transfer, exclusive rights in the Work to any third party;
the Work is not pending review or under consideration by another publisher;
the Work has not previously been published;
the Work contains no misrepresentation or infringement of the Work or property of other authors or third parties; and
the Work contains no libel, invasion of privacy, or other unlawful matter.

The Author agrees to indemnify and hold Publisher harmless from Author's breach of the representations and warranties contained in Paragraph 6 above, as well as any claim or proceeding relating to Publisher's use and publication of any content contained in the Work, including third-party content.
Revised 7/16/2018. Revision Description: Removed outdated link.