How We Talk About Aging During a Global Pandemic Matters: On Ageist Othering and Aging 'Others' Talking Back
References
AARP. 2020. "Supermarkets Offer Special Hours for Older Shoppers." Accessed April 28, 2020. https://www.aarp.org/home-family/your-home/info-2020/coronavirus-supermarkets.html.
ACL. 2020. "Coronavirus Disease 2019 (COVID-19)." Retrieved April 21, 2020. https://acl.gov/COVID-19.
Ayalon, Liat, Alison L. Chasteen, Manfried Diehl, Becca R. Levy, Shevaun D. Neupert, Klaus Rothermund, Clemens Tesch-Romer, and Hans-Werner Wahl. 2020. "Aging in Times of the COVID-19 Pandemic: Avoiding Ageism and Fostering Intergenerational Solidarity." Journals of Gerontology: Psychological Science. Advance Access 16 April 2020. https://doi.org/10.1093/geronb/gbaa051.
Beel, Veerle. 2020a. "Rusthuizen Dicht, Ouderenverenigingen op Non-actief." [Nursing Homes Closed, Elderly Associations Inactive] De Standaard Online March 12, 2020. https://www.standaard.be/cnt/dmf20200311_04886111.
Beel, Veerle. 2020b. "Intensieve Zorg Sluit Selectie op Basis van Leeftijd niet uit." [Intensive Care Doesn't Exclude Age-based Triage] De Standaard Online March 19, 2020. https://www.standaard.be/cnt/dmf20200318_04894480.
Beel, Veerle. 2020c. "Meer Bewoners in Woonzorgcentra krijgen Coronatest." [More Nursing Home Residents Will Receive a Coronatest] De Standaard Online March 26, 2020.
Berridge, Clara and Nancy Hooyman. 2020. "The Consequences of Ageist Language are Upon Us." Journal of Gerontological Social Work. https://doi.org/10.1080/01634372.2020.1764688.
Beweging.net MZWVL. 2020. "Coronaverhaal Deel 3: Het Verhaal van Jan Denil van OKRA."[Corona Stories Part 3: The Story of Jean Denil from OKRA] Beweging.net June 16, 2020. https://www.beweging.net/west-vlaanderen/regionieuws/75-nieuwsberichten/4079-coronaverhaal-deel-3-het-verhaal-van-jan-denil-van-okra.
Brettell, Caroline. 1993. When They Read What We Write: The Politics of Ethnography. Bergin and Garvey.
Cary, Lindsay A., Alison L. Chasteen and Jessica Remedios. 2017. "The Ambivalent Ageism Scale: Developing and Validating a Scale to Measure Benevolent and Hostile Ageism." The Gerontologist 57(2): e27-e36. https://doi.org/10.1093/geront/gnw118.
CDC. 2020. "COVID-19 Guidance for Older Adults." Accessed April 21, 2020. https://www.cdc.gov/aging/covid19-guidance.html.
Clotworthy, Amy and Rudi G.J. Westendorp. 2020. "Risky Business: How Older 'At Risk' People in Denmark Evaluated their Situated Risk during the COVID-19 Pandemic." Journal of Anthropology and Aging 41 (2).
Cochez, Tom and Steven Vanden Bussche. 2020. "Woonzorgcentra Worden in Volle Oorlogstijd Verwaarloosd." Apache April 8, 2020. https://www.apache.be/2020/04/08/woonzorgcentra-werden-in-volle-oorlogstijd-verwaarloosd/?sh=cd0ed78de82a84f71ef30-1875097403.
Crampton, Alexandra. 2013. "Population Aging as the Social Body in Representation and Real Life." Anthropology & Aging 34(3): 100-113.
De Boeck, Filip. 2009. "At Risk, As Risk: Abandonment and Care in a World of Spiritual Insecurity." In The Devil's Children: From Spirit Possession to Witchcraft: New Allegations that Affect Children. Edited by Jean La Fontaine, 129-150. Farnham: Ashgate.
De Medeiros, Kate. 2016. "Narrative Gerontology: Countering the Master Narratives of Aging." Narrative Works 6 (1): 63-81.
Ellison, Katherine. 2020. "With the Novel Coronavirus, Suddenly at 60 We're Now 'Old'" The Washington Post 27 June 2020. https://www.washingtonpost.com/health/with-the-novel-coronavirus-suddenly-at-60-were-now-old/2020/06/26/16b1406c-afea-11ea-8f56-63f38c990077_story.html.
Fassin, Didier. 2005. "Compassion and Repression: The Moral Economy of Immigration Policies in France." Cultural Anthropology 20(3): 362-387.
Fraser, Sarah, Martine Lagacé, Bienvenue Bongué, Ndatte Ndeye, Jessica Guyot, Lauren Bechard, Linda Garcia, Vanessa Taler, CCNA Social Inclusion and Stigma Working Group, Stéphane Adam, Marie Beaulieu, Caroline D. Bergeron, Valérian Boudjemadi, Donatienne Desmette, Anna Rosa Donizetti, Sophie Ethier, Suzanne Garon, Margaret Gilus, Mélanie Levasseur, Monique Lortie-Lussier, Patrik Marier, Anne Robitaille, Kim Sawchuk, Constance Lafontaine, and Francine Tougas. 2020. "Ageism and COVID-19: What Does our Society's Response Say About Us?" Age and Ageing. https://doi.org/10.1093/ageing/afaa097.
Gilleard, Chris and Paul Higgs. 2002. "The Third Age: Class, Cohort or Generation?" Ageing and Society 22(3): 369-82.
Gilleard, Chris and Paul Higgs. 2010. "Aging without Agency: Theorizing the Fourth Age." Aging & Mental Health 14(2): 121-28.
Gilleard, Chris and Paul Higgs. 2011. "Aging Abjection and Embodiment in the Fourth Age." Journal of Aging Studies 25: 135-142.
Gilleard, Chris and Paul Higgs. 2013. "The Fourth Age and the Concept of a 'Social Imaginary': A Theoretical Excursus." Journal of Aging Studies 27(4): 368-76.
Gilleard, Chris and Paul Higgs. 2020. "COVID-19 Amplifies, but Doesn't Alter the Chronology of Life and Death." Transforming Society. Published 20 May 2020. http://www.transformingsociety.co.uk/2020/05/20/covid-19-amplifies-but-doesnt-alter-the-chronology-of-life-and-death/.
Grenier, Amanda and Christopher Phillipson. 2018. "Precarious Aging: Insecurity and Risk in Late Life." Hastings Center Report 48: S15-18.
Gullette, Margaret Morganroth. 2018. "Against 'Aging' - How to Talk about Growing Older." Theory, Culture & Society 35(7-8): 251-270.
Gullette, Margaret Morganroth. 2020. "Ageist 'Triage is a Crime Against Humanity." Los Angeles Review of Books. Publsihed 21 March 2020. https://lareviewofbooks.org/short-takes/ageist-triage-covid-19/.
Healthline. 2020. "Here's What Older At-Risk People Should Know About the Coronavirus." Accessed April 28, 2020. https://www.healthline.com/health-news/what-older-people-with-chronic-conditions-need-to-know-about-covid-19.
Higgs, Paul and Chris Gilleard. 2015. Rethinking Old Age: Theorising The Fourth Age. New York: Palgrave Macmillian.
Janssen, Peter. 2020. "Brief van de Dag: Maatregelen Mogen niet Strenger Zijn voor Ouderen." De Standaard Online 26th March 2020.
Kaufman, Sharon R. 1994. "The Social Construction of Frailty: An Anthropological Perspective." Journal of Aging Studies 8(1): 45-58.
Katz, Stephen and Toni Calasanti. 2015. "Critical Perspectives on Succesful Aging: Does it Appeal More Than It Illuminates'?" The Gerontologist 55(1): 26-33.
Laceulle, Hanne. 2017. "Virtuous Aging and Existential Vulnerability." Journal of Aging Studies 43: 1-8.
Lamb, Sarah. 2014. "Permanent Personhood or Meaningful Decline? Toward a Critical Anthropology of Successful Aging." Journal of Aging Studies 29: 41-52.
Lamb, Sarah. 2017. Successful Aging as a Contemporary Obsession: Global Perspectives. Rutgers University Press.
Lamb, Sarah. 2018. "On Being (Not) Old: Agency, Self-care and Life-course Aspirations in the United States." Medical Anthropology Quarterly 33(2): 263-281.
Laslett, Peter. 1989. A Fresh Map of Life: The Emergence of the Third Age. London: Weidenfeld and Nicolson.
Leahy, Ann. 2020. "Time to Confront the Portrait in the Attic? Reflections on Theory and Discourses of Aging Sparked by the COVID Crisis." Aging Issues: British Society of Gerontology. Published April 9 2020. https://ageingissues.wordpress.com/2020/04/09/time-to-confront-the-portrait-in-the-attic-reflections-on-theories-and-discourses-of-ageing-sparked-by-covid-19/.
Leibing, Annette and Natashe Lemos Dekker. 2019. "Fallacies of Care: An Introduction." Journal of Aging Studies 51. https://doi.org/10.1016/j.jaging.2019.100795.
Morrow-Howell, Nancy, Emma Swinford, Natalie Galucia, and Brian Carpenter. 2020. "The Coronavirus: What Age Has to Do with it." Washington University "COVID-19 and Age: Risks and Opportunities" Webinar Series. Retrieved April 20, 2020. https://www.youtube.com/watch?v=zqgz0BLV-40.
Morrow-Howell, Nancy, and Ernest Gonzales. 2020. "Recovering From Coronavirus Disease 2019 (COVID-19): Resisting Ageism and Recommitting to a Productive Aging Perspective." Public Policy & Aging Report 30(4): 133-137. https://doi.org/10.1093/ppar/praa021.
NCoA. 2020. "COVID-19 Resources for Older Adults and Caregivers." Accessed April 25, 2020. https://www.ncoa.org/covid-19/covid-19-resources-for-older-adults/.
New York Times. 2020. "About 38% of U.S. Coronavirus Deaths are Linked to Nursing Homes." October 30, 2020. Accessed on October 30, 2020. https://www.nytimes.com/interactive/2020/us/coronavirus-nursing-homes.html.
O'Neil, Moira and Abigail Haydon. 2015. Aging, Agency and Aattribution of Responsibility: Shifting Public Discourse about Older Adults. Washington, DC: FrameWorks Institute.
Previtali, Federica, Laura D. Allen and Maria Varlamova. 2020. "Not Only Virus Spread: The Diffusion of Ageism During the Outbreak of COVID-19." Journal of Aging & Social Policy 32(4-5): 506-514. https://doi.org/10.1080/08959420.2020.1772002.
Puig de la Bellacasa, Maria. 2017. Matters of Care: Speculative Ethics in more than Human Worlds. Minneapolis/London: University of Minnesota Press.
Rogiers, Filip. 2020. "Ouderenzorg in Tijden van Corona." [Elderly Care in Times of Corona] De Standaard Online 21st March 2020. Accessed March 25, 2020.
Rowe, John. W., and Robert L. Kahn. 1987. "Human Aging: Usual and Successful." Science 237(4811): 143-149.
Schultz, Teri. 2020. "Why Belgium's Death Rate Is So High: It Counts Lots of Suspected COVID-19 Cases." NPR April 8, 2020. https://www.npr.org/sections/coronavirus-live-updates/2020/04/22/841005901/why-belgiums-death-rate-is-so-high-it-counts-lots-of-suspected-covid-19-cases.
Shimoni, Shir. 2020. "How Coronaviruses Exposes the Way we Look at Ageing and Older People." The Conversation March 31, 2020. https://theconversation.com/how-coronavirus-exposes-the-way-we-regard-ageing-and-old-people-135134.
Stone, Will. 2020. "When Young People get COVID-19, Infections Soon Rise Among Older Adults." NPR September 29, 2020. https://www.npr.org/sections/health-shots/2020/09/29/916634414/when-young-people-get-covid-19-infections-soon-rise-among-older-adults?t=1602677287750.
Titchkosky, Tania. 2003. Disability, Self and Society. Toronto: University of Toronto Press.
Twigg, Julia. 2004. "The Body, Gender, and Age: Feminist Insights in Social Gerontology." Journal of Aging Studies 18(1): 59-73.
Vervaecke, Deanna and Brad A. Meisner. 2020. "Caremongering and Assumptions of Need: The Spread of Compassionate Ageism During COVID-19." The Gerontologist, gnaa131. https://doi.org/10.1093/geront/gnaa131
Vlaamse Ouderenraad. 2020a. "Who Are We?" Vlaamse Ouderenraad. Acccessed September 15, 2020. https://www.vlaamse-ouderenraad.be/vlaamse-ouderenraad-uk.
----.2020b. "Vlaamse Ouderenverenigingen Nemen Coronamaatregelen." [Flemish Elderly Associations Take Corona Measures] Vlaamse Ouderenraad. Published March 11, 2020. https://www.vlaamse-ouderenraad.be/actualiteit/welzijn-zorg/vlaamse-ouderenverenigingen-nemen-coronamaatregelen.
----.2020c. "65+? Let Niet op Je Kleinkinderen." [65+? Don't Watch Your Grandchildren] Vlaamse Ouderenraad. Published March 20, 2020. https://www.vlaamse-ouderenraad.be/actualiteit/welzijn-zorg/65-plus-let-niet-op-je-kleinkinderen.
----.2020d. "Welke Vragen en Zorgen Hebben Ouderen Tijdens de coronacrisis?" [Which Questions and Worries Do Older Adults Have During the Coronacrisis?] Vlaamse Ouderenraad. Published April 17, 2020. https://www.vlaamse-ouderenraad.be/actualiteit/oproep/welke-vragen-en-zorgen-hebben-ouderen-tijdens-de-coronacrisis.
----.2020e. "Geen Belet! Ouderenverenigingen Belden Al Meer Dan 100 000 Ouderen op." [We're Available! Elderly Associations Called More Than 100 000 Elderly Already] Vlaamse Ouderenraad Published April 27, 2020. https://www.vlaamse-ouderenraad.be/actualiteit/vrijwilligerswerk-verenigingsleven/geen-belet-ouderenverenigingen-belden-al-meer-dan.
----.2020f. "Welk Perspectief voor Ouderen Tijdens de Exit-strategie? Concrete Insteken voor de Veiligheidsraad." [Which Perspective for the Elderly During an Exit Strategy? Concrete Recommendations for the Security Council] Vlaamse Ouderenraad. Published May 10, 2020. https://www.vlaamse-ouderenraad.be/wat-denken-we/welzijn-zorg/welk-perspectief-voor-ouderen-binnen-de-exit-strategie-concrete-insteken.
----.2020g. "Opinie: Waarom een Coronataks op Ouderen een Onzinnig Idee is." [Why a Corona Tax is a Nonsensical Idea] Vlaamse Ouderenraad. Published May 15, 2020. https://www.vlaamse-ouderenraad.be/actualiteit/opinie-waarom-een-coronataks-op-ouderen-een-onzinnig-idee.
----.2020h. "Vlaamse Ouderenraad Vraagt 5 Garanties voor Ouderen in Coronatijden." [The Flemish Council for the Elderly Asks 5 Warranties for the Elderly in Corona Times] Vlaamse Ouderenraad. Published September 7, 2020. https://www.vlaamse-ouderenraad.be/actualiteit/welzijn-zorg/vlaamse-ouderenraad-vraagt-5-garanties-voor-ouderen-coronatijden.
Walker, Alan. 2012. "The New Ageism." The Political Quarterly 23(4): 812–819. https://doi.org/10.1111/j.1467-923X.2012.02360.x
Yang, Jing, Ya Zheng, Xi Gou, Ke Pu, Zhaofeng Chen, Qinghong Guo, Rui Ji, Haojia Wang, Yuping Wang, and Yongning Zhou. 2020. "Prevalence of Comorbidities in the Novel Wuhan Coronavirus (COVID-19) Infection: A Systematic Review and Meta-Analysis." International Journal of Infectious Diseases https://doi.org/10.1016/j.ijid.2020.03.017.
Ysebaert, Tom. 2020. "Sommigen Willen Geen Levensrekkend Verblijf in het Ziekenhuis." [Some Don't Want a Life-sustaining Stay in the Hospital] De Standaard Avond Online March 24, 2020.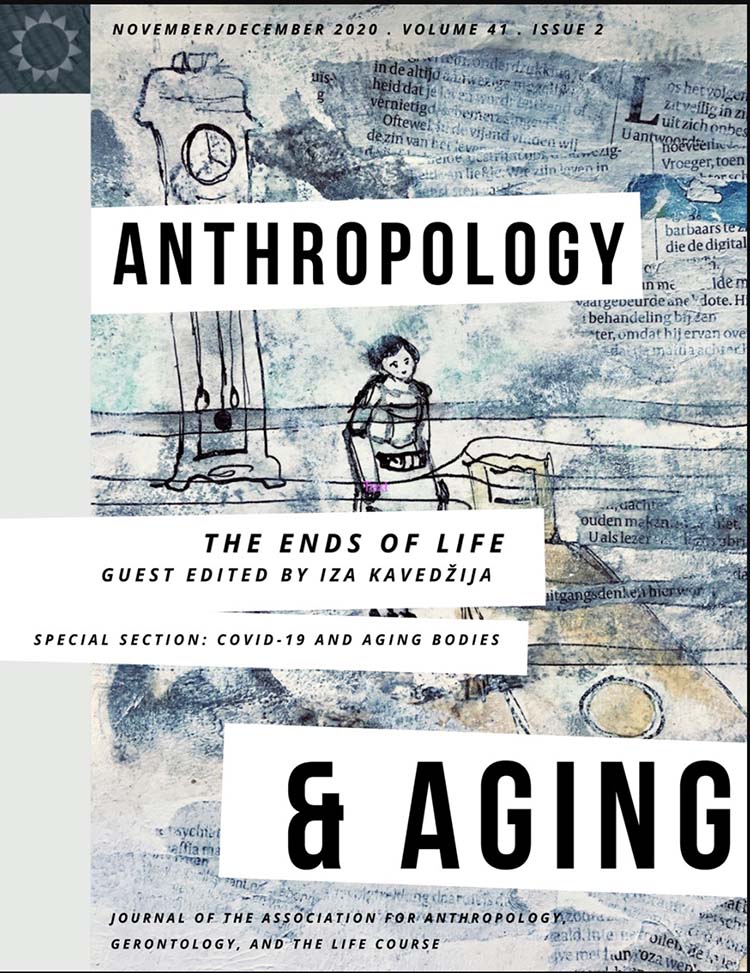 Downloads
Section
COVID-19 and Aging Bodies
License
Authors who publish with this journal agree to the following terms:
The Author retains copyright in the Work, where the term "Work" shall include all digital objects that may result in subsequent electronic publication or distribution.
Upon acceptance of the Work, the author shall grant to the Publisher the right of first publication of the Work.
The Author shall grant to the Publisher and its agents the nonexclusive perpetual right and license to publish, archive, and make accessible the Work in whole or in part in all forms of media now or hereafter known under a Creative Commons Attribution 4.0 International License or its equivalent, which, for the avoidance of doubt, allows others to copy, distribute, and transmit the Work under the following conditions:

Attribution—other users must attribute the Work in the manner specified by the author as indicated on the journal Web site;

with the understanding that the above condition can be waived with permission from the Author and that where the Work or any of its elements is in the public domain under applicable law, that status is in no way affected by the license.
The Author is able to enter into separate, additional contractual arrangements for the nonexclusive distribution of the journal's published version of the Work (e.g., post it to an institutional repository or publish it in a book), as long as there is provided in the document an acknowledgement of its initial publication in this journal.
Authors are permitted and encouraged to post online a prepublication manuscript (but not the Publisher's final formatted PDF version of the Work) in institutional repositories or on their Websites prior to and during the submission process, as it can lead to productive exchanges, as well as earlier and greater citation of published work. Any such posting made before acceptance and publication of the Work shall be updated upon publication to include a reference to the Publisher-assigned DOI (Digital Object Identifier) and a link to the online abstract for the final published Work in the Journal.
Upon Publisher's request, the Author agrees to furnish promptly to Publisher, at the Author's own expense, written evidence of the permissions, licenses, and consents for use of third-party material included within the Work, except as determined by Publisher to be covered by the principles of Fair Use.
The Author represents and warrants that:

the Work is the Author's original work;
the Author has not transferred, and will not transfer, exclusive rights in the Work to any third party;
the Work is not pending review or under consideration by another publisher;
the Work has not previously been published;
the Work contains no misrepresentation or infringement of the Work or property of other authors or third parties; and
the Work contains no libel, invasion of privacy, or other unlawful matter.

The Author agrees to indemnify and hold Publisher harmless from Author's breach of the representations and warranties contained in Paragraph 6 above, as well as any claim or proceeding relating to Publisher's use and publication of any content contained in the Work, including third-party content.
Revised 7/16/2018. Revision Description: Removed outdated link.