Caring through Sound and Silence: Technology and the Sound of Everyday Life in Homes for the Elderly
Keywords:
elder institutions, ethnography, sound and silence, technology, Sound Studies
Abstract
Literature on sounds inside institutions has shown that sounds are indispensable to the working of hospitals, schools, prisons, and other institutional environments. Drawing on ethnographic fieldwork in three eldercare homes in Germany this article suggests that the more permanent care context of institutional homes for the elderly compared to a hospital setting is decisive for people's interpretation of and engagement with sounds. This is true at multiple levels, such as "monitory listening," the use of "music as a technology of self," or sounds as a tool of care. In fact, in this long-term care context even silences prompt action. Based on their experience with individual residents, for example, caregivers can direct their monitory listening not only to existing sounds, but also to the silence of expected but absent sounds. Throughout the article, additional consideration is given to the role of the technologies that produce the sounds, showing how in their design and functioning they shape, complement or prevent people's attention to sound and silence. Finally, I propose that research is needed that goes beyond an understanding of silence as a healing environment for the vulnerable and sick and instead attends to the complexity of this acoustic event within the context of eldercare homes.
References
Adatia, Safina, Susan Law, and Jeannie Haggerty. 2014. "Room for Improvement: Noise on a Maternity Ward." Health Services Research 14: 604. https://doi.org/10.1186/s12913-014-0604-3.
Bijsterveld, Karin. 2019. Sonic Skills: Listening for Knowledge in Science, Medicine and Engineering (1920s–Present). London: Palgrave Macmillan. https://doi.org/10.1057/978-1-137-59829-5.
Cachia, Amanda. 2015. "LOUD Silence: Turning up the Volume on Deaf Voice." The Senses & Society 10, no 3: 321-40. https://doi.org/10.1080/17458927.2015.1130311.
DeNora, Tia. 2000. Music in Everyday Life. Cambridge: Cambridge University Press.
Denzin, Norman. 2019. "Sights and Sounds on Xmas Eve in a Midwest Nursing Home and Renewal Center." Qualitative Inquiry 00, no 0: 1–2. https://doi.org/10.1177/1077800419838488.
Feld, Steven. 1996. "Waterfalls of Song: An Acoustemology of Place Resounding in Bosavi, Papua New Guinea." In Senses of Place, edited by Steven Feld and Keith Basso, 91-135. Santa Fe: School of American Research Press.
Foucault, Michel. 1977. Discipline and Punish: The Birth of the Prison. Translated by Alan Sheridan. New York: Vintage Books.
Friedner, Michele and Stefan Helmreich. 2012. "Sound Studies Meets Deaf Studies." The Senses & Society 7, no 1: 72–86. https://doi.org/10.2752/174589312X13173255802120.
Gallagher, Michael. 2010. "Are Schools Panoptic?" Surveillance and Society 7, no 3/4: 262-72.
----. 2011. "Sound, Space and Power in a Primary School." Social and Cultural Geography 12, no 1: 47-61. https://doi.org/10.1080/14649365.2011.542481.
Guillebaud, Christine. 2017. "Introduction: Multiple Listenings. Anthropology of Sound Worlds." In Toward an Anthropology of Ambient Sound, edited by Christine Guillebaud, 1-18. New-York: Routledge.
Gunaratman, Yasmin. 2009. "Auditory Space, Ethics and Hospitality: 'Noise', Alterity and Care at the End of Life." Body & Society 15, no 4: 1-19. https://doi.org/10.1177/1357034X09337781.
Harris, Anna. 2015a. "Eliciting Sound Memories." The Public Historian 37, no 4: 14–31. https://doi.org/10.1525/tph.2015.37.4.14.
----. 2015b. "Sounding Disease: Guest Blog at Sociology of Diagnosis website." Accessed May 30, 2019. https://www.facebook.com/SociologyOfDiagnosis/posts/79904983018109.
Heine, Rolf. 2009. "Die Zwölf Sinne." Accessed January 13, 2020. https://www.vfap.de/anthroposophische-pflege/die-zwoelf-sinne
Hsieh, Jennifer. 2019. "Piano Transductions: Music, Sound and Noise in Urban Taiwan." Sound Studies 5, no 1: 4-21. https://doi.org/10.1080/20551940.2018.1564459.
Johnson, Patricia, and Lisa Thornhill. 2006. "Noise Reduction in the Hospital Setting." Journal of Nursing Care Quality 21, no 4: 295–97.
Lutz, Peter A. 2015. "Multivalent Moves in Senior Home Care: From Surveillance to Care-Valence." Anthropology & Aging 36, no 2: 145-63. https://doi.org/10.5195/aa.2015.105.
Pinch, Trevor, and Karin Bijsterveld, eds. 2012. The Oxford Handbook of Sound Studies. Oxford: Oxford University Press.
Rice, Tom. 2013. Hearing and the Hospital: Sound, Listening, Knowledge and Experience. Canon Pyon: Sean Kingston Publishing.
----. 2016. "Sounds Inside: Prison, Prisoners and Acoustical Agency." Sound Studies 2, no 1: 6-20. https://doi.org/10.1080/20551940.2016.1214455.
----. 2018. "Acoustemology." In The International Encyclopedia of Anthropology, edited by Hilary Callan. London: Wiley. https://doi.org/10.1002/9781118924396.wbiea2000.
Samuels, David, Louise Meintjes, Ana Maria Ochoa, and Thomas Porcello. 2010. "Soundscapes: Toward a Sounded Anthropology." Annual Review of Anthropology 39: 329-45. https://doi.org/10.1146/annurev-anthro-022510-132230.
Serematakis, Nadia. 1994. "Implications." In The Senses Still: Perception and Memory as Material Culture in Modernity, edited by Nadia Serematakis, 123-54. Chicago: University of Chicago Press.
Skinner, Jonathan. 2013. "Social Dance for Successful Aging: The Practice of Health, Happiness, and Social Inclusion Amongst Senior Citizens." Anthropology & Aging Quarterly 34(1): 18-29. https://doi.org/10.5195/aa.2013.24.
Sterne, Jonathan, ed. 2012. The Sound Studies Reader. Abingdon: Routledge.
Supper, Alexandra and Karin Bijsterveld. 2015. "Sounds Convincing: Modes of Listening and Sonic Skills in Knowledge Making." Interdisciplinary Science Reviews 40, no 2: 124-44. https://doi.org/10.1179/0308018815Z.000000000109.
Thompson, Emily. 2002. The Soundscape of Modernity: Architectural Acoustics and the Culture of Listening in America, 1900–1933. Cambridge, MA: MIT Press.
Truax, Barry. 2001. Acoustic Communication. Westport, Connecticut: Ablex Publishing.
Weishaupt, Sabine. 2006. "Subjektivierendes Arbeitshandeln in der Altenpflege - die Interaktion mit dem Körper." In Arbeit in der Interaktion - Interaktion als Arbeit, edited by Fritz Böhle and Jürgen Glaser, 85-106. Wiesbaden: VS Verlag für Sozialwissenschaften.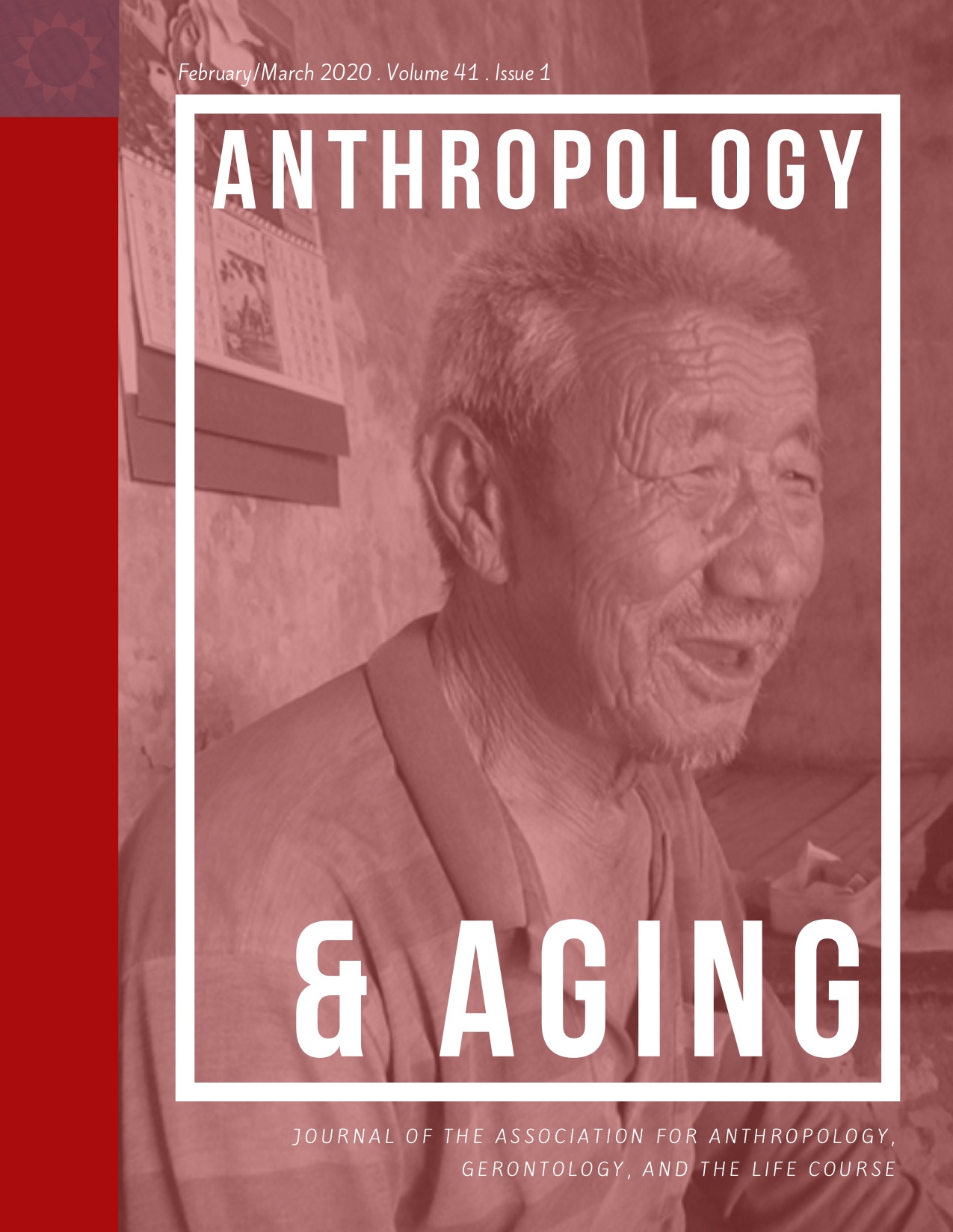 Downloads
License
Authors who publish with this journal agree to the following terms:
The Author retains copyright in the Work, where the term "Work" shall include all digital objects that may result in subsequent electronic publication or distribution.
Upon acceptance of the Work, the author shall grant to the Publisher the right of first publication of the Work.
The Author shall grant to the Publisher and its agents the nonexclusive perpetual right and license to publish, archive, and make accessible the Work in whole or in part in all forms of media now or hereafter known under a Creative Commons Attribution 4.0 International License or its equivalent, which, for the avoidance of doubt, allows others to copy, distribute, and transmit the Work under the following conditions:

Attribution—other users must attribute the Work in the manner specified by the author as indicated on the journal Web site;

with the understanding that the above condition can be waived with permission from the Author and that where the Work or any of its elements is in the public domain under applicable law, that status is in no way affected by the license.
The Author is able to enter into separate, additional contractual arrangements for the nonexclusive distribution of the journal's published version of the Work (e.g., post it to an institutional repository or publish it in a book), as long as there is provided in the document an acknowledgement of its initial publication in this journal.
Authors are permitted and encouraged to post online a prepublication manuscript (but not the Publisher's final formatted PDF version of the Work) in institutional repositories or on their Websites prior to and during the submission process, as it can lead to productive exchanges, as well as earlier and greater citation of published work. Any such posting made before acceptance and publication of the Work shall be updated upon publication to include a reference to the Publisher-assigned DOI (Digital Object Identifier) and a link to the online abstract for the final published Work in the Journal.
Upon Publisher's request, the Author agrees to furnish promptly to Publisher, at the Author's own expense, written evidence of the permissions, licenses, and consents for use of third-party material included within the Work, except as determined by Publisher to be covered by the principles of Fair Use.
The Author represents and warrants that:

the Work is the Author's original work;
the Author has not transferred, and will not transfer, exclusive rights in the Work to any third party;
the Work is not pending review or under consideration by another publisher;
the Work has not previously been published;
the Work contains no misrepresentation or infringement of the Work or property of other authors or third parties; and
the Work contains no libel, invasion of privacy, or other unlawful matter.

The Author agrees to indemnify and hold Publisher harmless from Author's breach of the representations and warranties contained in Paragraph 6 above, as well as any claim or proceeding relating to Publisher's use and publication of any content contained in the Work, including third-party content.
Revised 7/16/2018. Revision Description: Removed outdated link.