A Spirit of Adventure in Retirement: Japanese Baby Boomers and the Ethos of Interdependence
Keywords:
Japan, retirement, self-reliance, autonomy, interdependence, responsibility, gender, culture
Abstract
Self-reliance has arisen as a key ethic in relation to older persons in Japan. One part of a larger social trend affecting mature societies around the world is the rising emphasis on elders overcoming dependence in favor of a new ethic of independence. This analysis of older persons in Japan opens a window into the gender dynamics of older-person households, and into the discourses about the lack of an independent autonomous identity in old age aside from that in the workplace. Drawing on fieldwork with retirees, I illuminate retired couples' experiences of and attitudes about retirement, considering the interpersonal dimensions of interdependence and the ways the ethos of self-reliance influences retirees' lives. In particular, I analyse how the men seek to embody interdependence in relationships with their wives. How do they adjust in relation to their wives' expectations, and how do they—and their identities—change after they leave the workforce? Central to this process is an expansion in men's acts of thoughtfulness in relation to their wives.  
References
Alexy, A. (2007). Deferred Benefits, Romance, and the Specter of Later-Life Divorce. In Peter Backhaus, ed. Deutsche Institute ed. Japanstudien. Munich: Verlag.
Allison, A. (1994). Nightwork: Sexuality, Pleasure, and Corporate Masculinity in a Tokyo Hostess Club. Chicago: University of Chicago Press.
Amano, M., ed. (1998). Otoko no Jiritsu to sono Jōken o Meguru Kenkyū: Dankai Sedai o Chūshin ni [Research on Men's Self-Reliance and Conditions Associated with Self-Reliance: Focus on Baby Boomers]. Tokyo: Tokyo Josei Zaidan.
Amano, M. (2014). Oigai no Jidai: Nihon eiga kara mita Kôreisha [An Era Worth Ageing in: Elders Portrayed in Japanese Film.] Tokyo: Iwanami Shoten.
Boermel, Anna. (2010). "No Wasting" and "Empty Nesters": "Old Age" in Beijing. Oxford Development Studies. 34:4, 401-418.
Bungei Shunju. (2006). "10-nengo no Dankai: Nihon no Ronten Henshûbu". [Baby Boomers: Ten Years On, From the Editors of 'Debates Defining Japan'.] Tokyo: Bungei Shunju.
Campbell, R., and Kurokawa, Y. (2016). Ichiban Mirai no Idea Book: Futsu no Koreisha no Minasan ga Kangaemashita [The Idea Book for the Best Future: Ideas Conceptualized by Ordinary Seniors]. Tokyo: Dai Nihon Insatsu Gaisha.
Cook, E. (2016). Reconstructing Adult Masculinities: Part-time Work in Contemporary Japan. Abingdon: Routledge.
Danely, J., and Lynch, C. (2013). Transitions and Transformations: Paradigms, Perspectives, and Possibilities. In Caitlin Lynch and Jason Danely, eds., Transitions and Transformations: Cultural Perspectives on Aging and the Life Course (pp.3-20) New York: Berghan.
Daniels, I. (2015). Feeling at Home in Contemporary Japan: Space, Atmosphere, and Intimacy. Emotion, Space, and Society, 15: 47-55.
Dillard, A. (2013). The Writing Life. New York: Harper Perennial.
Dumit, J. (2012). Drugs for Life: How Pharmaceutical Companies Define Our Health. Durham and London: Duke University Press.
Gluck, C. (2009). Sekinin/Responsibility in Modern Japan. In Anna Tsing and Carol Gluck, eds. Words in Motion: Toward a Global Lexicon. Durham, NC: Duke University Press.
Goldstein-Gidoni, O. (2012). Housewives of Japan: An Ethnography of Real Lives and Consumerized Domesticity. New York: Palgrave Macmillan.
Gradman, T. J. (1994). Masculine Identity from Work to Retirement. In E. Thompson, ed, Older Men's Lives, 104-121. Thousand Oaks, CA: Sage.
Hashimoto, A. (1996.) The Gift of Generations: Japanese and American Perspectives on Aging and the Social Contract. Cambridge, UK: Cambridge University Press.
Hughes, M. and Heycox, K. (2010). Older People, Ageing, and Social Work: Knowledge and Practice. Sydney: Allen and Unwin.
International Longevity Center. (2011). Productive Aging 2011. Tokyo: International Longevity Center Japan.
Lamb, S. (2013). "Personhood, Appropriate Dependence, and the Rise of Eldercare Institutions in India." In Caitlin Lynch and Jason Danely, eds., Transitions and Transformations: Cultural Perspectives on Aging and the Life Course (pp.171-187) New York: Berghan.
Mathews, Gordon. 2003. "Can a Real Man Live for His Family?" In James Roberson and Nobuko Suzuki, eds. Men and Masculinities in Contemporary Japan. London: Routledge.
Nakamura, T., and Inokuma, H. (2005). 'Teinengo no Fuan: 520-Nin Chôsa' [Anxiety after Retirement: Survey of 520 Respondents]. Shûkan Asahi 110(8), 22-27.
Nakano, L. (2009). Community Volunteers in Japan: Everyday Stories of Social Change. London: Routledge.
Noguchi, H. (2005, August 25). 'Dankai no Sedai Wa Nani Iro Desuka'. NHK Radio Dai-ichi Hôsô: Iki iki Hottorain.
Nouwen, H. (1994). The Wounded Healer: Ministry in Contemporary Society. New York: Random House.
Oda, A. (2009). Autonomy, Reciprocity, and Communication in Older Spouse Relationships. In Maren Godzik, ed., Altern in Japan: Japanstudien 21: 25-53. Munich: Verlag.
OECD. (2016). Health Statistics. Geneva: OECD. www.stats.oecd.org accessed February 1, 2017.
Plath, D. (1980). Long Engagements: Maturity in Modern Japan. Stanford, CA: Stanford University Press.
Robertson, J. (2014). "Human Rights vs Robot Rights: Forecast from Japan." Critical Asian Studies. 46(4):571-598.
Scheid, B. (1992). The Old Tree in Bloom. In Susanne Formanek and Sepp Linhart (eds.), Japanese Biographies: Life Histories, Life Cycles, LifeStages. Vienna: Verlag.
Seike, A. (2015). Japan's Demographic Collapse and the Vanishing Provinces. In Yoichi Funabashi and Barak Kushner, eds, Examining Japan's Lost Decades. London: Routledge.
Stickland, L. (2014). Accommodating Japan's Ageing Sexual Minorities: 'The Family of Friends' Concept in LGBQTI Seniors' Residential Care. In Tomoko Aoyama, Laura Dales, and Romit Dasgupta, eds., Configurations of Family in Contemporary Japan. London: Routledge.
Taga, F. (2006). 'Otokorashisa no shakaigaku: yuragu otoko no raifu kōsu'[Sociology of Masculinity: Changing Men's Lifecourse]. Tokyo: Sekai Shisōsha.
Tanaka, T. (2009). Danseigaku no Shintenkai [A New Turn in Masculinity Studies]. Tokyo: Seikyûsha.
Traphagan, J. (2006). Being a Good Rojin: Senility, Power, and Self-Actualization in Japan. In Annette Leibing and Lawrence Cohen, eds., Thinking About Dementia: Culture, Loss, and the Anthropology of Senility. New Brunswick, NJ: Rutgers University Press.
World Economic Forum. (2016). Human Capital Report 2016. http://reports.weforum.org/human-capital-report-2016/economies/#economy=JPN Accessed March 8, 2016.
Yamato, R. (1996). 'Chukônen Dansei ni Okeru Sapôto Nettowâku to 'Musubitsuki Shikô' Yakuwari to no Kankei' [The Relationship between Support Networks and 'Connectedness-Oriented' Roles in Late Middle-Aged Japanese Men: From the Viewpoint of Gender Roles]. Shakaigaku Hyôron, 47(3), 350-365.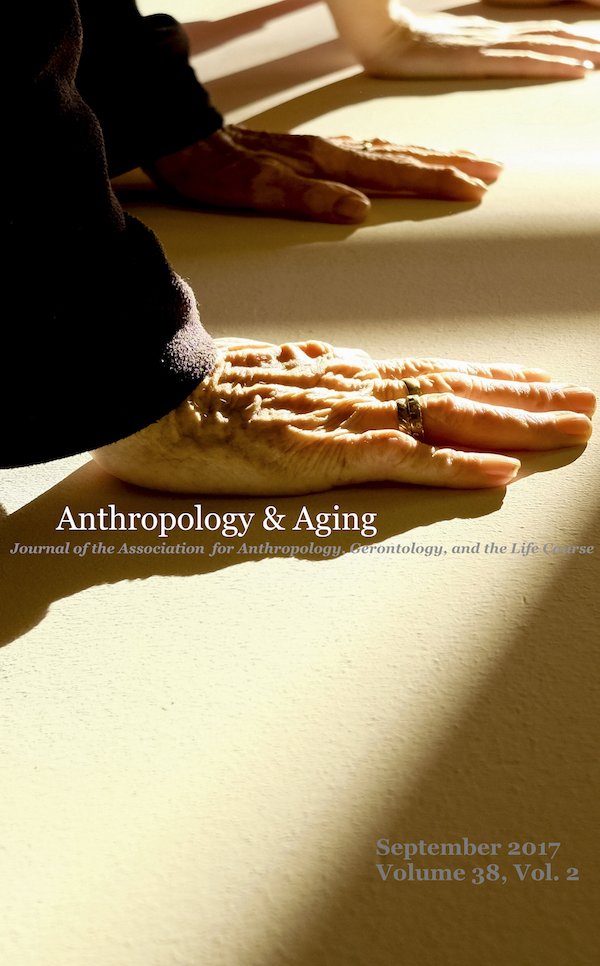 Downloads
Published
2017-11-28 — Updated on 2023-04-05
License
Copyright (c) 2018 Katrina Louise Moore
This work is licensed under a Creative Commons Attribution 4.0 International License.
Authors who publish with this journal agree to the following terms:
The Author retains copyright in the Work, where the term "Work" shall include all digital objects that may result in subsequent electronic publication or distribution.
Upon acceptance of the Work, the author shall grant to the Publisher the right of first publication of the Work.
The Author shall grant to the Publisher and its agents the nonexclusive perpetual right and license to publish, archive, and make accessible the Work in whole or in part in all forms of media now or hereafter known under a Creative Commons Attribution 4.0 International License or its equivalent, which, for the avoidance of doubt, allows others to copy, distribute, and transmit the Work under the following conditions:

Attribution—other users must attribute the Work in the manner specified by the author as indicated on the journal Web site;

with the understanding that the above condition can be waived with permission from the Author and that where the Work or any of its elements is in the public domain under applicable law, that status is in no way affected by the license.
The Author is able to enter into separate, additional contractual arrangements for the nonexclusive distribution of the journal's published version of the Work (e.g., post it to an institutional repository or publish it in a book), as long as there is provided in the document an acknowledgement of its initial publication in this journal.
Authors are permitted and encouraged to post online a prepublication manuscript (but not the Publisher's final formatted PDF version of the Work) in institutional repositories or on their Websites prior to and during the submission process, as it can lead to productive exchanges, as well as earlier and greater citation of published work. Any such posting made before acceptance and publication of the Work shall be updated upon publication to include a reference to the Publisher-assigned DOI (Digital Object Identifier) and a link to the online abstract for the final published Work in the Journal.
Upon Publisher's request, the Author agrees to furnish promptly to Publisher, at the Author's own expense, written evidence of the permissions, licenses, and consents for use of third-party material included within the Work, except as determined by Publisher to be covered by the principles of Fair Use.
The Author represents and warrants that:

the Work is the Author's original work;
the Author has not transferred, and will not transfer, exclusive rights in the Work to any third party;
the Work is not pending review or under consideration by another publisher;
the Work has not previously been published;
the Work contains no misrepresentation or infringement of the Work or property of other authors or third parties; and
the Work contains no libel, invasion of privacy, or other unlawful matter.

The Author agrees to indemnify and hold Publisher harmless from Author's breach of the representations and warranties contained in Paragraph 6 above, as well as any claim or proceeding relating to Publisher's use and publication of any content contained in the Work, including third-party content.
Revised 7/16/2018. Revision Description: Removed outdated link.