Towards a Gerontoludic Manifesto
Keywords:
games, ageing, ageism, design
Abstract
Digital games have become an important part of the technoscape, not only for youngsters, but for players of all ages. Older adults are a large, currently still largely untapped market for innovative game research and development. However, the current discourse on games and ageing can largely be categorized into two themes. The first theme refers to digital games framed as a way for older adults to improve certain skills. The useful, pragmatic qualities, rather than the fun, hedonic aspects of games are emphasized. The second theme identifies the various age-related constraints that prevent older adults from playing. It focuses on the cognitive and physical limitations of older adults. Underlying both themes is a reductionist perspective on ageing as merely a process of decline and debilitation. In this article, we present a "gerontoludic" manifesto. Firstly, games should not be marketed solely as having the purpose of dealing with or mitigating age-related decline and focus on positive aspects of older age (adagio 1: growth over decline). Secondly, age-related adjustments should never interfere with the actual gameplay of the game (adagio 2: playfulness over usefulness). Finally, game researchers and game industry should put more efforts in understanding what differentiates elderly players, rather than seeing them as united in their age-related impairments (adagio 3: heterogeneity over unification). As this manifesto is a first step that needs further abutment by a wider community, we welcome debate and additions from game designers and researchers to further this manifesto and to move beyond ageism in games.  
References
Anguera, J. A., Boccanfuso, J., Rintoul, J. L., Al-Hashimi, O., Faraji, F., Janowich, J., … Gazzaley, A. (2013). Video game training enhances cognitive control in older adults. Nature, 501(7465), 97–101. http://doi.org/10.1038/nature12486
Baltes, P. B. (1987). Theoretical propositions of life-span developmental psychology: On the dynamics between growth and decline. Developmental Psychology, 23(5), 611–626.
Baltes, P. B., & Baltes, M. M. (1990). Psychological perspectives on successful aging: The model of selective optimization with compensation. Successful Aging: Perspectives from the Behavioral Sciences, 1, 1–34.
Bosmans, D., & Maskell, P. (2012). Videogames in Europe: 2012 Consumer Study. ISFE & Ipsos MediaCT. Retrieved from http://www.isfe.eu/industry-facts/statistics
Bouma, H., Fozard, J. L., Bouwhuis, D. G., & Taipale, V. T. (2007). Gerontechnology in perspective. Gerontechnology, 6(4), 190–216.
Brown, J. A. (2012). Let's play: understanding the role and meaning of digital games in the lives of older adults. In Proceedings of the International Conference on the Foundations of Digital Games (pp. 273–275). New York, NY, USA: ACM. http://doi.org/10.1145/2282338.2282396
Butler, R. N. (1969). Ageism: another form of bigotry. Gerontologist, 9, 243–246.
Crawford, C. (1982). The Art of Computer Game Design. Vancouver: Washington State University. Retrieved from http://www.vancouver.wsu.edu/fac/peabody/game-book/Coverpage.html
De Schutter, B. (in review). Gerontoludic Design: An Integrated Framework for the Design of Digital Games for Older Adults. International Journal of Design, 26.
De Schutter, B. (2011). Never Too Old to Play: The Appeal of Digital Games to an Older Audience. Games and Culture:A Journal of Interactive Media, 6(2), 155–170. http://doi.org/10.1177/1555412010364978
De Schutter, B., Brown, J. A., & Vanden Abeele, V. (2014). The domestication of digital games in the lives of older adults. New Media & Society, 1461444814522945. http://doi.org/10.1177/1461444814522945
De Schutter, B., & Malliet, S. (2014). The older player of digital games: A classification based on perceived need satisfaction. Communications, 39(1), 67–88.
ESA. (2015). 2015 Essential Facts about the Computer and Video Game Industry. ESA. Retrieved from http://www.theesa.com/wp-content/uploads/2015/04/ESA-Essential-Facts-2015.pdf
Frasca, G. (1999). Ludology meets narratology. Similitude and differences between (video)games and narrative.
Frasca, G. (2003). Ludologists love stories, too: notes from a debate that never took place. In Proceedings of the Digital Games Research Conference 2003. Utrecht.
Freund, A. M., & Baltes, P. B. (2000). The orchestration of selection, optimization and compensation: An action–theoretical conceptualization of a theory of developmental regulation. In W. J. Perrig & A. Grob (Eds.), Control of human behavior, mental processes, and consciousness: Essays in honor of the 60th birthday of August Flammer (pp. 35–58). Mahwah, NJ, US: Lawrence Erlbaum Associates Publishers.
Fua, K. C., Gupta, S., Pautler, D., & Farber, I. (2013). Designing Serious Games for Elders. Presented at the Foundations of Digital Games, Chania, Crete, Greece. Retrieved from http://www.fdg2013.org/program/papers/paper38_fua_etal.pdf
Gamberini, L., Mariano, A., Barresi, G., Fabgregat, M., Prontu, L., & Ibanez, F. (2006). Cognition, technology and games for the elderly: An introduction to ELDERGAMES Project. PsychNology Journal, 4(3), 285–308.
Gerling, K. M., Schulte, F. P., Smeddinck, J., & Masuch, M. (2012). Game design for older adults: Effects of age-related changes on structural elements of digital games. In Entertainment Computing-ICEC 2012 (pp. 235–242). Springer. Retrieved from http://link.springer.com/chapter/10.1007/978-3-642-33542-6_20
Goldstein, J., Cajko, L., Oosterbroek, M., Michielsen, M., van Houten, O., & Salverda, F. (1997). Videogames and the elderly. Social Behavior and Personality, 25(4), 345–352.
Holliday, S. G., & Chandler, M. J. (1986). Wisdom: Explorations in adult competence. Contributions to Human Development, 17, 100.
Ijsselsteijn, W., Nap, H. H., Kort, Y. de, & Poels, K. (2007). Digital game design for elderly users (pp. 17–22). Toronto, Canada: ACM.
Jung, Y., Li, K. J., Janissa, N. S., Gladys, W. L. C., & Lee, K. M. (2009). Games for a better life: effects of playing Wii games on the well-being of seniors in a long-term care facility. In Proceedings of the Sixth Australasian Conference on Interactive Entertainment (pp. 5:1–5:6). New York, NY, USA: ACM. http://doi.org/10.1145/1746050.1746055
Lantz, F. (2014). Hearts and Minds. Retrieved April 30, 2014, from http://www.gdcvault.com/play/1020788/Hearts-and-Minds
Lenhart, A., Jones, S., & McGill, A. (2008). Adults and Video Games. Pew Internet & American Life Project.
Levy, L. M., Gandy, M., Solomon, R., McLaughlin, A. C., Allaire, J. C., & Whitlock, L. A. (2012). Fear of Failure: Gender Differences in Older Adult Gamers. In Proceedings of the International Conference on the Foundations of Digital Games (pp. 292–293). New York, NY, USA: ACM. http://doi.org/10.1145/2282338.2282405
Marston, H. R., & Smith, S. T. (2012). Interactive Videogame Technologies to Support Independence in the Elderly: A Narrative Review. GAMES FOR HEALTH: Research, Development, and Clinical Applications, 1(2), 139–152.
McLaughlin, A. C., Bryant, M. R., Sprufera, J. F., Allaire, J. C., & Gandy, M. (2013). Usability an important goal for the design of therapeutic games for older adults. In Engineering Psychology and Cognitive Ergonomics. Applications and Services (pp. 358–364). Springer. Retrieved from http://link.springer.com/chapter/10.1007/978-3-642-39354-9_39
Michael, D. R., & Chen, S. L. (2005). Serious Games: Games That Educate, Train, and Inform. Muska & Lipman/Premier-Trade.
Miesenberger, K., Ossmann, R., Archambault, D., Searle, G., & Holzinger, A. (2008). More than just a game: accessibility in computer games. In HCI and Usability for Education and Work (pp. 247–260). Springer. Retrieved from http://link.springer.com/chapter/10.1007/978-3-540-89350-9_18
Mosberg Iversen, S. (2014). Play and Productivity: The Constitution of Ageing Adults in Research on Digital Games. Games and Culture, 1555412014557541. http://doi.org/10.1177/1555412014557541
Mosberg Iversen, S. (2015). "Not without my kitties": The old woman in casual games (p. 8). Presented at the Foundations of Digital Games, Pacific Grove, CA.
Murray, J. H. (1997). Hamlet on the holodeck: The future of narrative in cyberspace. New York: Free Press.
Ogomori, K., Nagamachi, M., Ishihara, K., Ishihara, S., & Kohchi, M. (2011). Requirements for a cognitive training game for elderly or disabled people. In Biometrics and Kansei Engineering (ICBAKE), 2011 International Conference on (pp. 150–154). IEEE. Retrieved from http://ieeexplore.ieee.org/xpls/abs_all.jsp?arnumber=6031268
Peppard, N. (2013). An Essay on myths and stereotypes. Retrieved from http://www.oregon.gov/dhs/apd-dd-training/EQC%20Training%20Documents/Myths%20and%20Stereotypes%20of%20Aging.pdf
Skalsky Brown, J. (2014, July 18). Let's Play: Understanding the Role and Significance of Digital Gaming in Old Age. University of Kentucky. Retrieved from http://uknowledge.uky.edu/gerontol_etds/6
Van der Goot, M. (2009). Television Viewing in the Lives of Older Adults (Doctoral). Raboud University Nijmegen.
Van Leeuwen, L., & Westwood, D. (2008). Adult play, psychology and design. Digital Creativity, 19(3), 153–161. http://doi.org/10.1080/14626260802312665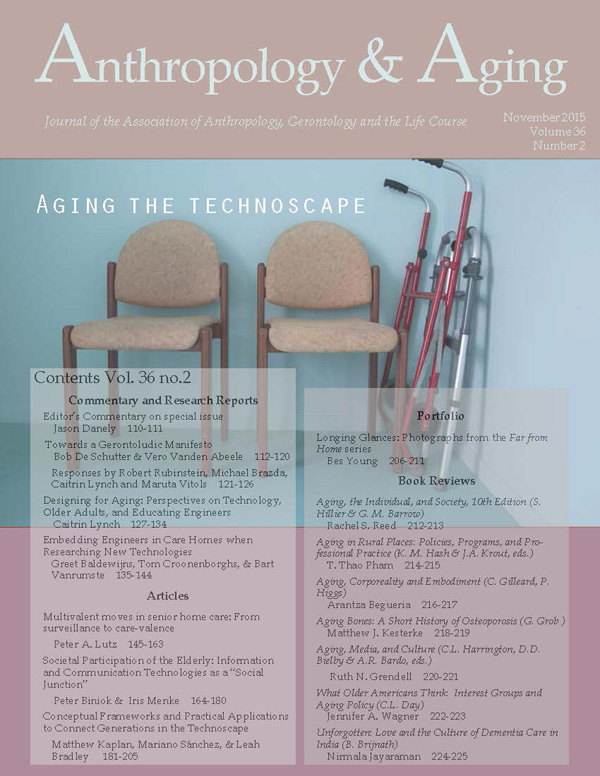 Downloads
License
Authors who publish with this journal agree to the following terms:
The Author retains copyright in the Work, where the term "Work" shall include all digital objects that may result in subsequent electronic publication or distribution.
Upon acceptance of the Work, the author shall grant to the Publisher the right of first publication of the Work.
The Author shall grant to the Publisher and its agents the nonexclusive perpetual right and license to publish, archive, and make accessible the Work in whole or in part in all forms of media now or hereafter known under a Creative Commons Attribution 4.0 International License or its equivalent, which, for the avoidance of doubt, allows others to copy, distribute, and transmit the Work under the following conditions:

Attribution—other users must attribute the Work in the manner specified by the author as indicated on the journal Web site;

with the understanding that the above condition can be waived with permission from the Author and that where the Work or any of its elements is in the public domain under applicable law, that status is in no way affected by the license.
The Author is able to enter into separate, additional contractual arrangements for the nonexclusive distribution of the journal's published version of the Work (e.g., post it to an institutional repository or publish it in a book), as long as there is provided in the document an acknowledgement of its initial publication in this journal.
Authors are permitted and encouraged to post online a prepublication manuscript (but not the Publisher's final formatted PDF version of the Work) in institutional repositories or on their Websites prior to and during the submission process, as it can lead to productive exchanges, as well as earlier and greater citation of published work. Any such posting made before acceptance and publication of the Work shall be updated upon publication to include a reference to the Publisher-assigned DOI (Digital Object Identifier) and a link to the online abstract for the final published Work in the Journal.
Upon Publisher's request, the Author agrees to furnish promptly to Publisher, at the Author's own expense, written evidence of the permissions, licenses, and consents for use of third-party material included within the Work, except as determined by Publisher to be covered by the principles of Fair Use.
The Author represents and warrants that:

the Work is the Author's original work;
the Author has not transferred, and will not transfer, exclusive rights in the Work to any third party;
the Work is not pending review or under consideration by another publisher;
the Work has not previously been published;
the Work contains no misrepresentation or infringement of the Work or property of other authors or third parties; and
the Work contains no libel, invasion of privacy, or other unlawful matter.

The Author agrees to indemnify and hold Publisher harmless from Author's breach of the representations and warranties contained in Paragraph 6 above, as well as any claim or proceeding relating to Publisher's use and publication of any content contained in the Work, including third-party content.
Revised 7/16/2018. Revision Description: Removed outdated link.